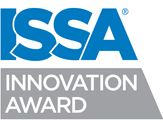 Today is the deadline for online voting in the 2018 ISSA Innovation Award Program. Vote here. 
Entries are organized into five categories: Cleaning Agents, Dispensers, Equipment, Services and Technology, and Supplies and Accessories. One winner will be chosen from each category through online voting then announced at the Team ISSA Welcome Reception the evening of Monday, Oct. 29, at the Fairmont Hotel in Dallas, kicking off the ISSA Show North America 2018.
These five finalists will then compete to be crowned the overall winner, which will be revealed at the end of the show, during the 2018 ISSA Innovation Awards Ceremony at 1:00 p.m. Thursday, Nov. 1, in the ISSA Innovation Marketplace, Booth 3405.
Get your votes in today! All participants will be entered into a drawing to win a US$50 MasterCard gift card.