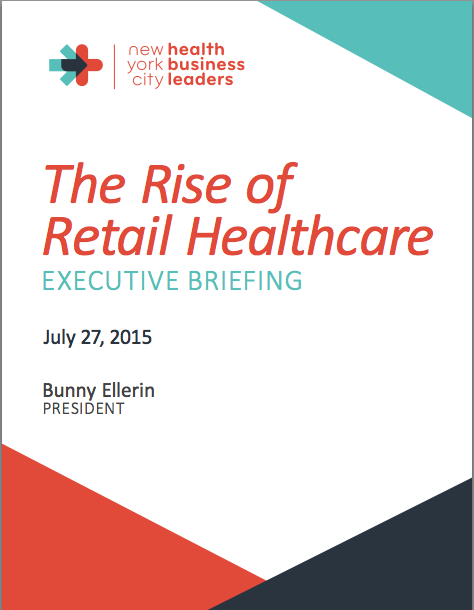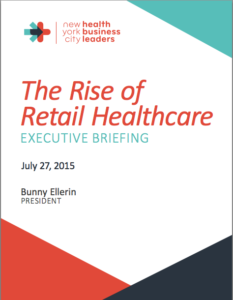 New York City Health Business Leaders, a professional community of 3,000 senior executives driving healthcare forward, hosted a panel discussion June 3 about the rise of retail healthcare and its the implications for healthcare delivery.
Retail health encompasses a wide range of services – pharmacy-based health clinics, urgent care centers, on-demand telemedicine, direct-to-consumer lab testing. At the core, it's about giving consumers more control over of how, where and when they receive services.
The speakers, representing different parts of the health ecosystem, were:
•    Pharmacy: Brad Fluegel, SVP, Chief Strategy and Business Development Officer of Walgreens
•    Lab Testing: Dr. Jon Cohen, Chief Medical Officer of Quest Diagnostics
•    Urgent Care: Dr. Richard Park, CEO of CityMD
•    Moderator:  Charles Boorady, General Partner, TT Capital Partners
Here are excerpts of the discussion from the executive summary:
Quest Diagnostics is the country's largest diagnostic company, performing 600,000 live tests nightly and touching one-third of the U.S. population. Until 2014, patients did not have access to their own lab results in most states; they were forced to get them from a physician. Quest was one of the companies that led the charge to change this regulation and is now witnessing the effects. "We have 20,000 people a week signing up on our portal to get their laboratory results. It is unbelievable how interested people are in their healthcare results and understanding them," said Cohen. This has pushed Quest to explore how to deliver more consumer-focused services, such as providing interpretive data along with the results to help patients with their decision-making.
Walgreens is the nation's largest drugstore chain serving over 8 million people daily; New York's Duane Reade became part of the company
in 2010. Brad Fluegel, SVP, Chief Strategy and Business Development Officer of Walgreens, described the strong investment in retail health, most notably their nearly 450 healthcare clinics. "We're trying to find spaces where there's a convergence of retail and healthcare, where services can be done quickly, inexpensively and conveniently in our stores and they will help to drive our brand as well as drive prescription volume." In addition to providing acute care for individuals in an accessible and low-cost way, Walgreens provides chronic care in collaboration with local health systems, primarily through the 2,500 nurse practitioners they employ.
One manifestation is the growth of walk-in urgent care clinics, which treat non-life-threatening but acute health issues. CityMD, a growing presence with 40 offices around the tri-state region, has supplanted the hospital emergency department for many. CityMD has seen roughly 1.1 million patients this year alone, 1.8 unique patients overall. "We want to take care of everyone, whether you are yellow, green, rich or poor, whether you have commercial insurance or Medicaid. Everything is to serve people, that's our core DNA. That's how we see the world," said Dr. Richard Park, City MD CEO.
So why is the retail phenomenon happening now?
"The number one driver right now for consumer healthcare is high-deductible plans," declared Cohen. "For the first time in the history of healthcare in this country, the American public is responsible for huge amounts of their cost of care and how they're going to spend it."
A second factor is generational. "Millennials are going to drive it," predicted Park. "They are different. They will not engage the healthcare system the way it used to be done." Their size – 92 million millennials compared to 77 million baby boomers – is a factor but so is their reliance on technology. This generation, with an average age of 26, was raised on instant access to everything from video to music to social interactions.
The pervasiveness of technology, particularly mobile, is a third reason consumerism is finally taking hold.
Click for more information to this topic.
Click for the full executive summary of the discussion.
A related discussion on You Tube by Jon Cohen: A TEDMED talk.