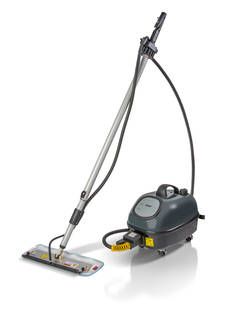 The new nora® pro steamer from nora systems, Inc. provides healthcare facilities with a non-disruptive cleaning method that relies on steam to deep clean resilient flooring in occupied patient spaces.
"We're equipping facility managers with an extremely effective cleaning tool that also saves them time, eliminating the wait for a room to empty and significantly reducing the amount of time for floors to dry," said Tim Cole, vice president of marketing at nora systems, Inc., North America. "The result is a better patient experience and one that ensures sanitary, deep-cleaned floors, thanks to the improved infection control that steam offers and healthcare facilities prefer."
The nora pro steamer uses distilled water—no chemicals—to create superheated dry steam that is delivered under pressure at more than 150° C. The steam loosens dirt, grease and sticky oils from flooring surfaces, while the high temperature of the steam deep cleans and emits no VOCs and the associated smells, contributing to improved indoor air quality. A single tank of water can clean approximately 4,000 square feet of flooring. Because the tank is not pressurized, water can be refilled at any time during the cleaning process without waiting for the machine to cool down, eliminating delays and allowing for continuous workflow.
The nora pro steamer also uses a specially designed microfiber pad that does not become saturated as it absorbs dirt. This contributes to short drying times and reduced chances for slips and falls. Additionally, the cleaner's light-weight, sleek design and small size allow for maneuvering in tight spaces.
"We designed the nora pro steamer with input from environmental services professionals and facility managers in the healthcare industry," said Cole. "The cleaner was developed to overcome cleaning issues they face in areas where mechanical scrubbing cannot be accomplished on a daily basis. These areas include occupied patient rooms, bathrooms and shower areas as well as intensive care units and neonatal intensive care units."
To watch a video and learn more about the nora pro steamer, visit the nora website at www.nora.com/us/products/pro-steamer-brief/.