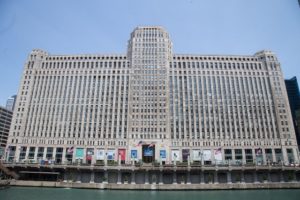 NeoCon
 has further established itself as the commercial design's launch pad for forward-thinking ideas and products and an important annual forum for connecting leaders in the industry. It yet again proved that it is the world's premier platform for commercial design as it took over The Mart from June 12-14.  Registered attendance rose 7% over the 2016 edition as the show hits new record highs year after year. The Mart's continued investments into the building did not go unnoticed as new amenities and modernization helped complement the overall experience. Upgrades were apparent as 
NeoCon
attendees enjoyed The Mart's new 2nd floor lounge, Marshall's Landing, designed by A+I Architects and operated by DMK Restaurant Group along with a new venue for keynotes and seminars on the 19th floor.
NeoCon 2017 welcomed six new permanent showrooms to the building, as well as 75 innovative new companies to the exhibitor roster. Programming and special events, parties, award ceremonies and inspiring exhibits made for a productive and fun show.
According to Byron Morton, VP Leasing, NeoCon Shows, "We went into this year strong: Showrooms were at capacity and there were 28% "new to NeoCon" brands in our sold out 7th-floor exhibit hall. The buzz continued to build with three full days of sold-out keynotes, at-capacity CEU sessions, innovative product launches and dynamic networking events.  We look forward to leveraging this momentum as we get ready for NeoCon's 50th anniversary in 2018."
Sit/stand solutions, privacy pods, ergonomic seating, integrated technologies and high-performance textiles were among five of the top trends seen throughout the show. Yet, there was a rich diversity to the offerings, enabling specifiers more choice and flexibility for their projects. 
Exhibitors and designers shared some of their observations:
"This has been one for the records with great response from prospective customers and dealers to our constellation of brands and range of workplace products from Rockwell Unscripted to the celebration of the 70th anniversary of KnollTextiles." – David E. Bright, Knoll 
"Our experience at the show this year was different than years' past. Because of our efforts in 2014-2016, visitors to the 7th floor mentioned that they specifically came down to see Snowsound. For us that is exciting to hear not being in a permanent showroom. We also had found many opportunities with larger, longer established companies who now see us as the premiere acoustic products brand and are looking to collaborate on new projects. We're excited to see what's in store for us for the remainder of the year having won 2 Best of NeoCon Silver Awards this show! Thanks again NeoCon!" – Michael Dardashti, Executive Vice President, Snowsound® 
"This year's NeoCon was full of creative energy.  We saw a strong increase in designer attendance and a major focus on ancillary furniture. The "thirdspace" movement in commercial spaces requires a new approach, and NeoCon was the perfect setting for us to showcase what we've been working on." Ryan Menke, Sr. Vice President of sales and marketing, OFS Brands 
"Where else in North America can you get to see so many designers and clients looking at furniture. What a great place to show our products. Another great NeoCon." –Dan Tuohy, CEO Tuohy Furniture Corporation 
"It was nice to see that North American design community and office culture is leaning towards modern activity based offices. NeoCon was a great success for Framery and we were busier than ever! As our business and reputation grows in the US, more and more people adore our products and love to visit us.  We are so excited to be part of NeoCon 2018, and we will represent Framery bigger than ever, stay tuned!" – Samu Hallfors, founder, Framery 
"NeoCon was definitely riding the rust, merlot, cinnabar, vermillion, peach and nude color-wave. One particularly good moment of this color trend was the ombre merlot-colored wall at HBF and the beautiful multi-level Kanso bench from Nao Tamura, which was upholstered in a dark rich HBF textile.  I was also in love with the monochromatic expressions shown in Herman Miller's display in the Mart lobby, especially the four dark green Loll outdoor chairs on top of a bright green Danskina rug designed by Cloud 9. Patricia Urquiola can, of course, do no wrong, and Haworth was a design feast that required multiple go-rounds to be able to take it all in. Fascinating colors and materials and just the right combination of clean design with a relaxed look bringing workplace to a new level." – Ghislaine Viñas, Founder, Ghislaine Viñas Interior Design 
2017 was one of the busiest, most upbeat NeoCons in recent memory. Right from the start the show floors were packed, the energy level palpable."  Tom Reardon, Executive Director, BIFMA
NeoCon 2018, the 50th anniversary event, will be held from June 11-13 at the Mart. NeoCon East returns to Philadelphia for the 15th annual edition, November 15-16, 2017 at the Pennsylvania Convention Center.  More details are available at 
http://www.neoconeast.com