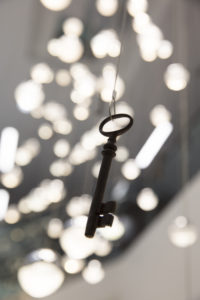 Radian connects lenders, home buyers, investors and loan servicers using a suite of private mortgage insurance and related risk management products and services. NELSON had previously worked on Radian's Philadelphia technology center and in 2014 was contracted to create a headquarters for its central operations.
Situated on five and a half floors of the West Tower in Center Square, the headquarters is approximately 150,000 square feet. NELSON was key to creating an innovative and community atmosphere.
NELSON's design allows natural light to permeate the space that was gutted, bringing offices into the core and situating workstations along the window line exposing existing concrete waffle slab as a design accent. On every floor, occupants are greeted by an elevator lobby with wood wall paneling.
NELSON-designed, custom ceiling panels in various colors lead the way into the space and provide wayfinding. Floors 15, 16, 17, and 20 are the most densely populated by employees. Small pantries, game rooms, four phone rooms per floor, and one wellness room all provide respite and social spaces for employees. The 17th floor houses the sales team, and a call center was included to accommodate their needs.
Radian's central reception is located on the 18th floor. Guests on this floor can follow the custom ceiling panels directly to the receptionist. A conference center was built on this floor to allow for meetings and training sessions for Radian's more than 600 on-site employees. As this floor is centrally located, the open work café was placed here to allow for employees on all floors to gather and socialize.