In this webinar, the U.S. Environmental Protection Agency (EPA) and expert speakers use current science and evidence to explore some of the various indoor air quality (IAQ) technologies available to help schools implement recommended strategies to reduce airborne viruses while providing lasting improvements to IAQ!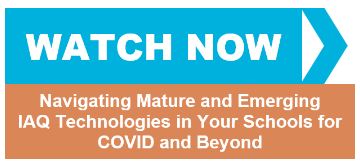 The Navigating Mature and Emerging IAQ Technologies in Your Schools for COVID and Beyond webinar now can be viewed online. Learn how to:
Use the Framework for Effective School IAQ Management to develop a systematic approach to IAQ management, ventilation, and healthier indoor environments;
Identify funding and other opportunities to improve ventilation practices and IAQ management plans;
Navigate mature and emerging technologies for ventilation, filtration, and air cleaning to find science- and evidence-based options that fit into your overall IAQ management plan; and
Weigh the pros and cons of various technology offerings to determine what is most appropriate for your school's needs.