Poll results released in February, 2022, reveal that 74% of people indicate they wash their hands more often now than they did before the pandemic, and 88% say they will continue to wash their hands more often than before the pandemic. Further, 70% said they wash their hands for 20 seconds or less, contrary to the Centers for Disease Control and Prevention (CDC) recommendation of 20 seconds or more. These are among the compelling results of a consumer snap poll of October 2021, conducted by Cascades PRO, a professional hygiene solutions company.
People also have paused and given thought to how they dry their hands after washing them in public restrooms during the pandemic with 50% indicating they considered how they dry their hands after washing. Seven percent say they have given less thought, and 43% indicate that Covid-19 has not changed how they think about drying their hands after washing.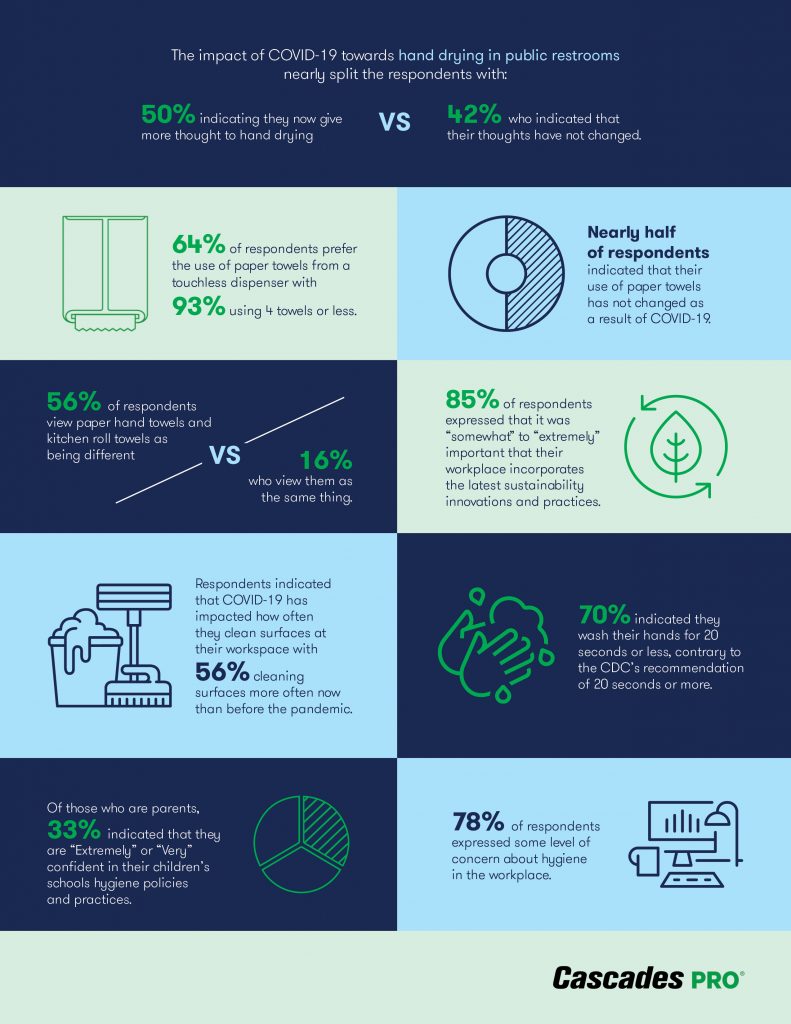 Supporting these findings is the Healthy Handwashing Survey that reveals a handwashing decrease of 25% among adults compared to when Covid-19 arrived. As of January 2022, Americans are washing their hands 7.8 times per day, a drop from the 10.5 times in Spring 2020, says the handwashing survey, conducted by Bradley Corp., a leading manufacturer of commercial handwashing fixtures and washroom accessories.
Reduces virus transmission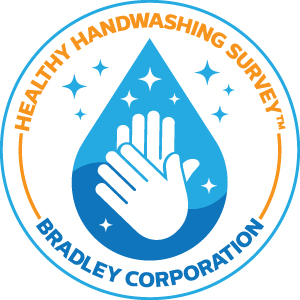 "Handwashing has been shown to be a simple, safe and effective way to reduce the transmission of viruses and bacteria, including the virus that causes Covid-19," says medical microbiologist Michael P. McCann, Ph.D., professor and chair of biology, Saint Joseph's University. "It is essential that everyone maintain high-levels of personal hygiene and that we do not let down our guard."
As a first line of defense to remove germs, 61% of Americans correctly believe their hands are less germy after washing with soap and water than after using hand sanitizer – a fact supported by the CDC. For times when soap and water are not available, the CDC says that hand sanitizer is a good, second option for hand hygiene.
Similar to the Cascades PRO results, Bradley Corp's survey found that 63% follow the CDC handwashing guidance and wash for an average of 21 seconds. However, 17% of the population say they only take five to 10 seconds to clean up.
While the adult population may be shortchanging their handwashing routine, the survey found that 79% of parents take some sort of action to encourage their children to suds up. Forty-four percent say they regularly ask their young ones to wash their hands; 26% have added it to their children's routine; and 25% buy fun soaps to make handwashing more interesting, according to the Bradley Corp. research.
As for hand hygiene outside of the home, 64% of parents say their child's school or daycare builds handwashing into the daily schedule.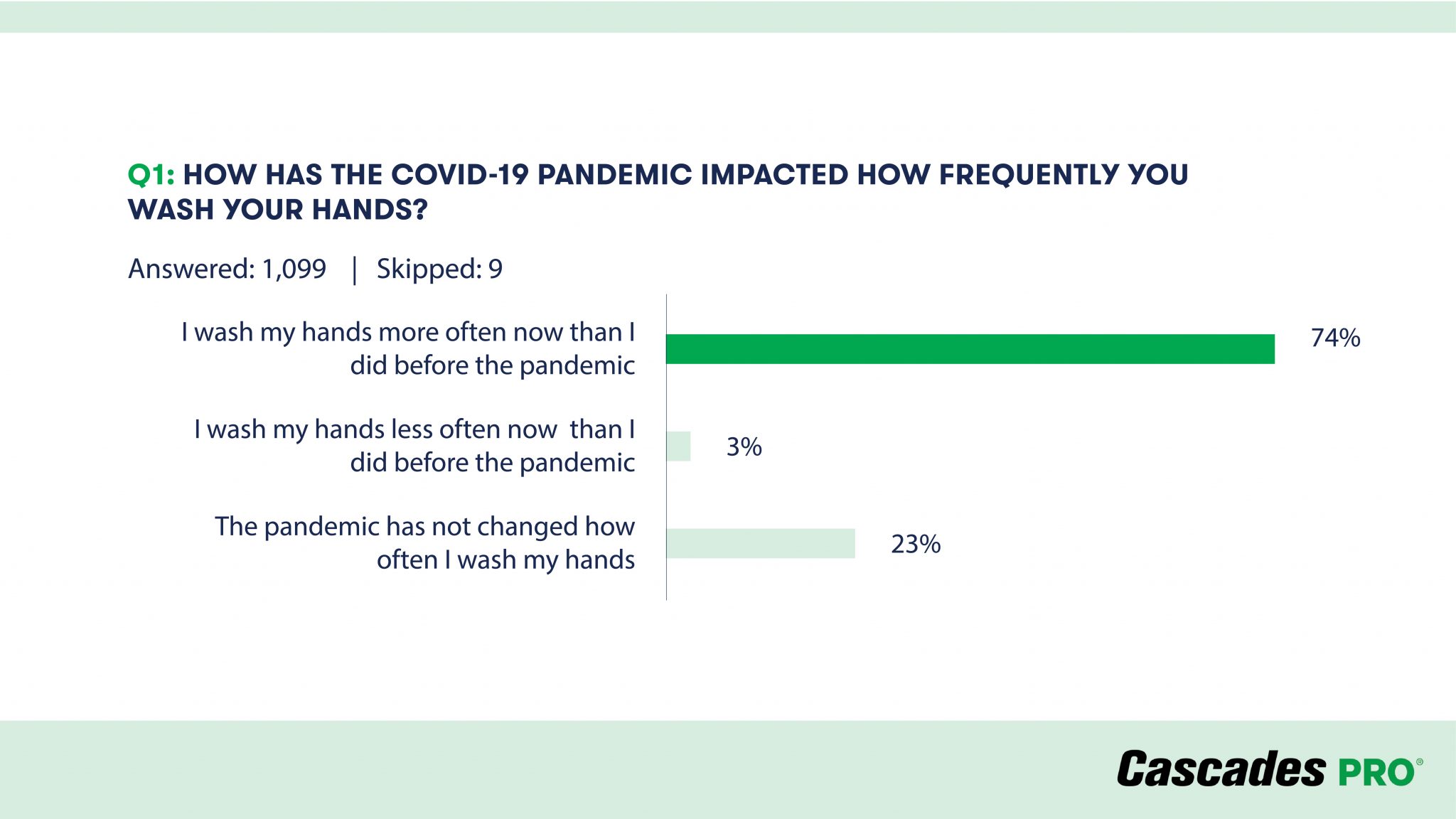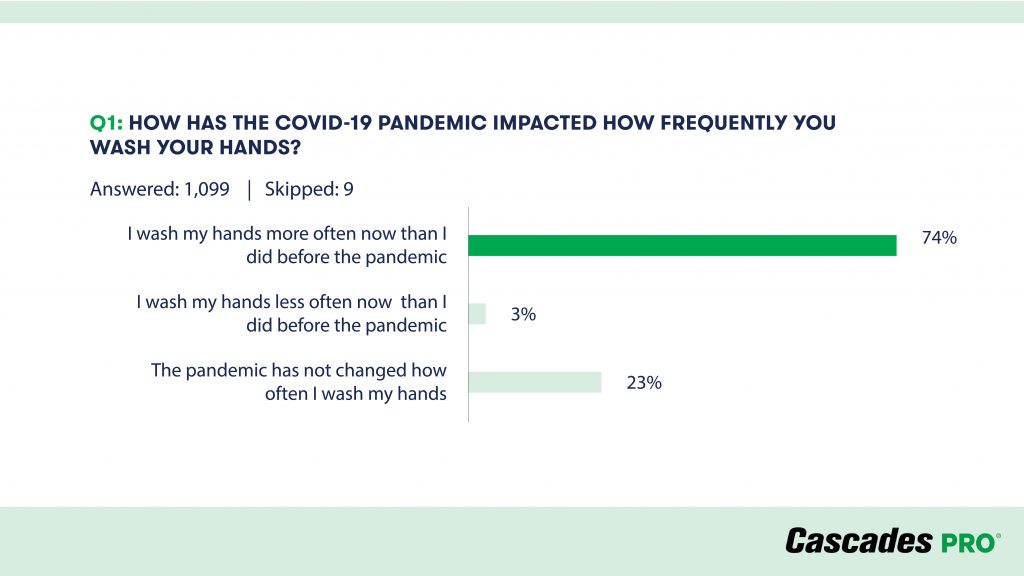 Cascades PRO conducted its poll to learn more about:
How consumers generally feel about entering public buildings;
Which behaviors consumers do/expect to be doing at the office as a result of Covid-19; and
How the cleanliness and state of the facility impact their perception of a public restroom.
As Cascades PRO is in the paper towel and paper towel dispenser business, they asked consumers about their preferred method of drying hands in a public restroom. Sixty-four percent says they prefer paper towels from a touchless dispenser; 9% from a manual dispenser; and 17% like touchless hand dryers. Do these people use paper towels to dry their hands more than they used to since the pandemic? Thirty-three said yes, and 14% spend more time drying their hands under an air dryer than they used to while 14% now make sure their hands are completely dry after washing them.
Americans place high value on touchless restrooms
84% of Americans believe it's important for public restrooms to be equipped with touchless fixtures and 63% say they are more likely to return to a business that offers no-touch capabilities in its restrooms, per the Bradley Healthy Handwashing Survey.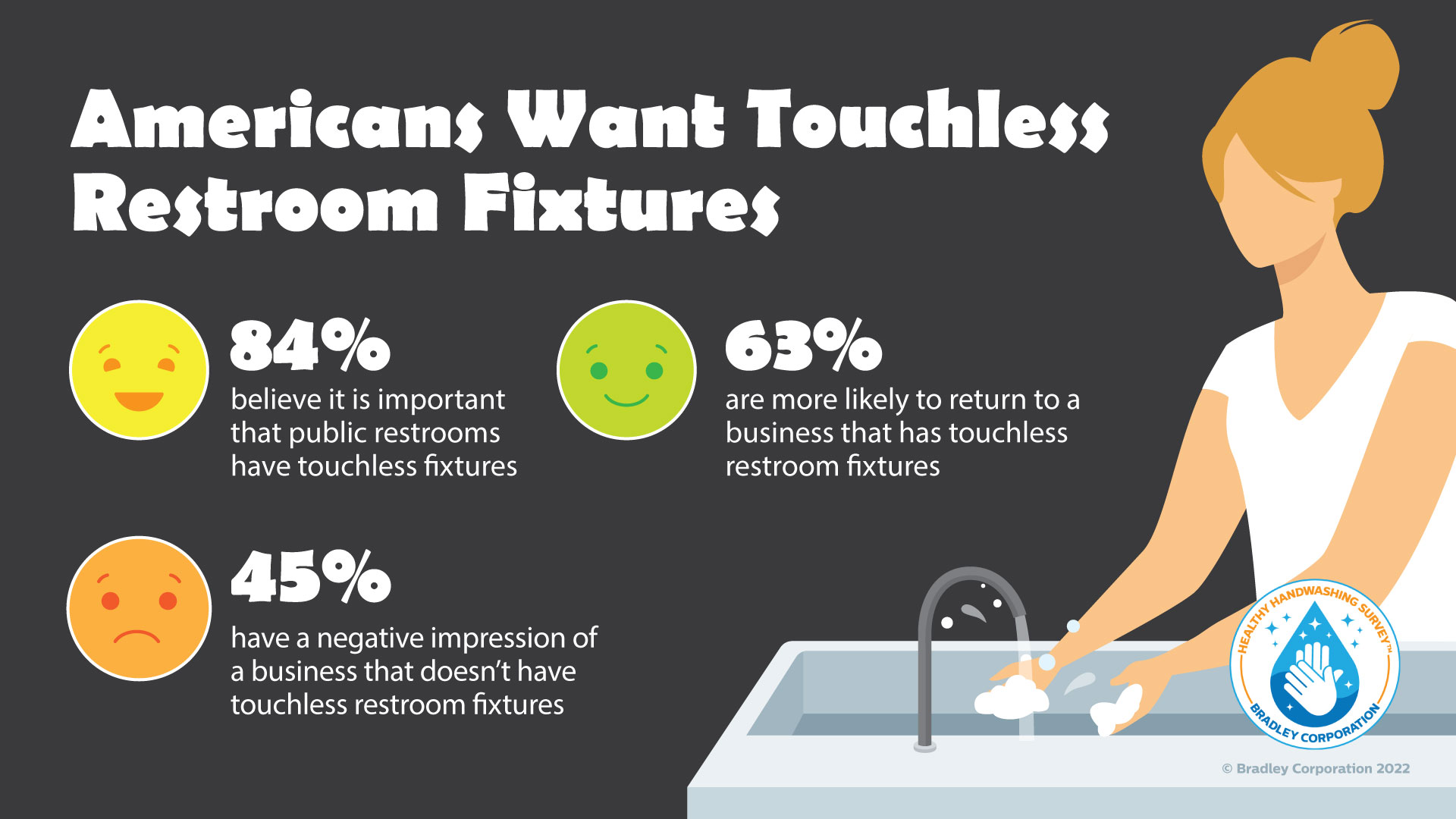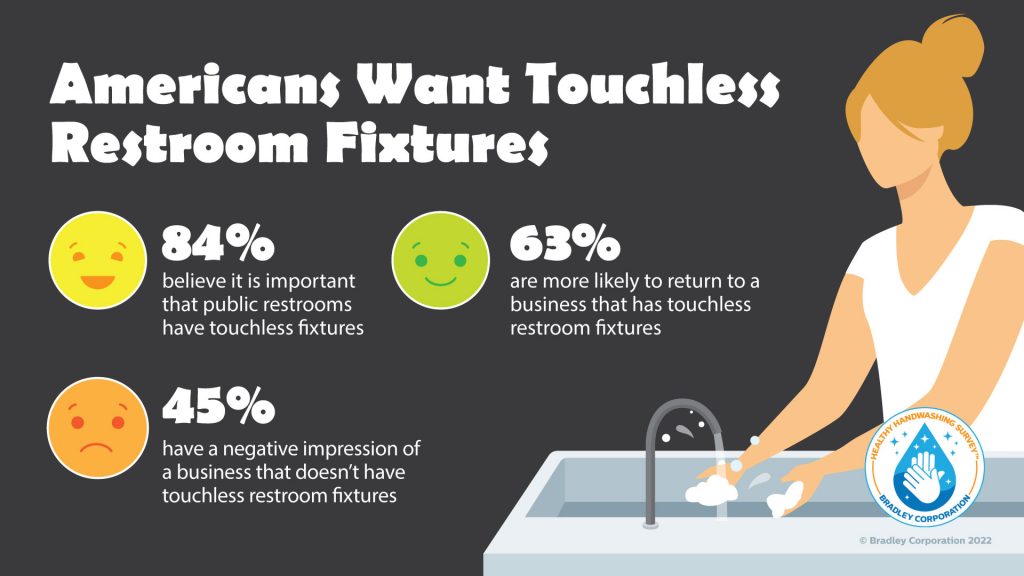 "In fact, Americans view touch-free technology as the number one feature that makes them feel safer from germs in restrooms," said Jon Dommisse, vice president of marketing and corporate communications for Bradley. "Touchless features are also Americans' most requested improvement in restrooms. More cleaning/restocking takes second place."
Which touchless restroom features are considered most important? Respondents cite faucets, soap dispensers, flushers and restroom entrance doors as their top four.
Coronavirus concerns are fading
Since 2009 and throughout the pandemic, Bradley Corporation has conducted its Healthy Handwashing Survey to take a closer look at the state of hand hygiene in America and, most recently, the impact of the coronavirus.
Overall, the 2022 survey found anxiety and actions surrounding the coronavirus have relaxed as the country enters the third year of the pandemic.
Currently 41% of respondents say they are very concerned about contracting the coronavirus. That's a significant drop from January 2021 when more than half of the population (53%) expressed a high level of concern.
All indicators are that most North Americans have become accustomed to cleaning surfaces more since March 2020, and the 56% reveal they clean surfaces in their workspaces more often now than before the pandemic. Seven percent clean their workspace less often now than they did before the pandemic, and 30% indicated no change. There is another 7% who say they do not clean their workspace as someone else does it for them.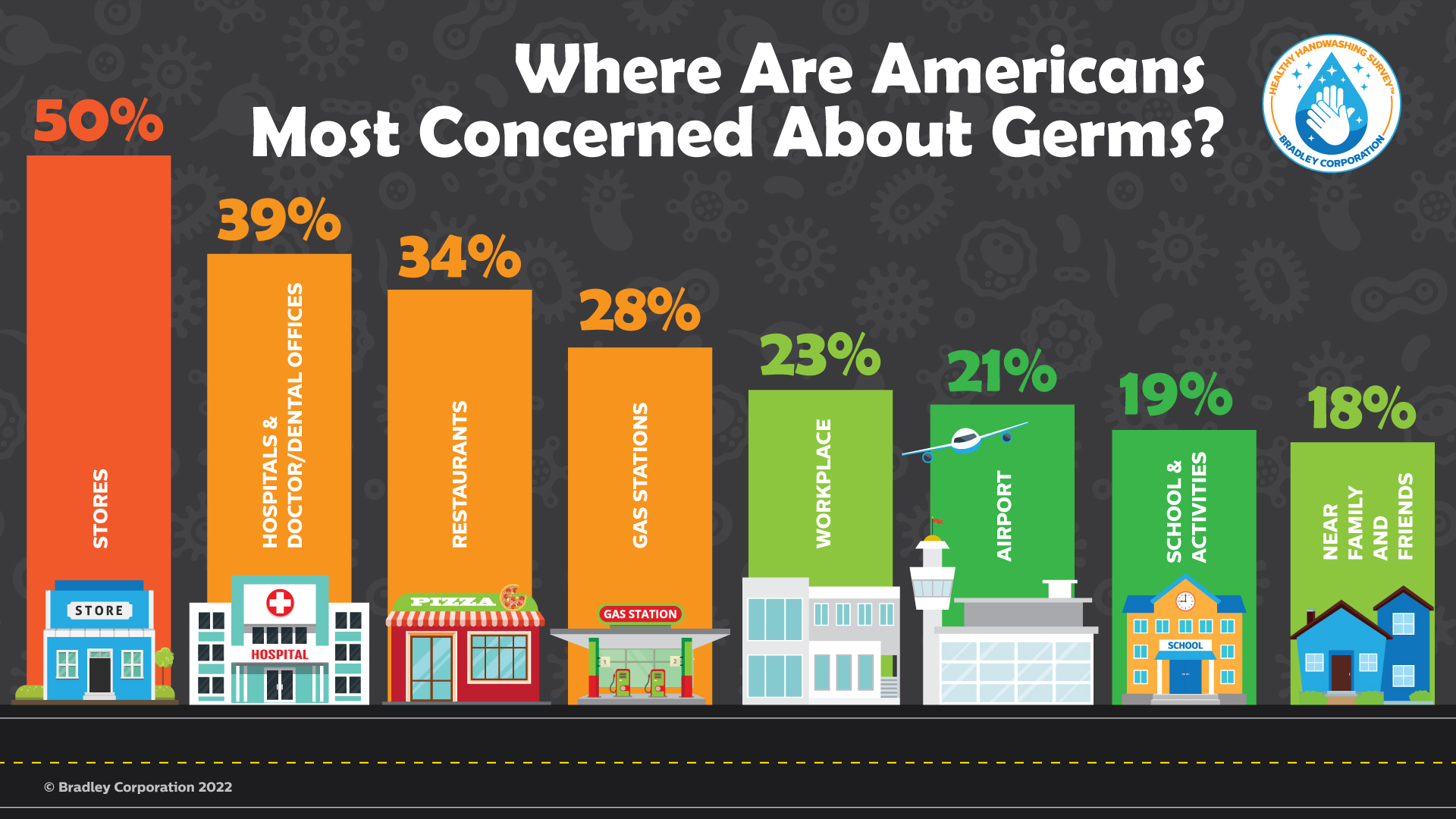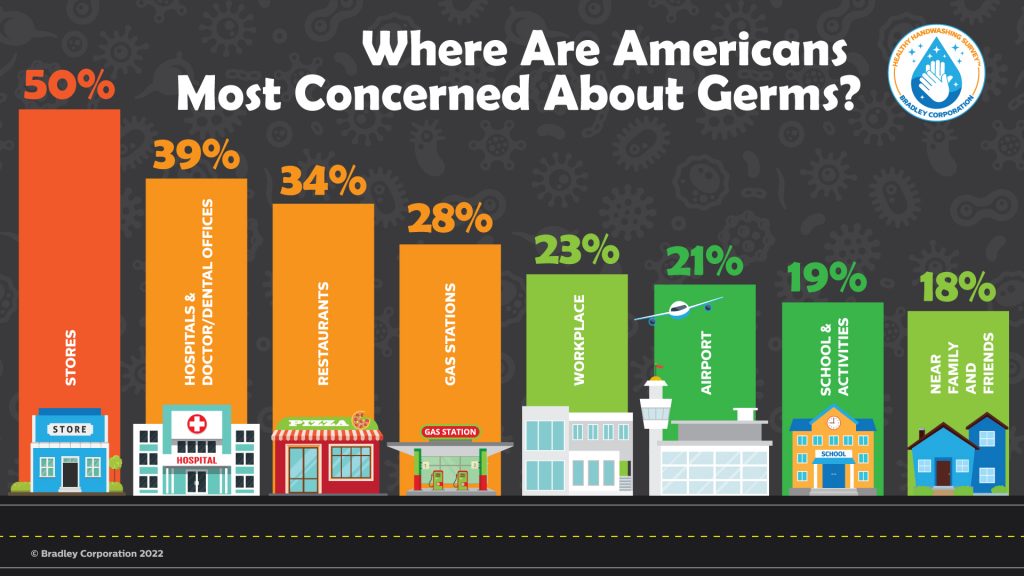 The poll also asks consumers about their children returning to school and the level of confidence in school hygiene policies, their feelings about entering public buildings, where they work now, and concerns about hygiene in the workplace. Click here to read complete Cascades PRO poll results.