Commercial interiors event NeoCon has announced the winners of the 33rd annual Best of NeoCon Awards. This year's competition ranked among one of the best years for the Best of NeoCon in terms of variety and depth of products, and there have been 32 previous competitions! The highly esteemed program recognizes products from industry-leading companies that demonstrate unparalleled innovation and ​design-forward thinking. Selected by a distinguished jury of facility managers, architects, designers, specifiers, enterprise clients and top business media, each of the entries was evaluated on-site in the days leading up to the show.
A total of 114 awards were bestowed upon products in more than 50 categories for Gold, Silver, Sustainability, Innovation, Business Impact and the coveted Best of Competition honors. NeoCon sponsor and host THE MART was likely attended by more than 20,000 commercial specifiers — FMs, interior designers and architects — looking for solutions for emerging healthcare environments and offices, embracing a blend of hybrid and traditional needs. Universally, people were seeking workplace and wellness solutions that were on full display in NeoCon showrooms.
The winners in the education-related interiors categories are presented here.
In the Hard Surface Flooring Vinyl/LVT category: Taking Root from Mohawk Group receives the Gold Award & Sustainability Award for its latest Beyond Carbon Neutral commercial LVT collection that draws inspiration from the deep connection to nature and the grown world. The domestically manufactured line of hard surface flooring features three styles that embody abstraction from nature, with biophilic design elements inspired by mushroom structures, mycelium growth, and spalted maples of the forest. Taking Root is comprised of three styles: Transfiguration, Mycotexture and Zone Lines. Transfiguration and Mycotexture are available as 18″ x 36″ tiles in a 2.5mm or 4.5mm thickness. Zone Lines is available in 2.5 mm and 4.5 mm thickness options, as well as a 6mm (including a 1mm attached pad) rigid click LVT, with slightly varied plank sizes per construction.
The Cultura LVT collection by Shaw Contract is a distinctive line of luxury vinyl tile (LVT) inspired by global cultural diversity. Winner of the Silver Award, it extends the ethos of the Cultura collection, uniting geometric and wood-inspired visuals to create a broad range of design possibilities. Designed to harmonize with the Cultura carpet collection, Cultura LVT offers robust design and performance solutions for diverse commercial spaces, including workplaces, hospitality venues, multi-family residences, educational institutions, and healthcare facilities.
Material Edit is a hard surface collection from Patcraft and an Innovation Award winner designed through an artful journey that shaped the patterns, colors and combination of multiple platforms. The three resilient styles, Kiln, Woodtone and Curved, are available in 9" x 36" planks and five complementary colors. Kiln is a textural stone visual and Woodtone is a nature-inspired wood visual. The colorways for the two styles naturally enhance each other for subtle contrast. Curved is an abstract combination style, featuring arcs and rounded edges for imaginative installations that create interesting compositions.
The LVT styles feature a 20 mil wear layer for superior durability, and the 5mm product construction allows for installation alongside carpet without the need for transition. An ExoGuard® finish provides enhanced scratch and stain resistance.
Education Solutions Gold-Award winner is Senator's CoLab that inspires socializing and collaborative work. How do you foster connectivity and a sense of community when the new normal is so heavily tilted towards an off-site, than rather on-site campus? CoLab offers institutions and workspaces a versatile modular furniture system that empowers shared learning and collaboration with multi-posture design supports a variety of positions and movements, improving engagement and optimizing well-being. By creating multiple relaxed and informal learning environments, creative hubs, quiet nooks, social labs, team touchdowns, it expands the classroom beyond the conventional siloed four walls, into the café, library, atrium, corridor, or common room to encourage students and teachers to engage in open discussion and collaboration after the more conventional and formal teaching. This informal approach can help students feel more comfortable, sharing their ideas and asking questions, which leads to deeper learning and better retention of information.
CoLab from Senator is an education environments winner. Designed as a simple linear structure that supports either tables or seated elements, it is easy for users to understand the intended function and find a solutions that will support them as individuals or groups of varying sizes. All too often collaborative furniture products are designed with wheels to allow the users to reconfigure spaces to suit their needs but environments are rarely returned to their original state as one group leaves causing issues for those that follow. The product is designed not to be moved and its open nature and varying postures allows users to move to a space that suits them so the people move not the product. Integrated power-distribution system to ensure a mains connection is always in easy reach.
In Out Office Monoplace is a range of armchairs with acoustic solutions that provide privacy and soundproofing properties. The module, from Andreu World, made with wheels, easily can be reconfigured with the In Out Office system, designed by Alfredo Häberli, The Silver Award-winner in Education Solutions from Andreu World, In Out Office Monoplace also comes with a built-in table providing users with an armchair space including all the features needed for a learning or workspace – in both individual and collaborative environments. The chair comes with a variety of customization options; the upholstered back panels come in two heights and the oak table top is available in different finishes. This seating option is a true innovation in silent furniture that reimagines the concept of all kinds of work environments.
Learning environments benefit from quiet places and faculty and students often need a place for a video call. The Link, Gold Award winner for Work Pods, is a high-quality video conferencing pod. It features dimmable face lighting, acoustic panels for sound privacy and an adjustable desk. From SnapCab, the optional switch-glass front provides privacy and reduces distractions. Technology integration is set up to be seamless for the user, without hidden fees or planned obsolescence.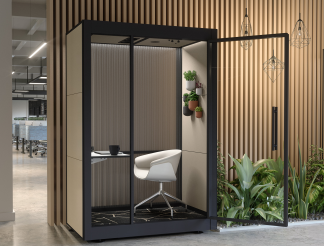 Designers can customize the Link, choosing colors, materials, furniture, and lighting to match the client's space. The modular wall panels can be updated to adapt to changing styles and environmental needs. The Link aims to create an inclusive and productive workspace, with ergonomic adjustability and easy technology integration. The flexible design allows architects and designers to unleash their creativity. The Link is compact, accommodating one person without taking up excessive space. It can be adjusted in dimensions and is mobile with casters. It offers lockable and access-controlled options for added security. The Link is a top-tier video conferencing pod that combines quality, customization, and adaptability for modern workplaces.
The Focus Quiet range of precision-engineered rooms provide focus and privacy. Powered, ventilated and equipped to function in any architectural structure, yet mobile by design for reconfiguration and relocation. Australia-based Schiavello made its NeoCon debut this year and earned five Best of NeoCon awards including Silver for the Focus Quiet Rooms.
The collection includes four purpose-driven sizes. The classic Phone Booth is designed to fit a work shelf and stool to create a low-footprint space for private calls. The mid-size Work Room is ideal for video conference calls, longer phone calls or high concentration solo work. For added functionality with a similar footprint, the Duo Work Room creates a space for small meetings of two, designed for optimal video conferencing. Duo, in name and purpose, provides ample space for wheelchair accessibility. Meanwhile, in the Meeting Room – the most generous in size – a combination of furniture can be used, including a sofa and executive desk for a private office, or a table with chairs to create a confidential meeting room. Focus Quiet Rooms come with integrated, motion-sensor lighting and ventilation with the option to add wall-mounted switches for manual control, such as dimmable lighting. Quiet and seamless, the integrated fans circulate air flow, maintaining office temperature inside of the room.