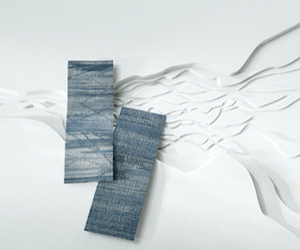 Mohawk Group's Data Tide is an innovative collection of modular carpet planks that seeks to explore the symbiotic relationship between nature and data through the visualization of water.
Data Tide celebrates the unique ecosystem of estuaries where freshwater and saltwater converge to sequester Blue Carbon and support biodiversity. Mohawk Group's design team used data sets from environmental studies of greenhouse gases to create biophilic patterns through a custom-built data visualization tool. With this graphic interpretation, the collection celebrates the positive ecological influence of Blue Carbon capture. Available in eight colorways, Data Tide's 12"x36" modular carpet planks feature gradations that flow from light to dark. 
Turn the Tide with Mohawk Group at NeoCon. See Data Tide in space 377, floor 3.