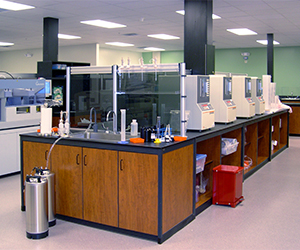 Blood banks are amazingly consistent facilities in terms of functions and equipment, as the thousands of independent and hospital-based centers across the U.S. all share virtually the same needs and requirements. Unfortunately, often due to poor design and inefficient layouts, many blood banks lose productivity (and money) that could easily be gained through expert planning and real-world experience.
Modular Millwork has worked with numerous blood banks and hospitals over the last 15 years. They have perfected layouts, processes and standards that optimize productivity and efficiency for every aspect of a facility, whether a new buildout or a renovation. Key considerations include:
Storage. Vital supplies must be strategically stored to optimize adjacencies, workflow and user needs.
Equipment location. Mission-critical machinery must be properly organized to drive efficiency
Regulations. Testing, labeling, manufacturing and compliance stations must be safe and compliant.
Technician comfort. Modular furniture should adapt to ever-changing needs and individual preferences.
Facility design. Designers need specific, technical knowledge to create functional layouts.
Sanitation. Easy-to-clean, antimicrobial worksurfaces ensure accurate results and employee health.
From the front door to the back door, Modular Millwork transforms blood banks into productivity centers. Employing flexible millwork systems, efficiency tools and proven best practices, their systems drive efficiency and profitability. Learn more with this case study of The Blood Connection Biologics Processing Center in Piedmont, South Carolina.