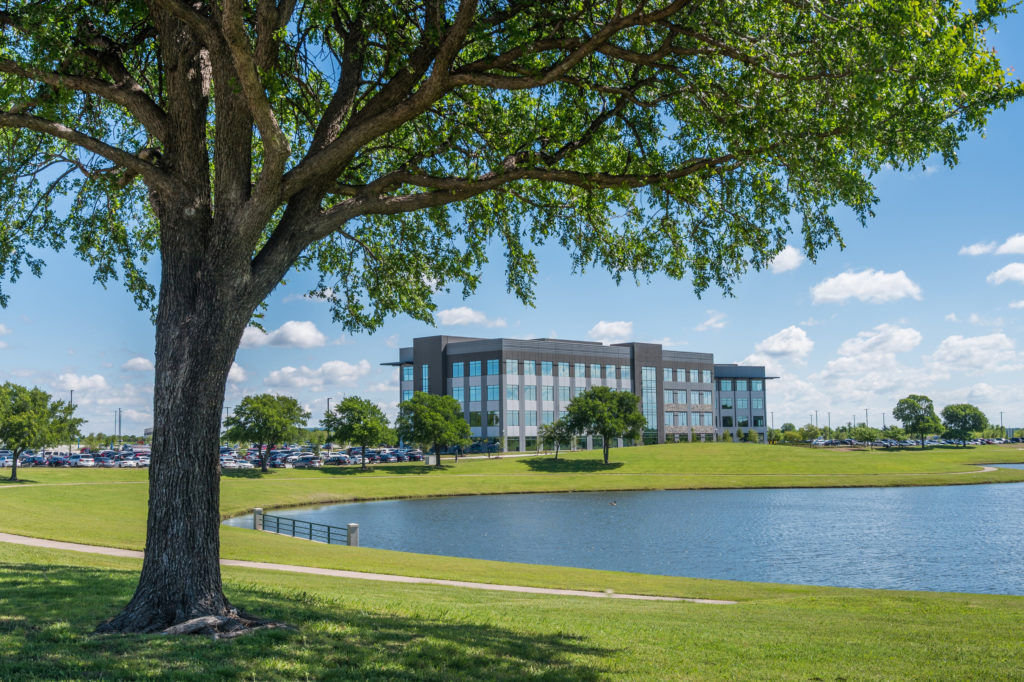 Mercedes-Benz Financial Services USA LLC, an automotive financial and mobility services provider, and a company of Daimler Financial Services Group, celebrated the grand opening of its new 200,000-square-foot Fort Worth Business Center at AllianceTexas, a 26,000-acre, master-planned, mixed-use development in Fort Worth, Texas.
The company's leadership team, employees, project partners, community partners and local dignitaries joined together to commemorate the milestone with a tree-dedication ceremony, signifying Mercedes-Benz Financial Services' deep roots in the community and longstanding commitment to the region. Mercedes-Benz Financial Services has maintained a presence in Texas since 1991.
"At Mercedes-Benz Financial Services, we strive to set standards for corporate culture, and believe our workplace must be reflective of our high brand standards and the cultural modernization of our company," said Peter Zieringer, president and CEO of Mercedes-Benz Financial Services.
As a result of the company's decision to update its facilities while remaining within AllianceTexas, approximately 900 direct and indirect jobs have been retained in Fort Worth. Mercedes-Benz Financial Services' new Business Center is located less than a mile from its previous business center, making it a convenient transition for the company's team.
The company's all-new, four-story business center is designed to support employees with unique amenities and technology solutions that create an engaging, productive and collaborative workplace environment.
"A cross-functional committee of employees drove this project from day one," said Zieringer. "Additionally, a team of employees were engaged to be the voice of the workforce, influencing decisions, such the open-office plan, the building's materials that make up the look and feel of the space, food options in the café, workout spaces, among many others."
One of the facility's main features is the integration of advanced technology to enhance operations. Upon entering the building, employees and guests are greeted by facial recognition software, creating a safer and seamless control experience. Features, such as room controllers and occupancy sensors, are also present in meeting rooms, collecting real-time usage metrics and providing data on how to efficiently manage and make use of the spaces.
The amenity-rich facility also inspires employees to lead healthier, more active lifestyles by integrating wellness options throughout the building. The Body Shop, an onsite fitness center, provides treadmills, free weights, group exercise classes and access to two full-time personal trainers. A restaurant-quality, on-site café offers a variety of healthy food and beverage options, while the gourmet coffee bar offers fresh coffee, espresso, other types of beverages and grab-and-go fare. For a boost in productivity, employees can also take advantage of the nap pods for a rejuvenating space to rest throughout the day.
Reducing the company's carbon footprint, the facility incorporates the use of native materials and elements throughout its design. By selecting native plants that are drought-resistant, the Business Center utilizes a drip irrigation system to assist with water conservation. The Fort Worth Business Center is a LEED-certified facility, performing better than conventional buildings in various aspects of sustainability.
Hillwood served as the developer and owner of the new business center at AllianceTexas while BOKA Powell served as the design architect and architect of record for the shell building and site development. JLL Fort Worth Project and Development Services of Dallas, TX, oversaw the project including facilitation of the shell building, site development and interiors planning, and FF&E; SmithGroup Dallas and Detroit Workplace Studios provided programming, workplace strategy, full interior architecture and design services, and served as the architect of record for the interior. Cushman & Wakefield supported the site selection and lease negotiation process.