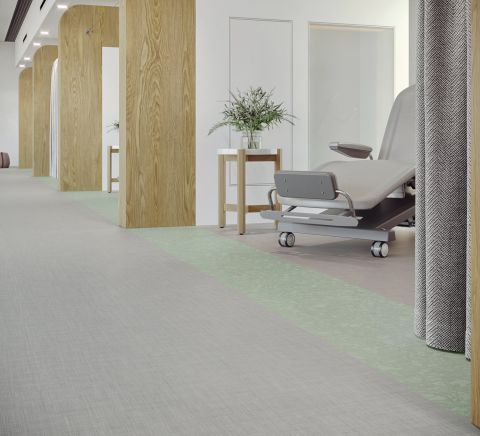 Mannington Commercial introduces the Bloom Collection, three coordinating sophisticated styles of high-performance heterogeneous sheet designed for healthcare and senior living spaces. As part of the launch, Mannington Commercial is also announcing a partnership with Mercy Medical Angels, a non-profit organization that provides medical transportation to patients in desperate financial need. For every square yard purchased, the company will donate 3% of the purchase price to Mercy Medical Angels.  
"Although Bloom and our partnership with Mercy Medical Angels had been in the works prior the outbreak of the coronavirus, this initiative takes on a greater sense of relevance right now," said Ian Campbell, business manager, Commercial Sheet. "Resilient sheet products like Bloom are an important flooring surface for hospitals and other healthcare facilities right now. And Mercy Medical Angels' mission to provide free medical transportation to those who need it is vital — and will continue to be once the pandemic passes."
The Bloom Collection speaks to our ever-present human instinct to connect with the environment and other living things. The motifs and patterning of the styles were inspired when a designer from the Mannington Design Studio took a quiet spring walk through the woods. The instinctive wish to be close to nature led the designer to contemplate familiar organic forms. The forms were repeated to create mandalas, echoing a spiritual connection with the natural world, and then integrated with comforting textures. The results are three refined styles that help spaces bloom with images that promote healing, relaxation and rejuvenation.
Each new style of Bloom is available in eight colorways, encompassing warm and cool neutrals as well as sophisticated blues and greens:
Wildflower is a larger-scale design that gathers pressed wildflowers into an abstract, overlapping pattern on an airy, textural background.
Meander is a smaller-scale design that is more densely layered, with an abstract interpretation of foliage and texture.
Wellspring is a coordinating textural design that is drawn from the background of the other two styles and also works well alone as a refined, biophilac pattern.
Bloom is available in 6', 9' and 12' widths for ease of installation and less waste. The 6' width is offered with QuickStix, a pre-applied adhesive system that eliminates the need for hours of labor. Resilient sheet with QuickStix also has incredible moisture resistance properties, making it ideal for renovations where downtime has significant cost implications.

The Bloom Collection is designed to contribute to human wellbeing and to a project's sustainability goals. This heterogeneous sheet has a non-ortho-phthalate construction and is FloorScore Certified. Featuring an industry-wide third-party Type III EPD, the collection may also contribute to LEED credits. The Bloom Collection is engineered to perform in demanding healthcare environments while remaining easy to clean. Quantum Guard Elite, Mannington Commercial's industry-leading performance technology, allows this resilient sheet to deliver best-in-class resistance to abrasions, stains and slipping, and is proven to clean better than competitors, with no need for polishing. The Bloom Collection carries a limited 12-year commercial warranty and limited 12-year Quantum Guard Elite wear warranty.
Based in Virginia Beach, Virginia, Mercy Medical Angels provides transportation to those who require long-distance medical care. The organization provides approximately 17,000 ground or flight trips annually.  More information and donation options are at www.mercymedical.org.