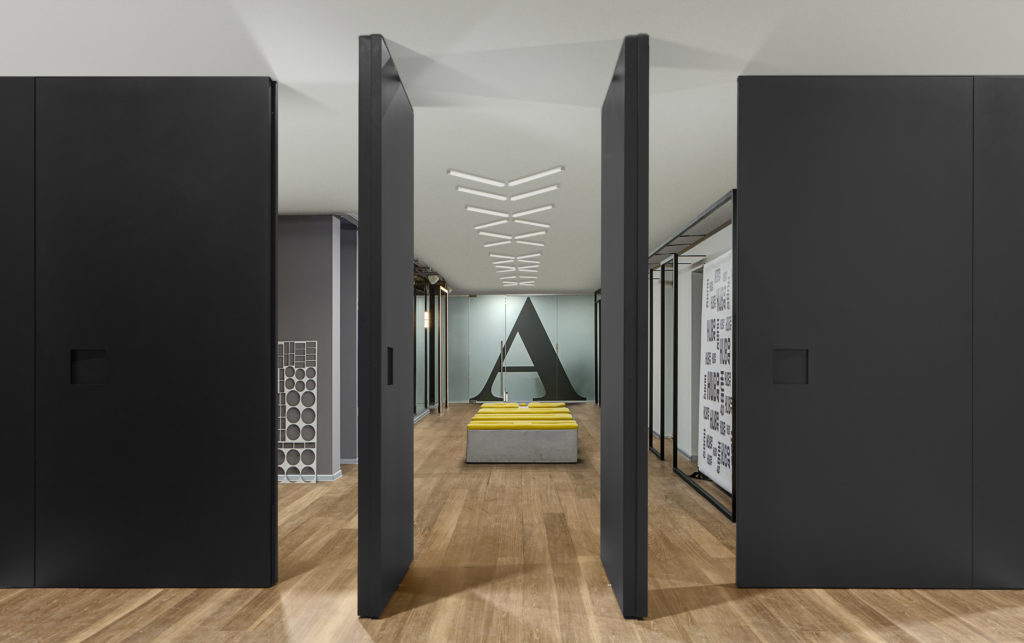 Maars Living Walls, the NeoCon-award-winning global designer and manufacturer of acoustic walls and doors, unveils a groundbreaking new product at NeoCon 2018: AXES, steel-finish doors that pivot on axis points to become an acoustic wall system.
AXES was developed with highly innovative and patented architectural standards, resulting in an access system with "invisible" doors, minimalist design and excellent acoustic performance. The revolutionary system is ideal for education, office, healthcare and other environments that require unimpeded access and the flexibility of open and private spaces.
"Dividing spaces will never be the same," Maars CEO Menno de Vries said. "AXES is an elegant solution that enables seamless transition from one space to another while defining and creating the space itself. It's the intersection between closed and open environments."
AXES is the plural of "axis." In keeping with this plurality, AXES can be specified as a series of pivoting doors. AXES is also a play on the word "access." Because the doors pivot, access between spaces is physically and visually seamless. AXES is ADA compliant.
Developed by Maars' R&D team and third-party-lab tested, AXES' patent-pending pivot construction offers three positions for the doors, which let the user determine how the doors are placed – enabling an open, semi-private or private environment. When fully closed, AXES becomes a wall that provides an acoustic rating of up to 48 STC.
AXES is a relocatable architectural system that can be specified for new construction and existing spaces. Its flexibility and minimalist profile integrate seamlessly into the built environment and blend beautifully with other products.
AXES is made of environmentally friendly steel; the walls can contribute to LEED, WELL and BREEAM standards.
Experience AXES at NeoCon this June 11-13 in Space 7-5030.