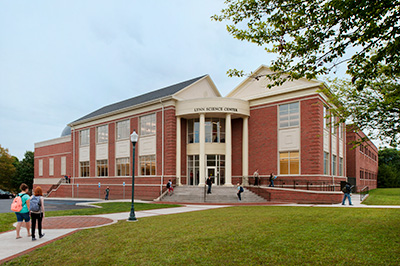 Representatives of BHDP Architecture recently attended the dedication ceremony of its latest project, a 31,500 square-foot addition to the Lynn Science Center at Lycoming College in Williamsport, Pa.
The three-story building, which connects to the Heim Science Building, represents the first new academic facility built on the Lycoming College campus in 25 years. The building provides state-of-the-art learning environments for current students while encouraging prospective students to choose Lycoming as their college of choice.
Notably, the addition includes a 35-foot wide domed planetarium that acts as the focal point of the center where a digital projection system recreates the night sky. Classrooms and research laboratories for the Astronomy, Geology and Physics programs, along with group study space, offices and support space fill out the remainder of the building. A rain garden, completed in partnership with landscape architects at Derck & Edson, extends learning outdoors and provides a green space for students, faculty and visitors.
Dr. Christopher Kulp, associate professor of Physics and Astronomy at Lycoming College, says of the new facility: "[It] has revolutionized what we do in the department of astronomy and physics. Designed to facilitate collaboration, faculty can easily work with each other and students in the classroom and the lab. The flexibility of our new space ensures that we can use the latest teaching and research methods. We look forward to the exciting new opportunities that the Lynn Science Center will enable us to pursue."
"It was a joy to work with Lycoming College on their new facility, which blends the architectural facade with Lycoming's Georgian campus and integrates the newest technologies to advance STEM learning. The building's design is a physical testament to the college's vision to provide a contextual, inviting, flexible and cutting-edge learning environment for current and prospective students," says Giancarlo Del Vita, design leader, BHDP and principal architect for the project. "We are proud to have served this great university with such a rewarding project."
Construction for the Lynn Science Center began in June 2014 and was completed earlier this fall. Students began using the new facility at the beginning of the fall term.