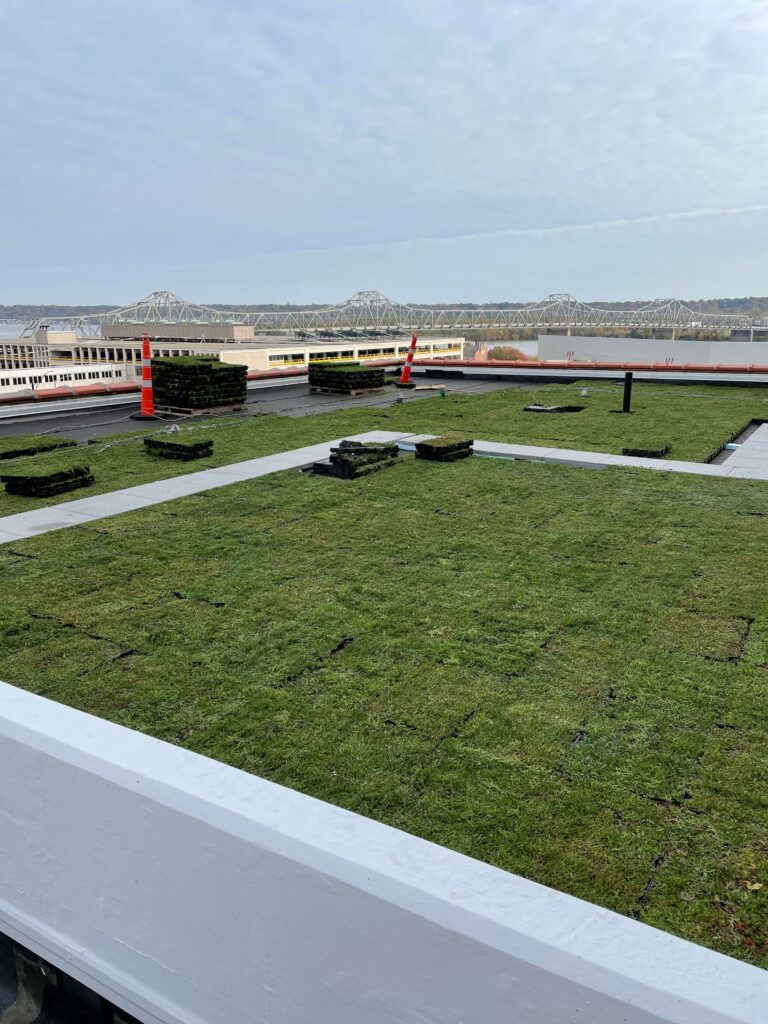 Western Specialty Contractors – Peoria, IL, Branch was part of the team that painstakingly transformed a seven-story historic building in downtown Peoria, IL into OSF HealthCare's new Ministry Headquarters. Western replaced the building's old roof with a low-maintenance green roof garden system designed to alleviate stormwater runoff, extend the life of the roof, and add aesthetic value.
The building for OSF HealthCare's new Ministry Headquarters, located at the corner of Adams and Fulton Streets, was originally constructed in 1904 for the Schipper & Block department store, which later became Block & Kuhl. Most recently owned by Caterpillar, the building along with the Peoria Professional Building and an adjacent parking lot were donated to OSF HealthCare in January 2018. The building had been slated for demolition and was in various stages of disrepair.
The building's $150 million, four-year restoration, with two years occurring during the global pandemic, was completed in January 2021 and consolidates 500 OSF HealthCare employees sharing 275,000 square feet of historically restored space.
OSF HealthCare is an integrated health system owned and operated by The Sisters of the Third Order of St. Francis, Peoria, IL. OSF employs more than 24,000 Mission Partners in 147 locations, including 15 hospitals – 10 acute care, five critical access – with 2,097 licensed beds, and two colleges of nursing throughout Illinois and Michigan.
The project general contractor CORE Construction hired Western's Peoria branch to replace the building's existing roof with a vegetative roof system and IPE wood patio pavers specified by Dewberry Architects.
Western started the project by removing the building's existing modified roof and flashings down to the deck. During the roof's removal, it was discovered that the cementitious topping on the existing terra cotta roof was crumbling and unusable. Western was instructed to remove all the topping on the 13,000-square-foot main roof and temp it to prevent water intrusion into the interior finishings nearing completion on the seven floors below.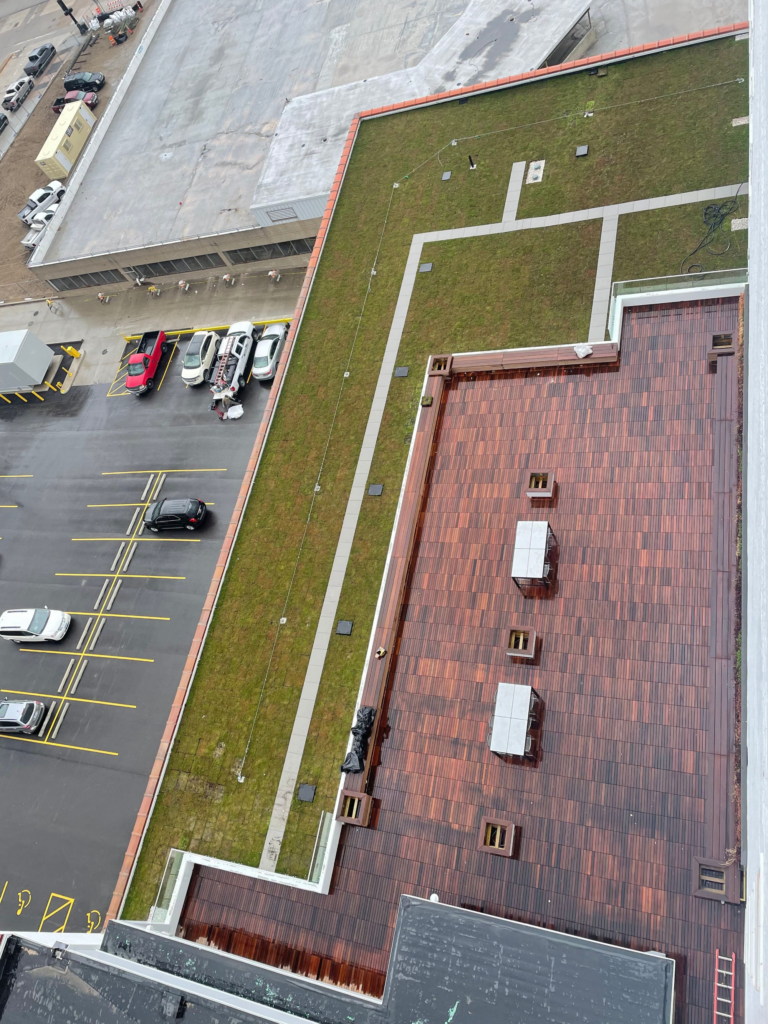 Western crews then installed a vapor barrier of R-30 Polyiso insulation and Carlisle SynTec 115 mil Fleece-back EPDM membrane, all set in a low-rise adhesive, then fabricated and installed new copings, counterflashing and soffits at the canopies.
Western then installed 3,000 square feet of IPE wood patio pavers on the roof, plus a 4,800-square-foot Hydropack Roof Garden System manufactured by Carlisle which consisted of modules of pre-planted and established Sedums – a perennial plant (commonly known as stonecrops) with succulent green foliage, shallow roots and clusters of star-shaped flowers that bloom from midsummer to fall. The easy-to-grow and hardy foliage is a favorite of pollinators and ideally suited for green roofs.
The Hydropack modules are pre-grown for at least a year prior to shipment, providing a fully vegetated product with a two-week lead time for standard plant mixes. The modules are shipped on a flatbed truck containing up to 3,100 square feet of product and arrive on pallets that are easy for the contractor to handle and raise to the roof.
Hydropack Roof Garden Systems have several benefits, which include:
Stormwater Management – Roof gardens help to alleviate stormwater runoff through absorption and retention of precipitation. The Hydropack system is designed to maximize stormwater retention using an intelligent reservoir system. The reservoirs contain expanded aggregates that allow wicking of stored stormwater to the plants' root systems.
Extends Roof Life – Hydropack modules protect roof membranes from ultraviolet radiation, extreme temperature fluctuations, punctures, and other physical damage which can improve the long-term performance of the roofing system.
Adds Aesthetic Value – Hydropack Roof Garden systems provide visually pleasing landscapes in urban environments and add value by converting unused rooftops into amenity space for building occupants and wildlife.
Low Maintenance – Low-maintenance Hydropack modules arrive at the jobsite fully vegetated with established plantings. Maintenance requirements vary based on the system installed: Carlisle can help develop project-specific maintenance plans.
To complete the low-maintenance green roof project, Western installed cold applied waterproofing on the roof's elevated sidewalk, followed by a pedestrian deck coating in the roof's penthouse and carbon fiber on its interior beams. Western says it completed the project on time and within budget.
For more information about Western's Roofing Services, visit the website. Family-owned and operated for over 100 years, Western Specialty Contractors is one of the nation's largest specialty contractors in masonry and concrete restoration, waterproofing and specialty roofing. Headquartered in St. Louis, MO, Western maintains 30 branch offices nationwide.