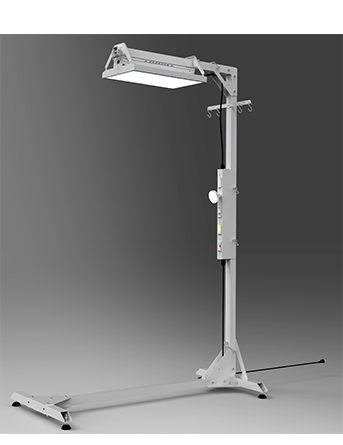 Acuity Brands, Inc.  (NYSE: AYI) announced the availability of lighting solutions to address the alternate care site requirements established by the U.S. Army Corps of Engineers (USACE) and the U.S. Department of Health and Human Services (HHS). The solutions are tailored for arena-to-healthcare concept (A2HC) and hotel-to-healthcare concept (H2HC) illumination requirements of acute and non-acute care spaces – nurse workstations, medication rooms and corridors as well as Category 2, Category 2 Plus and Category 3 patient pods. All lighting products, including Lithonia Lighting and the custom-designed Portable Healthcare Light Stand, are available for rapid response delivery.  
"Our teams have mobilized quickly to deploy lighting for multiple temporary alternate care sites, which are supporting life-saving treatments for the most critically ill," said Steve Lydecker, Senior Vice President of Applied Technology Solutions. "For example, our Portable Healthcare Light Stand went from concept-to-completed design to first customer installation in less than two weeks."
The Portable Healthcare Light Stand, designed for lighting patient pods in A2HC and H2HC settings, is an all-in-one solution that includes exam, task and night lights with an IV hanger bar. Additionally, it can be assembled within a few minutes.
To learn more, visit our website. For more information, states and municipalities should contact their local Acuity Brands lighting representative.