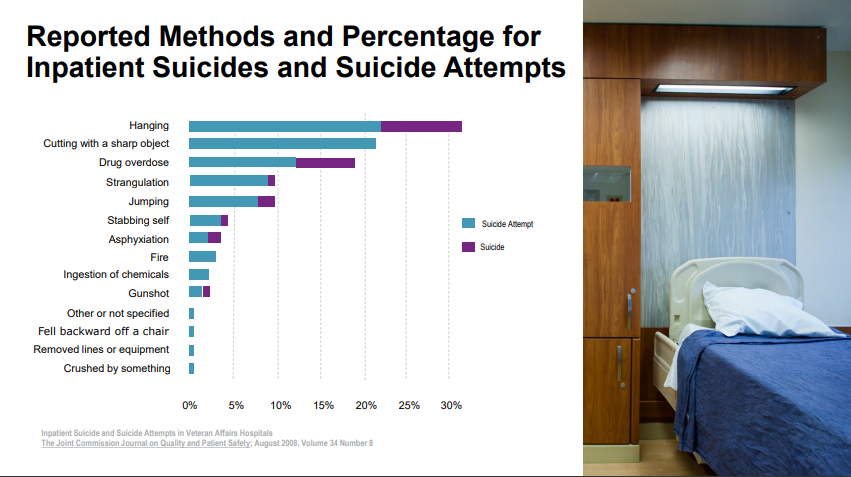 By Theresa Walsh Giarrusso
Kimberly McMurray, AIA., NCARB, EDAC, MBA principal & architect, Behavioral Health Facility Consulting, LLC., leads healthcare facilities across the country in assessing patient/staff safety risk. Her clients include NYC Health+Hospitals, Kingsbrook Medical Center and Hackensack University Medical Center. She spoke about some of the top things facilities need to consider with ligature resistant design at the 6th Annual New York Hospital, Outpatient Facilities & Medical Office Building Summit held Sept. 25 at New York-Presbyterian Hospital. Here are some of her main points:
Suicide is still a problem in hospitals. It's the 10th leading cause of death in U.S. according to The Joint Commission. 50+% of inpatient suicides on psych units (TJC). 90% of these occur in patient rooms and bathrooms (S. Bayramzadeh)
When you're converting medical/surgical rooms to behavioral health rooms, you have to be careful. You don't want hidden corners or blind spots. The beds and headwalls are very different.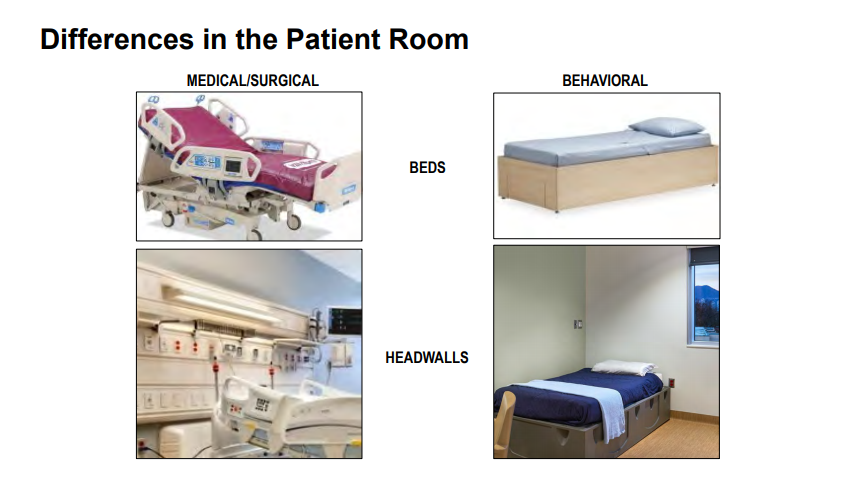 Medical/surgical bathrooms have many ways to hurt yourself – pipes, handles, faucets, toilet pulls.
Guides you should be using to translate ligature resistant environment into design: The Behavioral Health Design Guide June 8, 2019 Edition 8.1. FGI – Guidelines for the Design and Construction of Hospitals, Outpatient and Residential Facilities – 2018.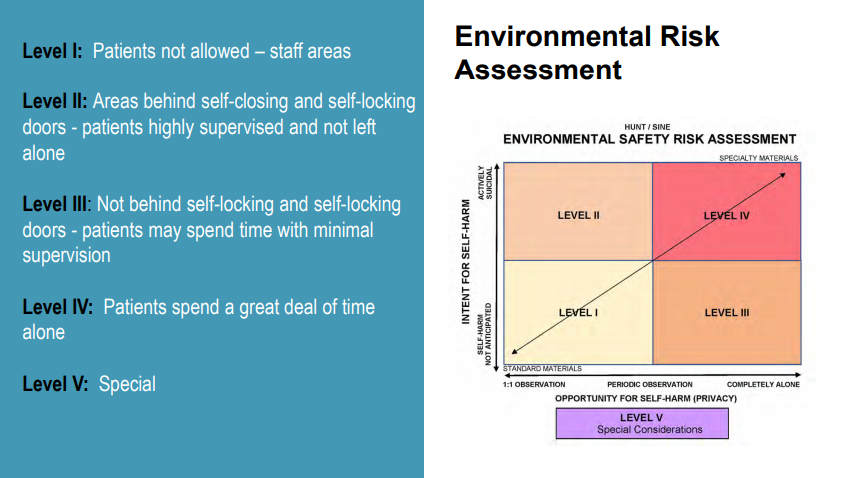 There are levels of hardening within the facility. Level 1 – These are staff areas. No patients are allowed. You don't need to spend the money to harden those spaces. Level 2- These are areas behind self-closing and self-locking doors. The staff must always be with the patient. Level 3 – These areas are not behind self-closing or self-locking doors. Patients may spend time here with minimal supervision. Be careful with ceilings. She recommends a hardened ceiling. (
Level 4 – Patients spend a great deal of time in these spaces alone. Patient bedrooms need the most hardening. Rooms should include: Ceilings – Monolithic, vandal-resistant lights, air grilles, fire sprinklers, secure access panels, tamper-resistant fasteners. Glazing – Shatter and mar-resistant, no curtains. Integral blinds or window film. Door – Barricade-resistant and ligature resistant hardware, over door alarm. Furniture – Durable, secured in place, no doors or drawers, BH mattress.
Don't put the polished steel for mirrors. It's awful for the patient. They need therapeutic and restorative. Use security film for the mirrors and windows.
If you can see daylight through a hinge, be careful. Patients can thread something through it.