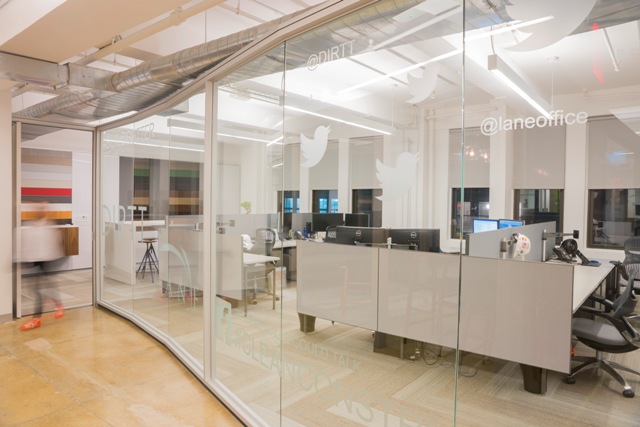 When you are in the business of creating functional and beautiful contract interiors and your team is focused on clients, it is a challenge to pause and consider your own work environment. But that is exactly what Lane Office, a New York commercial and corporate furniture dealer, had to do when it relocated from Lexington Avenue on the East Side to the West Side.
"Our old location saw us through years of growth, as we are now 50-people strong, but as our lease came to an end, we saw no other choice but to find a new location to call Lane Office's home. Like any change, it came with the obligation to make it something positive for our people, those we employ and those clients we so happily serve," says Greg Burke, CEO, Lane Office, whose primary lines are DIRTT and Knoll. "With that, we knew we needed a space that allowed us to showcase the products about which we feel so passionately."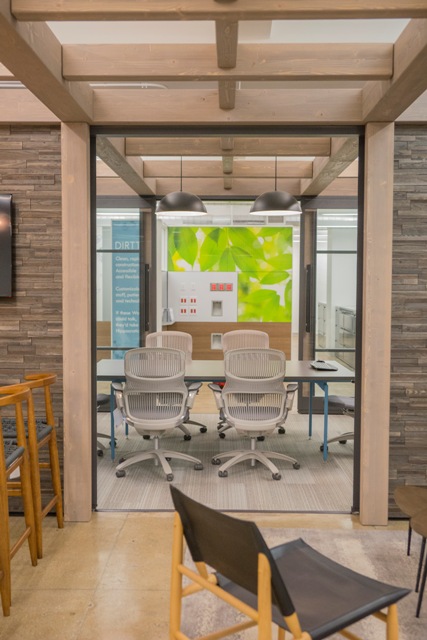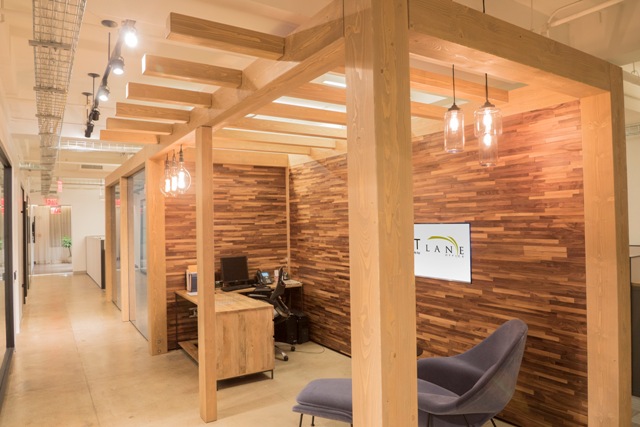 The open space—at 17,000 square feet—is 6,000 square feet larger and essentially a blank canvas that Lane could put its stamp on from a furniture and DIRTT standpoint. "As much as we will cherish our times in the old space, when we discovered, or uncovered, as we like to say, our new office on the West Side, we knew we found a gem," exclaims Burke. "It came down to the fact that we needed more room and above all, we needed a sustainable space that will grow and evolve."
Of its own design and planning
Cindy DeFronzo, Lane Office's Design Director, did all of the design and project planning, and Mario Arostegui managed the project based on the DIRTT designs by Rich Miller. Having its own people work on the project not only gave Lane a guarantee that the job would be done well, but made it all the more personal.
The integration of Lane's vendor lines with the design concept essentially is the design concept. "As much as we love to talk about DIRTT and Knoll, we knew it was time to put our words into action,"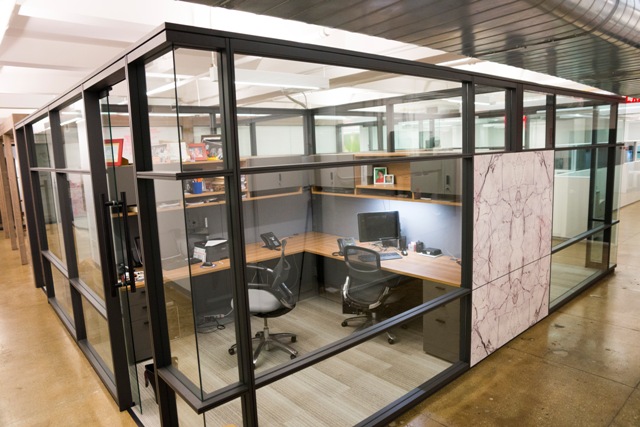 DeFronzo declares. "We just had to create our own offices out of the Knoll products and DIRTT solutions that we vehemently encourage others to use."
From the second the lease was signed, it took only 10 weeks for Lane to move in. "This would not have been the case had we resorted to standard methods of construction," Burke explains. "DIRTT's impressive lead times (only 4-6 weeks) and the dedication of our people made the move feel like it came and went in an instant." The aspect that has delighted the Lane team most is that from layout to build out, both timber displays took a total of six hours.
And Lane Office now has working air conditioning. "Our last space saw many of us at our worst during the middle of New York's unbearably hot summer days, so when seeking a new office AC was a necessity, if only for our own sanity," quips Burke. "Among the other amenities, we are grateful for a cafeteria with plenty of space to eat and have casual meetings, two conference rooms, break out spaces, and our products, such as DIRTT media walls throughout the office and a healthcare vignette featuring a flip down bed that can hold up to 600 pounds."
Better space for project teams
 "With a group of people that enjoy and thrive on collaboration, we knew we needed space for people to discuss projects and exchange ideas," Burke avers. "With our various break-out spaces and conference rooms, there is more than enough space now."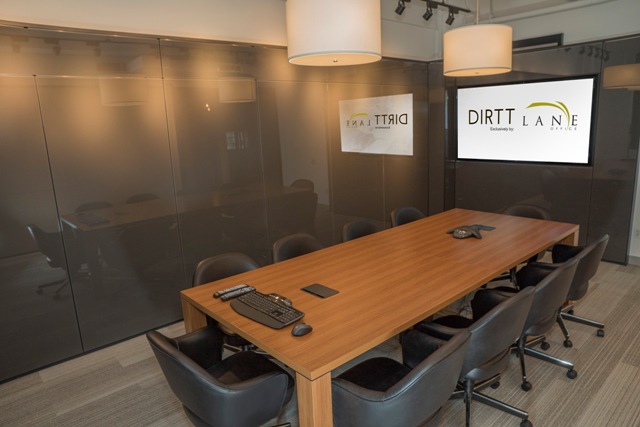 In its former space, Lane only had one conference room. At the 256 West 38th St. location, they designed two conference rooms different in their layout and design based on user needs. "We have one eight-person conference room that is comprised of DIRTT's Timber frames, DIRTT panels, embedded technology and millwork throughout," says Burke. The other, able to seat 10 people, features a DIRTT Curtain Wall and DIRTT Media Wall. "We can now feel confident that we will always have the space to accommodate our clients . . . even if they all decided to pay us a visit on the same day!"
Lane went into the move with the mindset that it would become bigger a
nd better. "We ensured the space would accommodate growth, both in a business sense, and a literal sense," says the CEO Burke. "We built 10 percent growth into the space, and all of our private offices on the fifth floor are able to transition to doubles."