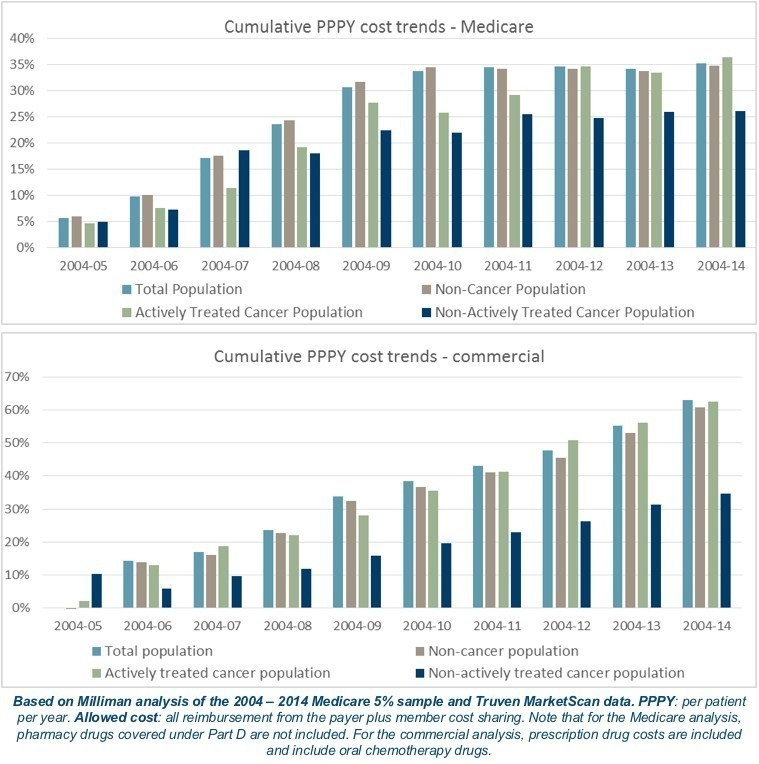 A new Milliman study shows that over the last decade the total costs of treating patients with cancer in the United States have risen no faster than overall costs for Medicare and commercially insured populations. Contrary to a commonly held misbelief that cancer care costs have rapidly outpaced other health care spending trends, the study actually found that total costs of treating patients with cancer have increased at essentially the same rate as all health care spending since 2004.
Commissioned by the Community Oncology Alliance (COA) and conducted by researchers at the actuarial firm Milliman, the study took a retrospective look at claims data for the Medicare and commercially insured patient populations from 2004-2014. The report was released in conjunction with a briefing to U.S. congressional health care staff as well as a meeting with the Centers for Medicare & Medicaid Services (CMS).
The three key findings of the COA study are:
The increases in costs from 2004 to 2014 were essentially the same in actively treated cancer patients and the non-cancer population.
Drug spending, which made up one-fifth of the total costs in actively treated cancer patients in 2014, has increased at the highest rate of all component costs, fueled by new biologic cancer drugs.
Cancer care has moved significantly into the more expensive hospital setting since 2004 and is an important component of the increase in the cost of care.
"There has been a long-held belief in research and policy circles that cancer care costs in America have gone up disproportionately as compared to other health care costs. This study shows that this commonly held belief is not supported by the evidence," said Debra Patt, MD, MPH, MBA, practicing oncologist at Texas Oncology (Austin, TX), and COA board and study team member. "What these data actually show are that per capita oncology cost increases are proportional to total healthcare spending. It is evident that per capita spending in oncology is less when patients are treated in a physician office setting in comparison with the hospital outpatient department. I hope with the advent of new initiatives such as the Oncology Medical Home, pathway management, and other value-based care initiatives, we should see even more success in providing high value care for our patients."
"We combined several perspectives and skill sets – actuarial, public health, and clinical – to conduct this real world data project," said Pamela Pelizzari, MPH, lead study researcher with Milliman. "As a result, I believe that this work will inform organizations across the spectrum of healthcare, from ACOs to insurers, from patient advocates to bioscience companies."
"It is critical that physicians, patients, payers, and policymakers have a clear and accurate understanding of the complex cost drivers behind this devastating disease," said Ted Okon, executive director, COA. "There is misguided policy coming out of Washington, like the proposed Medicare experiment on cancer care, that will just drive up cancer costs, not get them under control."
A full copy of the study, methodology, and detailed appendices is available on the COA website here.