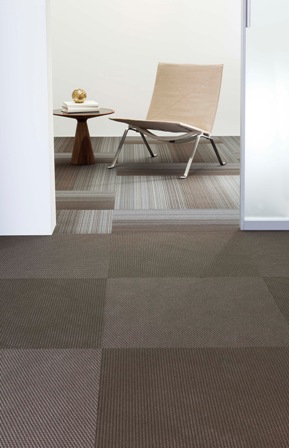 The ombre pattern of Umbra and Umbra Stripe lends itself perfectly to the 18-in. x 36-in. size for the first modular plank products from J+J Flooring Group's Kinetex textile composite flooring. Lines of varying breadth and width, sometimes in darkness, sometimes with bright streaks, are seen fainter and correspond to intensified lines.
All Kinetex products are constructed of knitted polyester fabric and cushioned polyester felt backing. The result is a soft textile aesthetic with the durability of hard surface flooring. Kinetex provides superior stain and crushing resistance through its ability to withstand more than 5 million foot traffics. It also provides better acoustics, comfort, cleanliness and slip-and-fall resistance than traditional hard surface flooring. Kinetex's lifecycle cost of ownership (flooring materials, installation and maintenance over 7-10 years) is less than rubber, LVT and VCT flooring.
Umbra and Umbra Stripe contribute to sustainable design. Named one of Environmental Building News'  Top 10 Green Building Products of 2014, Kinetex has 50 percent lower environmental impact than traditional hard or soft surface flooring. Kinetex products contain 55 percent recycled content, are fully closed-loop recyclable and are certified to NSF 140 Platinum. All Kinetex products meet the Carpet & Rug Institute's Green Label Plus certification for low indoor air emissions and come with a third-party Environmental Product Declaration.