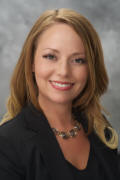 The Health Care Institute welcomes Kimberly McHugh, senior construction lead for Providence Health & Services in Western Washington, as its newest board member.
McHugh is a construction management professional with more than 15 years of experience in providing leadership, strategic directive, and technical guidance for the execution of complex construction projects, primarily in the healthcare market. As the senior construction lead for Providence Health & Services, she heads a team responsible for facilitating collaboration in the effective delivery of the construction projects within her region.
Through a holistic approach to achieving project goals, blending functional program and operational needs with design and construction approach methodologies, McHugh is able to consistently meet time to market targets and financial performance objectives.
McHugh's career has been built in the Pacific Northwest, where she previously managed healthcare projects as a general contractor. This included positions with Ferris-Turney General Contractors, Lease Crutcher Lewis and Sellen Construction, working on major healthcare client accounts across the region.