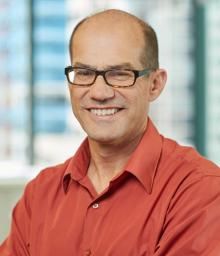 Ken Filar, AIA, LEED AP, has joined HDR as a principal laboratory planner in the firm's architecture practice.
He comes to HDR with more than 30 years of experience at some of the nation's top architectural and lab planning firms.  Filar has helped hundreds of clients solve some of their most challenging problems in the science and research, electronics, and emerging technology fields.
"Ken and I worked together several years ago with others that have since joined HDR. It's exciting to be reunited," shared Steve Riojas, HDR's Global Director for Education | Science | Technology. "Ken brings a tangible passion in science and research that readily translates into effective partnership with our clients to program, plan and design great environments for discovery."
Filar will be based in San Francisco, but will support clients around the globe.
"It's a thrill for me to be collaborating with some of the best and brightest laboratory architects and engineers in the world," stated Ken, "particularly in the physical sciences which have been a lifelong passion of mine."
Filar has pursued his passion for the physical sciences and engineering in both conventional and unconventional ways, including founding and coaching a world champion high school robotics team.  In his spare time, Ken is a visiting scientist with MIT's Plasma Science and Fusion Center, applying his knack for problem-solving and design thinking to the systems design of next generation fusion reactors.