There are 111 free industry sessions offered during the AHR Expo covering air conditioning, best practices, building automation and control, building design, certification, commissioning, energy conservation, efficiency, heating, HVAC/R systems and equipment, plumbing, refrigeration, ventilation, and more. In addition the show floor features 1,700+ exhibits from the top HVACR manufacturers. If you're looking to explore and discover the very latest HVACR products and technology, you'll find it all on display at the AHR Expo in Chicago, January 22-24, 2024.
The McMorrow Reports recommends these sessions for facility managers, especially for healthcare facilities and medical offices buildings (MOBs).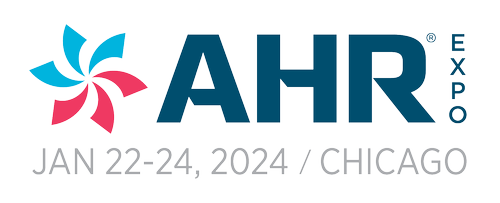 Cooling Tower Fundamentals will provide an overview of cooling tower technology and application. Topics include common cooling tower terms, how cooling towers work, the most common configurations in use today, and key design considerations for applying cooling towers on both HVAC and light industrial systems.
Compliance as a Catalyst: Regulatory-Driven Sustainability in Data Centers. Facility management, data center management, and engineers will find this applicable to any organization that has a data center of any size, including hospitals, universities, financial institutions, etc.
Minimizing and Troubleshooting Fan System Effect. Fan system effect is the result of less-than-ideal conditions at the inlet or outlet of a fan. It adversely affects fan performance, reducing service life, increasing noise and vibration, and wasting energy and budget. Learn how to recognize and minimize system effect by ensuring air enters or leaves a fan uniformly. Real-world cases will be discussed and video demonstrations will be shown. Credits: 1 PDH | Check with your state for their continuing education credits requirements.
Thermal Energy Storage: Current Technologies and Innovations in thermal energy storage and why is it important, especially with the investment tax credit included in the Inflation Reduction Act of 2022. The presentation will cover the types of products that are commercialized (i.e., rooftop packaged units, chillers, campus-wide tanks), and the economic and carbon-reduction benefits to end-users, as well as the benefits to the grid.
Navigating to a Greener Future: How Decarbonization and Innovation is Leading Our Markets. Join BSRIA on a journey through the evolving landscape of sustainability, decarbonization, and building technology and HVAC markets. Experts will provide a comprehensive analysis of the global market, with a focus on North America, highlighting future trends for a sustainable and greener world.
Supporting Healthy Buildings through Humidity Control. With ASHRAE Standard 241 drawing increased focus towards infectious aerosol controls, healthy indoor environments are a major topic.  In addition to ventilation and filtration, humidity control is an important component of healthy indoor environments. Both recent and historical research have demonstrated links between humidity control and the health of building occupants, as well as control of infectious aerosols. This session will explore the links between humidity and health and provide some practical approaches for achieving optimal humidity levels. 
Leveraging AI to Revolutionize Microprocessor-Based Controllers will highlight the benefits of AI in microprocessor-based controller, exploration into how AI enhances performance, adaptability, and learning capabilities while handling complex systems. A case study is showcased demonstrating the successful implementation of AI in control applications and the resulting performance improvements and cost savings. Challenges and considerations related to data availability, computational resources, and interpretability. Future direction and opportunities for AI-driven control systems are reviewed.
AHR attracts the top minds in the industry to keep building managers current on everything HVACR. In addition to the latest products and technology, with 1726 exhibitors, AHR will explore trending topics in all sectors of the industry including AI and controls, decarbonization, plumbing and hydronics, heat pumps, refrigerants, workforce development, business and professional growth, and much more.
The AHR Panel Series offers three regional updates; HVACR State of the Industry Leadership; Addressing the Workforce Talent Gap through Educational Partnerships; Heat Pumps, Electrification and the Grid; and AI, Controls and the Future of Tech in HVAC.
Facility managers also can sit in on rapid-fire 20-minute New Product (and Tech) Presentations directly from manufacturers. Three theaters on the show floor will host 150+ presentations.
Facility planners can create their agenda digitally and bring it to the show!
AHR Expo registration is free through January 20, 2024.