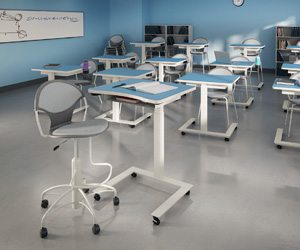 Embrace the evolution of today's active environments with Darby. This petite, single-user table moves freely as dynamic spaces shift from individualized focus to group connections and more.
Darby's unified design intuitively supports the nimble, human-centric needs of engaging workstyles. Two locking and two non-locking casters provide mobility to move around the office or classroom, while the pneumatic height-assist mechanism accommodates preferences to sit or stand. Further encouraging wellness, the ergonomic top promotes proper posture by optimizing reach and maximizing the worksurface.
Practical elements reinforce Darby's efficiency and flexibility. Wherever Darby takes you, keep supplies at hand with a book tray and retractable cupholder. Radius PVC corners cushion inevitable impacts, taking care of the table and its surroundings.
Enjoy freedom and flexibility with Darby.
For more information about Darby, visit Versteel.