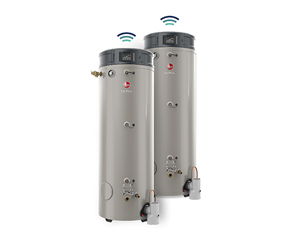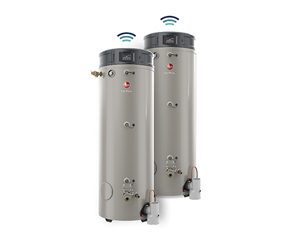 With the launch of Triton™, Rheem® offers an unprecedented value in the commercial marketplace by providing a water heater that detects and prevents problems before they occur, eliminating potential emergencies.
Only Triton has LeakSense,™ the internal leak detection system that catches leaks as small as a grain of sand and provides real-time leak notifications. Triton also features LeakGuard™, the industry's only all-inclusive leak detection and prevention system, with a proprietary auto shut-off valve that limits leakage to no more than 24 ounces of water.
Triton's built-in intelligence includes EcoNet® Smart Monitoring Technology with integrated Wi-Fi, providing performance updates and alerts via both mobile device and the full-color LCD display on the unit. Triton self-monitors its most vital components, providing updates and preventive maintenance reminders. It can also track energy and water usage trends through the app. The integrated BACnet port (MS/TP) easily connects to building management systems (BMS).
This smart water heater was designed to be flexible, making it the ideal solution for both replacement and new construction applications. Multiple water connection points at the top, side and bottom of the unit allow universal retrofit across all brands on the market. Triton also offers a wide variety of flexible venting options, including InnoFlue® Flex Venting, as well as polypropylene, PVC, CPVC and ABS materials. Triton can vent in 2-, 3-, 4- and 6-inch diameters.
Triton is built to last. Its Triple-Pass Heat Exchanger is made of ASME-grade steel, minimizing rust and corrosion for extended tank life and maximum thermal efficiency. The advanced power anodes are non-sacrificial and self-adjusting to further extend tank life.
A patented built-in condensate neutralizer reduces water acidity for safe drainage. Triton also has scheduling capability that can be adjusted to heat water only during peak operating hours, saving energy. Full modulation operation further maximizes energy savings by optimizing BTU/h input for specific water demand, providing up to 98% Thermal Efficiency.
Triton's design was guided and influenced by plumbers and perfected by Rheem® Engineering. Find out why you should spec Triton for your next commercial project.