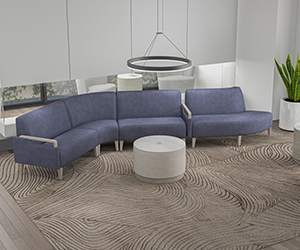 Providing an accommodating level of comfort, Kwalu's Casale Modular Collection easily adapts to your space. Multiple configurations are achieved by combining the lounge chairs, love seats and corner wedge units in the collection, either freestanding or connected, with or without backs.
The Casale bench and wedge chairs are available with solid-surface tops. Other optional features include floating arms and black or white power modules on selected units.
Visit Kwalu's NeoCon showroom 1199 on the 11th floor.