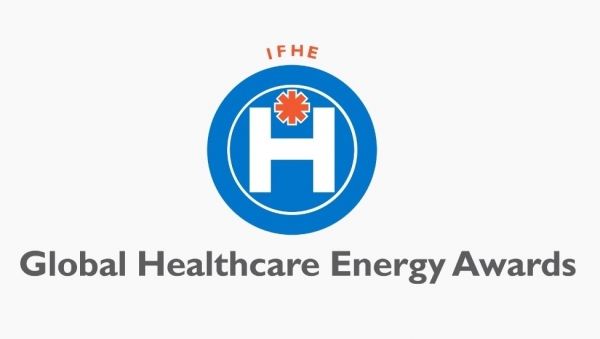 The International Federation of Healthcare Engineering (IFHE), with support from the Association of Medical Facility Professionals (AMFP) and Mazzetti, has launched its first-ever Global Healthcare Energy Awards. The awards aim to encourage healthcare facilities around the world to commit to a reduction in energy use that will ultimately lessen the entire global health system's intensive carbon footprint, all through a simple energy tracking process.
Any healthcare facility with a 5% or greater energy reduction, measured from 2019 as the energy usage baseline and 2021 as the performance year, will be eligible for recognition as a Global Healthcare Energy Winner. "Best in Country" winners and the "Best in World" winner will be recognized during IFHE's Annual Congress Sept. 15-22, 2022, in Toronto, Canada.
"We've designed the process (and tools) to be as simple as possible to help more healthcare facilities better understand their available energy data and the value it offers," comments Walt Vernon, PE, CEO of Mazzetti, Vice President of AMFP, and IFHE Executive Committee Member. "As healthcare facilities professionals take charge of this data, they gain stronger insight into how even small actions can save their organizations money and dramatically improve the care they provide their patients, staff and communities."
The nomination process is simple. Upon creating a free account at https://energyapp.mazzetti.com/IFHE, healthcare facility management professionals can enter monthly energy data either manually, by uploading a spreadsheet or by connecting through the ENERGY STAR Portfolio Manager. Once data is uploaded, organizations can easily track their performance online or through a mobile app and instantly become eligible to earn recognition through IFHE for energy improvements.
"IFHE is thrilled to celebrate its members' success on this global platform. With every entry, we hope to inspire more organizations to join this movement toward creating a healthier, more sustainable future for us all," says Darryl Pitcher, president of IFHE and CEO of Bethsalem Care in Australia. 
"Healthcare facility managers are under intense pressure to cut costs so that those dollars saved can be reinvested into critical care services. By taking control of the energy data already available to them to strategically reduce energy use and its costs, these professionals are demonstrating the incredible value of facility managers as a tremendous value center in today's healthcare environment," says Jeffrey Kent, founder of Kent Healthcare Facilities Advisory and President of AMFP. For more information, or to begin tracking your data, visit https://energyapp.mazzetti.com/IFHE.