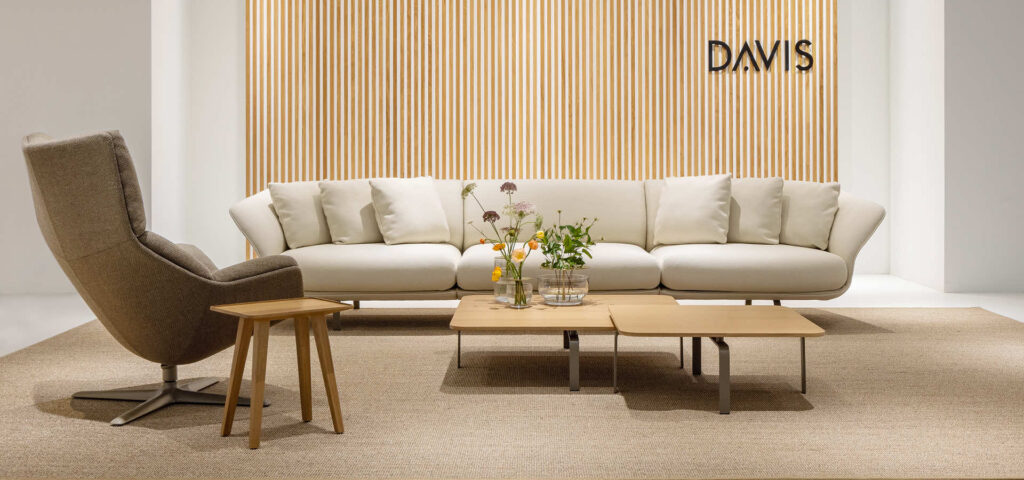 In a world of ever-changing trends and design aesthetics, Davis Furniture Industries, Inc., a contract furniture design leader with an illustrious 80-year legacy, continues to dominate the Best of NeoCon awards year after year. Eileen McMorrow, editor-in-chief of The McMorrow Reports & FMLink, sat down with Rob Easton, the vice president of design and development at Davis Furniture, to unravel the secret behind their consistent success. With each jury lineup changing, one thing remains constant – Davis Furniture's unwavering commitment to design excellence.
Rob Easton shares how design lies at the heart of the Davis brand, the importance of materiality, customer service, and the fine balance of working with both facility managers and interior designers. Accompanied by valuable comments and feedback from the Best of NeoCon jurors, this interview offers an inside look into the world of Davis Furniture Industries, where the voices of industry experts underscore the exceptional quality and innovative spirit that sets Davis apart. From the award-winning Vida Collection to the innovative Mudra stackable seating, Davis Furniture demonstrates its prowess in delivering cutting-edge, functional and visually striking furniture that stands the test of time.
What is the key focus for the Davis Furniture brand?
Rob Easton: Design. Design. D E S I G N. It's at the very core of the Davis Furniture brand — it's our guiding mission and ultimate focus. The significance of design cannot be overstated. To achieve this, we collaborate with some of the most gifted industrial furniture designers worldwide, including jehs+laub, Sebastian Herkner, Jonathan Prestwich, and a new female designer, Hanne Willmann, ensuring our products exude creativity and distinction.
Our commitment to crafting truly unique designs leads us to pursue an international aesthetic in every creation. For four generations, the Davis family has devoted themselves to upholding a sterling reputation, placing utmost importance on quality and materials while always placing design at the center of each initiative. Additionally, their strong commitment to their local community and company culture has further established Davis Furniture as a company that not only excels in craftsmanship but also strives to make a positive impact on the people and places they serve.
What do facility managers and designers need to know specifying Davis?
Rob Easton: Davis Furniture goes beyond merely focusing on design; we place equal importance on materiality, catering to the demand for robust, high-traffic and long-lasting materials for our products. Using top-tier engineering and cutting-edge manufacturing techniques, most Davis products proudly boast BIFMA certification, a testament to our unwavering commitment to quality and durability. What also sets Davis apart is our self-sufficiency with manufacturing facilities such as a dedicated metal plant and powder-coating facility located in High Point, NC. This strategic move came after past struggles with finding suppliers capable of meeting our company's stringent finishing requirements. Now, in our factories, we can effortlessly achieve superior finishes, offering clients greater flexibility, including limited color runs. If a client desires a single piece in a specific color, Davis can accommodate that request, showcasing our dedication to customer satisfaction and customization.
What should facility managers and designers know about Davis customer service?
Rob Easton: At Davis Furniture, we take pride in our products and customer service, ensuring customer satisfaction and fostering repeat business. Our commitment to excellence is exemplified by the willingness of Davis factory experts to personally visit client facilities to address any field-related issues. For almost 80 years, the Davis family has been at the helm, overseeing the business with unwavering dedication.
Does Davis believe the facility manager specification is closely related to working with interior designers and architects?
Rob Easton: We think it is. We invest considerable effort in thoroughly exploring the specifications and collaborating closely with designers to ensure that our products perform optimally in their intended environments. By considering the specific setting where chairs and tables will be used, such as university cafés or high-traffic areas, we can make informed decisions, like opting for a metal base with a powder-coat finish in demanding locations, rather than using wood. Our extensive site installation and furniture-use experience have taught us the importance of selecting materials that can withstand the challenges posed by each environment.
Recognizing the complexities of challenging contract settings, Davis Furniture is committed to developing and manufacturing all its products to the highest quality standards, using the finest materials available. To reinforce our dedication to quality, we provide a warranty that ensures our products are free from defects in workmanship and materials for five years after the date of original shipment if they are used in accordance with their intended design and conditions. This customer-centric approach underscores our belief that seamless collaboration with facility managers, interior designers and architects is crucial in delivering furniture solutions that excel in functionality, durability and aesthetic appeal.
How does Davis attract and retain employees?
Rob Easton: Davis Furniture employs various strategies to attract and retain employees. One of the key initiatives is the recently opened in-house healthcare clinic on-site, which addresses healthcare challenges faced by employees in the local community. By offering convenient access to healthcare services without any cost to the employee, Davis demonstrates a commitment to employee well-being and satisfaction. Additionally, the company's focus on design excellence and its reputation for quality and craftsmanship create an appealing work environment for individuals who are passionate about their craft. Moreover, Davis Furniture's dedication to customer service and customization allows employees to take pride in their work and contribute to the company's success. These factors, combined with a strong sense of community and a family-oriented ethos, contribute to the company's ability to attract and retain talented individuals.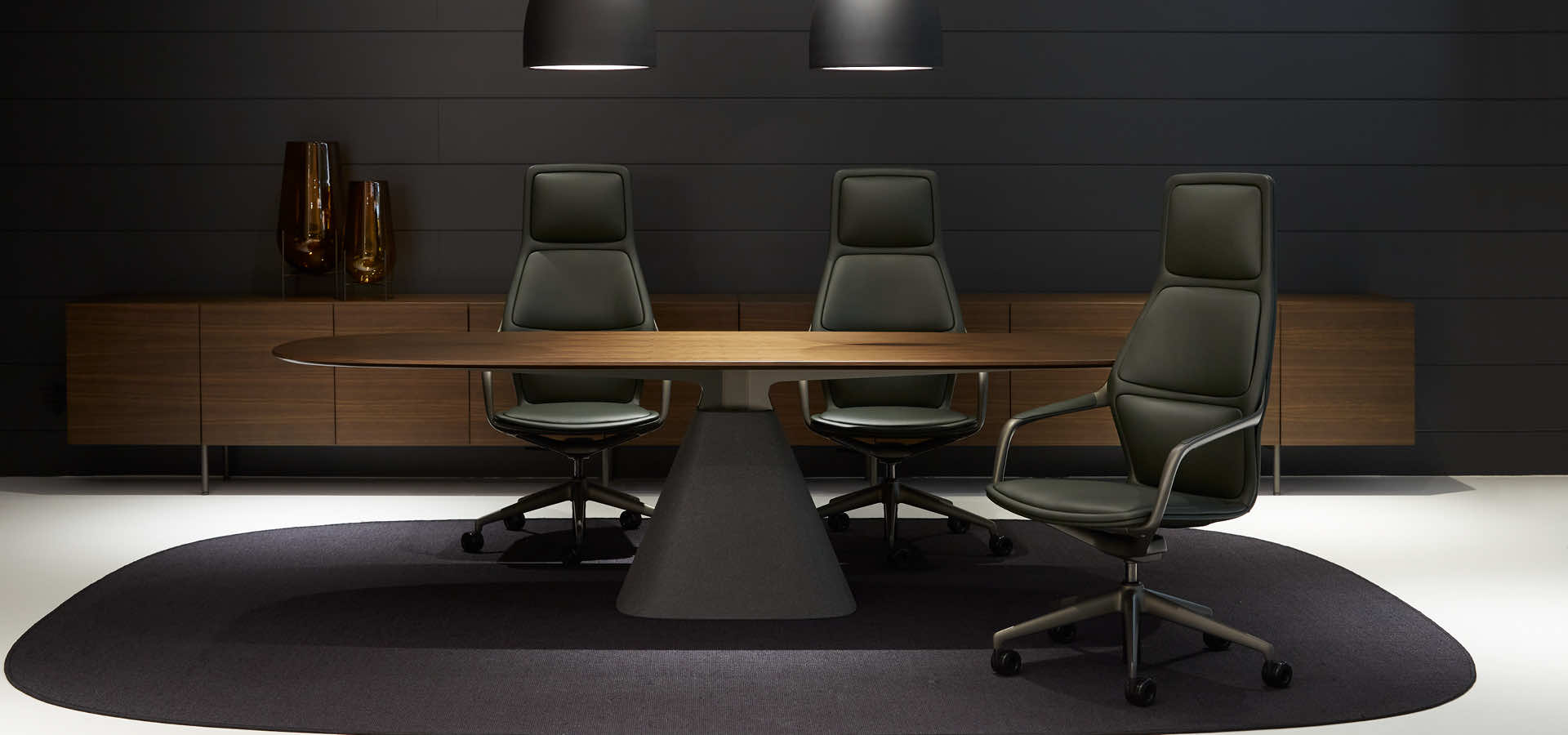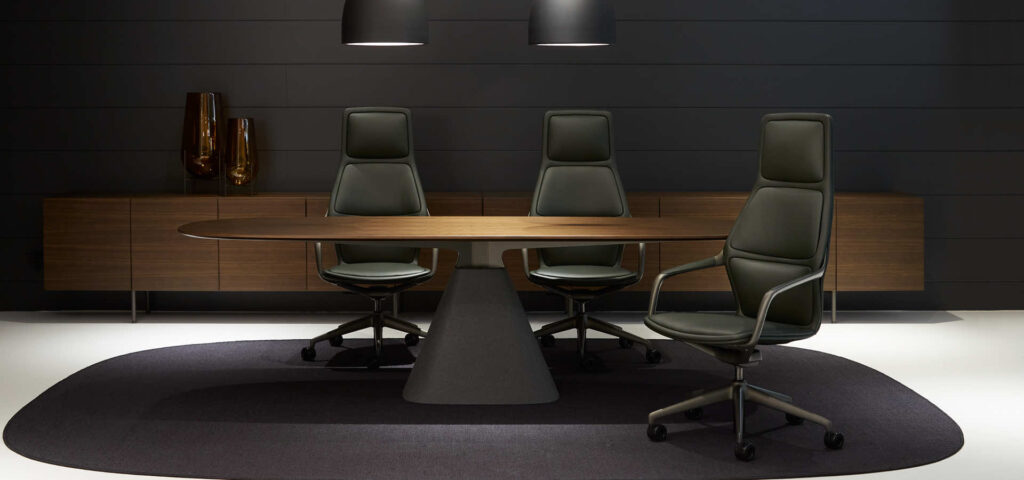 This year, Davis Furniture achieved a remarkable feat by securing four prestigious Best of NeoCon Awards, a testament to its unwavering commitment to design excellence and innovation. Through their dedication to crafting unique and functional furniture solutions, Davis impressed the jurors with exceptional products, earning well-deserved recognition in multiple categories. Here are the products that earned the four awards, accompanied by insightful comments and feedback from the esteemed jurors, highlighting the exceptional quality and ingenuity that set them apart from the competition.
The Vida Collection by Hanne Willman won a Best of NeoCon Gold Award in Conference Tables
"This Vida Collection line is absolutely beautiful. The function of the tables adds to the attraction. The base is really the star of the show, but the thoughtfulness of the oval power cover really adds to the design." – Best of NeoCon Juror
The first female to collaborate on a product line with Davis, German designer Hanne Willmann, offers this Vida Collection that ranges from occasional to medium and large conference tables and features soft geometric forms and high-quality materials. Vida exudes a harmonious design with its depth of materiality and technological precision. As one Best of NeoCon jurors rightly said, "This base is beautiful. The table is beautiful–well thought-out and fantastic."


"Appreciate the thoughtfulness in the tabletop paper design and the concealed and easy to access power under table/in leg. Beautiful design. We can see this, and the other table sizes used in many projects with a price point that is great." – Best of NeoCon Juror
Zen Conference Chairs by jehs+laub were awarded Gold Best of NeoCon in Conference Seating
Davis is a classic quality brand, and this chair is no different. The high quality of construction and thought is very apparent. It is comfortable." – Best of NeoCon Juror
The German design duo jehs+laub have released the Zen Conference Chair Series that mirrors many of the modern, minimalistic design details of the original Zen Chair (2016) while evolving them for new applications in conferencing and executive seating. The stately result is a strikingly modern chair offering the highest levels of luxury, craftsmanship and comfort. A Best of NeoCon Juror described the furniture as 'higher end, well crafted, very comfortable, sleek and unique design.'"
Created to be specified in singular or contrasting fabrics and leathers, Zen Conference allows designers to customize the look of this executive series depending on the aesthetic of the interior. A leather arm cap is standard to provide enhanced comfort and durability along with a newly developed seating mechanism and an aluminum five-star caster base with height adjustment, swivel/tilt and back lock features. The base and arms are available in polished aluminum and 30-plus powder coat colors.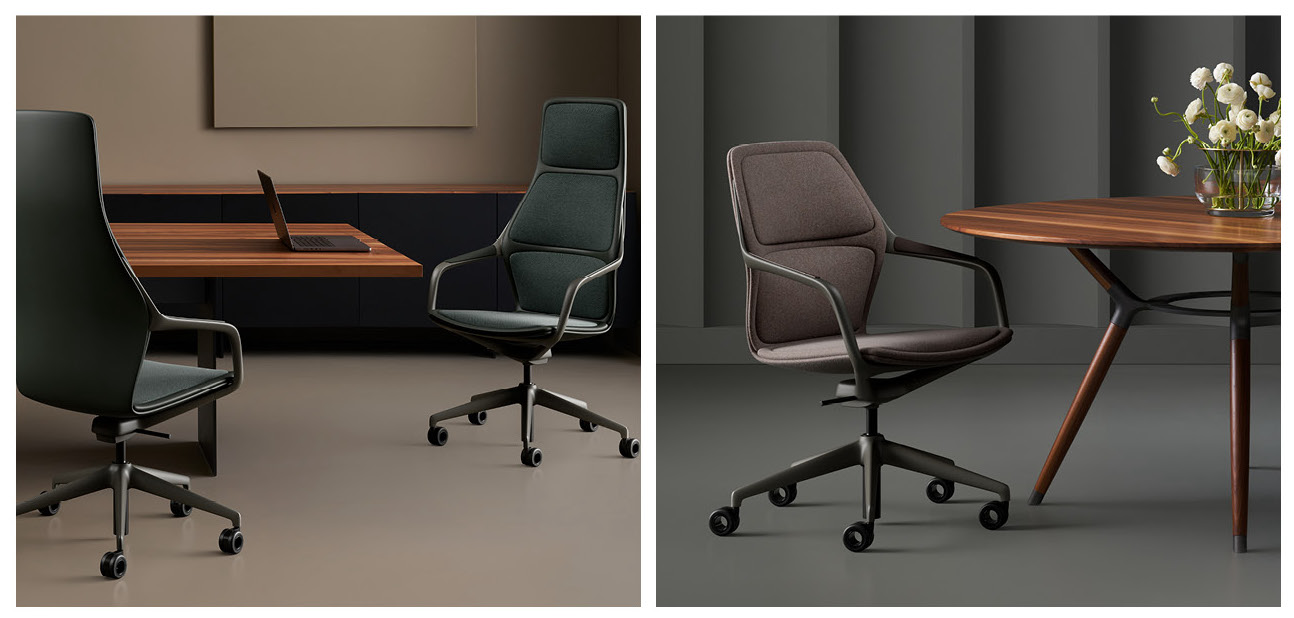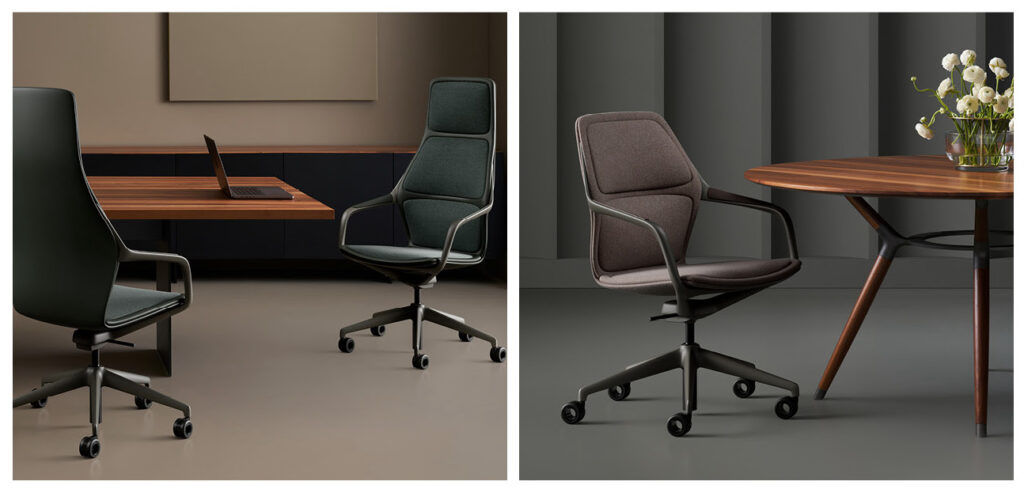 "What is the future of high-back conference chairs? We appreciate the collection of different back heights, that 'form follows function' and the take-back program. Zen Conference is very thoughtful and is a beautiful design." – Best of NeoCon Juror
Seba by Sebastian Herkner won a Silver Award in Best of NeoCon 2023 for Guest Chairs
Resulting from the most recent collaboration between Davis Furniture and Sebastian Herkner, the Seba Collection offers a guest chair and lounge characterized by ease of movement and adaptability. Following the success of the Tote Lounge (2021) — Herkner's inaugural collection for Davis Furniture — the Seba Collection continues his exploration of how ancillary furniture enhances users' experiences within the evolving modern interior. The ensuing mobile collection easily can be moved from one area to another for impromptu meetings, casual conferencing or even individual work.
Seba's elements comprise a generous seat and a sculpturally concave base. Graceful curves are contrasted with razor-thin upholstery details, which only could be created through a cast rigid urethane core and molded foam. As a result of its cast inner core, each thin base conceals casters that allow each piece to glide into multiple applications. Seba's upholstery can be specified using one fabric or a contrasting seat and base fabric, allowing facility managers to customize each piece to suit. Featuring its high degree of upholstered comfort, Seba provides repose for the user.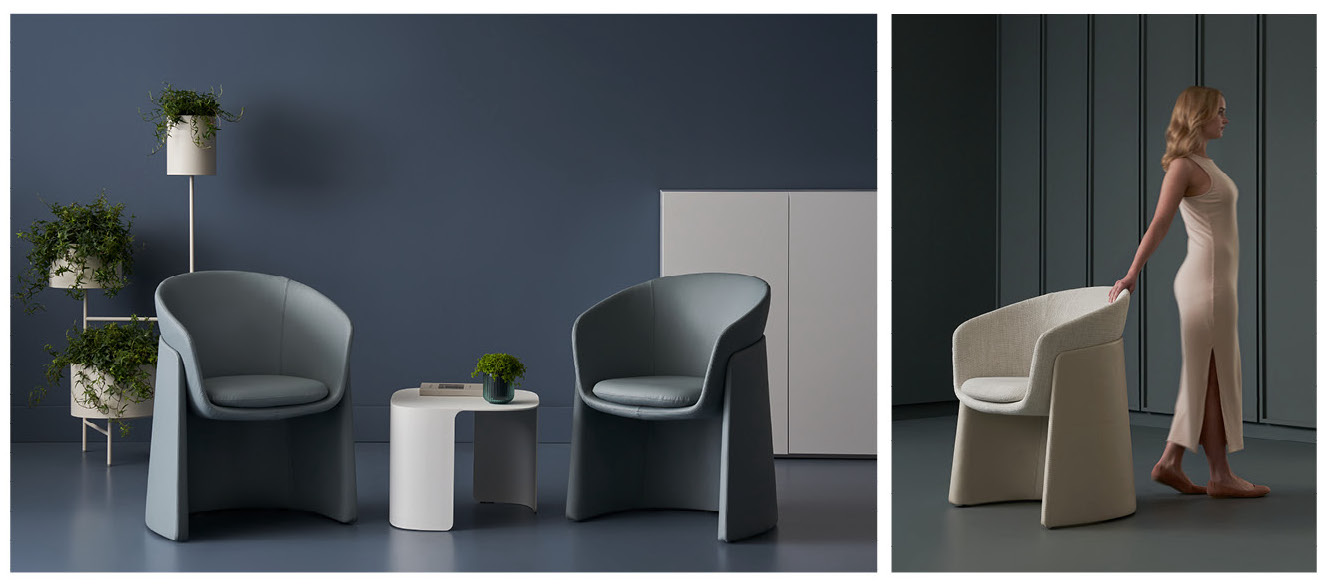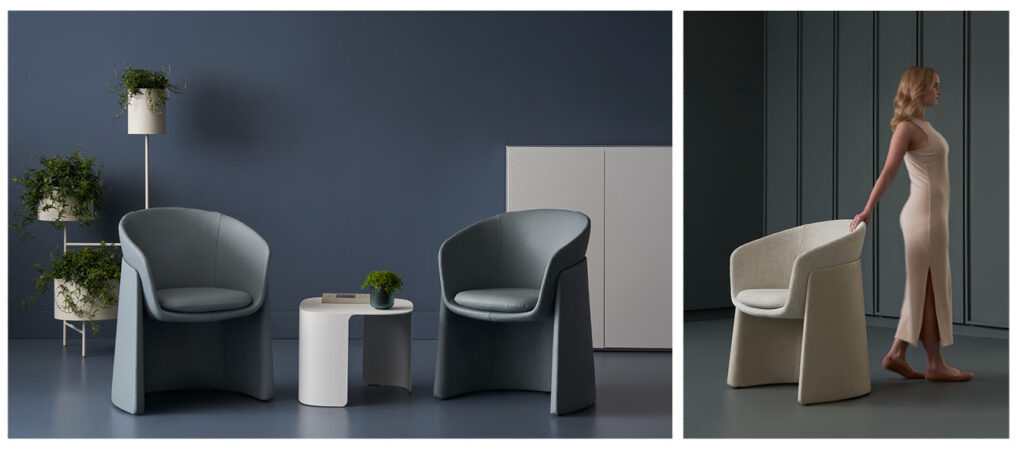 "I like the movable aspect without being five-star caster based. It's pretty, soft, and elegant. I like the feature of being able to tuck my feet underneath. It's a guest chair but seems to be more of a statement chair and unique in that sense." – Best of NeoCon Juror
Stacking-up on Silver Awards, Mudra by Stefan Diez won for stackable seating
"Good flexibility, veneers, and powder coat choices. Mudra has a long-lasting iconic feel, visually striking and memorable."
– Best of NeoCon Juror
An innovative stackable plywood chair with a distinctly curved back and a lively silhouette from Munich-based industrial designer Stefan Diez, the Mudra Chair is the first of his products that Davis Furniture has offered. Mudra has effortlessly situated itself within Davis' portfolio of design-driven products. After almost three years of development, Mudra draws upon Europe's rich design history while exploring new state-of-the-art manufacturing technologies. The result is a lightweight, flexible and stackable multi-use chair.
Mudra's base is formed from a unified steel frame and is available in over 30 powder-coat colors ranging from simple neutrals to lustrous pearls to Davis' vibrant Color Trends.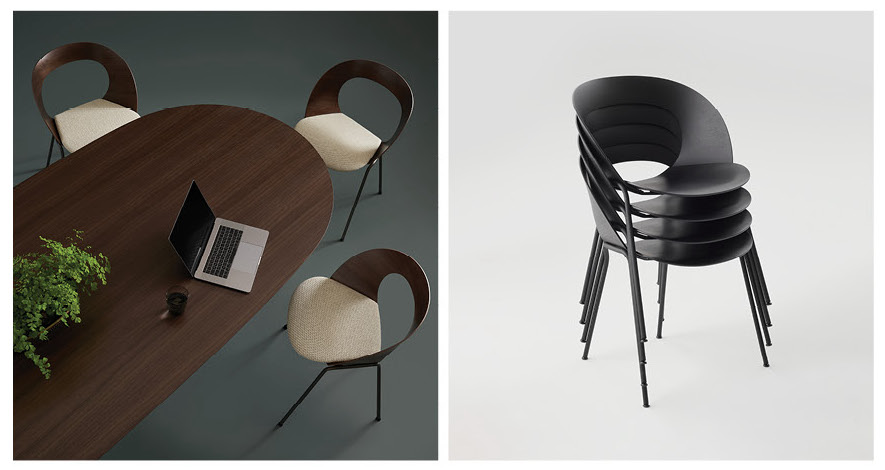 "Very comfortable to sit in. It feels like it molds to your back and body shape. The upholstered pad is very comfortable. Beautiful frame and craftsmanship. It has a beautiful look that allows the chair to act as a standalone aesthetic element." – Best of NeoCon Juror