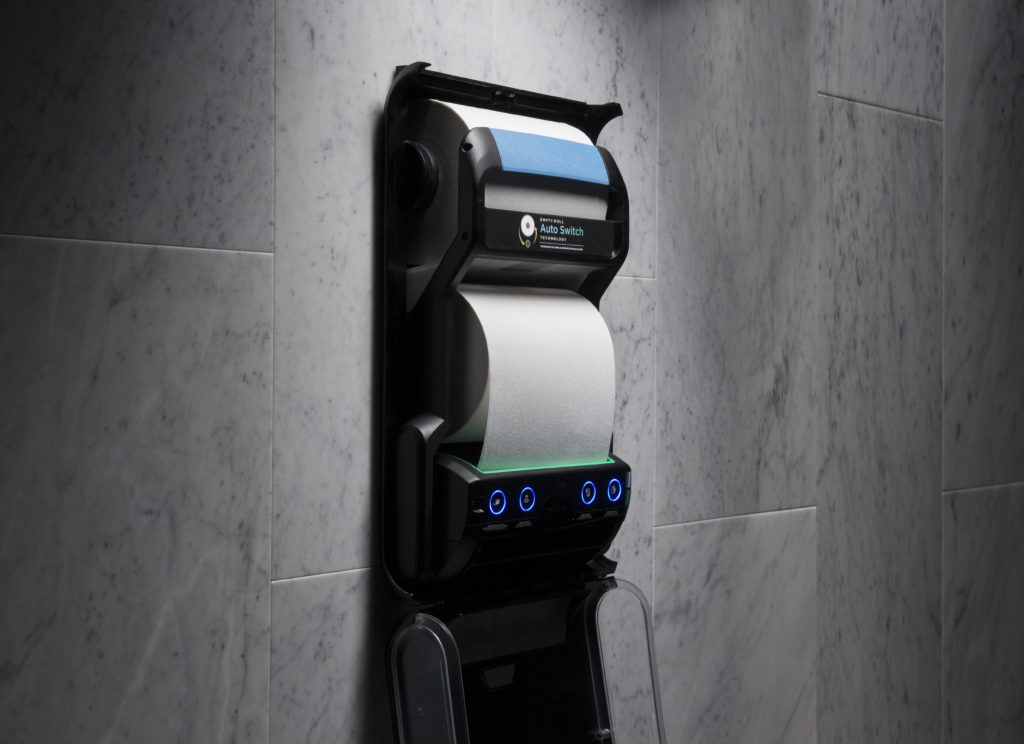 GP PRO's enMotion® Flex Paper Towel System is specifically designed to help facility managers reduce waste, improve productivity and enhance customer satisfaction.  The new system is so revolutionary that it won the 2017 ISSA Innovation Award.
The enMotion Flex Paper Towel System incorporates GP PRO's proprietary Dual Roll Auto-Switch Technology, which consumes the smallest roll first and allows for 100 percent usage of each roll before switching to the standby roll. The premium system provides a number of benefits to facility managers and customers, especially those in office buildings and high traffic areas (such as airports, stadiums, and casinos), including:
Improved Dependability:The Dual Roll Auto-Switch Technology addresses the frustration of jams and towel run outs, allowing the custodial staff to focus on higher-level cleaning tasks.
Reduced Waste: While typical touchless towel dispensers help reduce waste by 30 percent compared to standard folded towels, enMotion Flex eliminates waste by using an entire roll before switching to the standby roll. In addition, because it automatically dispenses each paper towel, enMotion Flex also helps reduce towel consumption.
Enhanced Washroom Experience: The touchless dispensing design helps improve hygiene, and the Dual Roll Auto-Switch Technology helps ensure a towel is always available when needed, both of which enhance overall customer satisfaction.
Improved Sustainability: The system eliminates towel waste, reduces towel consumption, offers recycled and third-party certified towel options, and can help a facility earn credits in several LEED® categories.
"At GP PRO, we recognize that restrooms can be a source of frustration for facility managers, custodial staff, and customers. So we developed our enMotion Flex Paper Towel System to elevate the restroom experience for everyone by improving dependability, eliminating waste, and driving customer satisfaction," said Julie Howard, vice president and general manager of GP PRO's Towel Category. "Because of these benefits, we believe enMotion Flex will help facilities reduce their labor costs along with the intangible costs associated with dissatisfied patrons who don't return."
With its custodian-friendly design, the enMotion Flex Paper Towel System supports GP PRO's Take Notice initiative, an appreciation program designed to recognize and motivate custodial staff for the tremendous work and effort they put into keeping workplaces clean.
To learn more about the enMotion Flex Paper Towel System, visit www.gppro.com/products/paper-towels.