Empowering Design, an IIDA Educators Roundtable Report, is the result of a dialogue between educators, practitioners and students from across the country on how best to equip the next generation of designers for success.
To empower the design profession, educators and practitioners must embrace increasing diversity, expand established modes of thought, and champion education and research as invaluable, interlinked components—those are the primary outcomes presented in a nine-page lively report.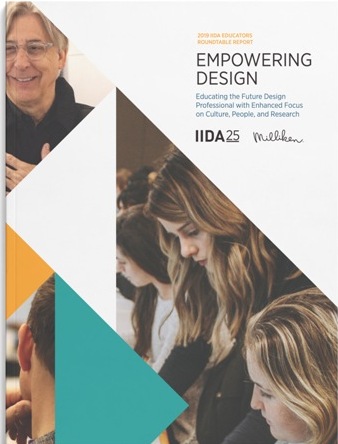 "Discussions were centered on two questions: Are emerging professionals adequately prepared and empowered to enter design practice in an increasingly challenging environment? What can be improved in the process of education, mentorship and the transition from student to practitioner?" said John Czarnecki, Hon. IIDA, Assoc. AIA, deputy director and senior vice president of IIDA. "While the event was focused on interior design education, the lessons learned can be transferable to the broader A&D industry, including facility planners."
Over the course of the roundtable, moderated by Czarnecki, 10 educators/ practitioners, four practitioners and three students shared experiences and brainstormed ideas for how all members of the design community can collaboratively support today's students. Their insights hinged on a critical factor: the next generation of designers will be increasingly diverse. "In a global context, as travel, communication, and the means of conducting business have become easier internationally, the education of the future design professional has to accommodate a broader scope and context," said Czarnecki.
In terms of demographics, today's interior design students differ dramatically from students of past decades, who have typically been young, white, middle-class and American. From coast to coast, schools today report extraordinary diversity within their student populations, which increasingly comprise international, first-generation, and older second-career or otherwise non-traditional students.
For example, according to the representative educators that attended this roundtable from each school, the interior design programs at Pratt Institute in New York and California College of the Arts (CCA) in San Francisco boast large international populations, with roughly 75 percent of students at both schools hailing from Asian countries—primarily China, but also Korea, India and Taiwan, as well as Latin and South America and Europe. At Texas Tech University in Lubbock, Texas, international students, mainly from Iran, make up approximately 60 percent of the graduate interior design student body. First-generation college students comprise 42 percent of those studying interior design at Western Carolina University in Cullowhee, North Carolina, and 25 percent of students at the University of Nebraska-Lincoln. Likewise, a 2017 IIDA Student Member survey logged 28 percent of respondents as embarking on their second career.
Click here to download Empowering Design.