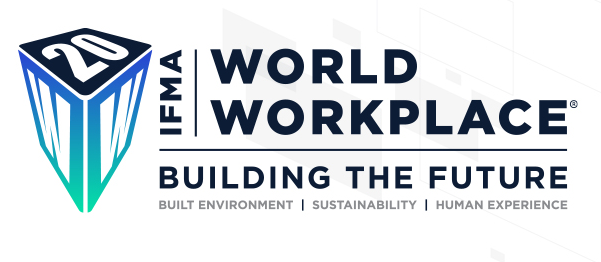 The International Facility Management Association (IFMA) will host its annual World Workplace Conference and Expo virtually this Dec. 9-10. The immersive online experience will feature five hours of programming each day, with learning, professional networking and celebratory events attendees have come to expect from the association's flagship conference.
For US $199, the World Workplace virtual platform will provide an affordable, full conference experience in a format that's not only familiar, but for many, preferable during the pandemic. For those who have never attended World Workplace, this is the perfect opportunity to participate in the world-renowned experience live from anywhere around the globe. Register today at World Workplace.
Following the keynotes, more than 25 educational sessions will be offered, with the opportunity to earn Continuing Education Units (CEUs) and Certified Facility Manager® (CFM®) maintenance points. Sessions will focus on top-of-mind priorities such as managing through crisis, mitigating risks, developing plans for resilience, occupant health and well-being, achieving net-zero and digital transformation.
Crisis expert Dr. Steven Goldman will present "Facility Management, Business Continuity and COVID-19: What Have We Learned?" FM technology experts Paul Head, Doug Stewart and IFMA Fellow Eric Teicholz will present "PropTech: Disruption Technology or Hype?" Together with Jonathan Bissell, Carlos Santamaria and Diane Levine, MCR, Lynn Baez, CFM, SFP, FMP will present "Your Key to Success in FM Training and Development: A Google Case Study." The full educational program will be available soon at World Workplace.
Here are some courses for Commercial FMs and real estate executives: (Click here to see the full education schedule.)
Wednesday, Dec. 9
12:30 to 1:30 p.m. EST. Session Code: 1.05. PropTech: Disruption Technology or Hype? Eric Teicholz  Paul Head  Doug Stewart. Property technology (PropTech) promises to disrupt how buildings are currently managed. Hundreds of PropTech start-ups are deploying cutting-edge technologies such as AI, IoT, Machine Vision and Intelligence, and Big Data analytics for FM/CRE applications. Primary applications include the use of drones, chatbots, tenant engagement portals and smart HVAC systems. There is very little doubt that the potential for transforming building management by PropTech technologies will take place. The question remains as to how best to apply these technologies, and which of the myriad technologies and application possibilities have proven the most cost-effective, sustainable and successful. Issues also remain as to barriers associated with implementation and what lessons have we learned to overcome them. Hear from Cushman & Wakefield and Ernst & Young representatives who have conducted extensive research into these issues.
1:30 to 2 p.m. EST. Session Code: RT 1.02 Lessons Learned: Competing Safety vs Privacy Issues. How does an FM manage safety issues versus privacy invasion? Bring your experiences and share what worked and what didn't.
2 to 3 p.m. EST. Session Code: 2.02 Organizational Strategy for FM Departments in an IoT World. Geoff Williams, Erik Jaspers, Ted Ritter, Ted Mort. The increasingly digital world of FM will have an inevitable impact on the way that we organize and structure our staffing models, role requirements and service delivery strategies. For instance, inside hard FM services, the ability to use advanced analytics across a variety of data sets (IoT, BAS, Work Order systems, etc.) to trigger fault detection and accurately predict a future failure impacts the balance between preventive and reactive maintenance. The ability to have seamless, remote collaboration augments some training and staffing requirements. This model supports training-on-demand for technicians and specialized support for departments. Take a look at the technologies, their impact on organizational strategy, staffing levels and the new role requirements inside an FM department to leverage success in a digital world.
2 to 3 p.m. EST. Session Code: 2.03. The Digital Transformation of Clean Air Management. Ellie Amirnasr. It is no secret that our world has become rapidly digitized, and facility management is no exception. With the introduction of smart buildings and IoT devices, more and more digital solutions are being developed to help facility managers save time, money and energy. But while we attach sensors and monitors to just about every piece of equipment in our buildings, we often overlook the world's most valuable asset: clean air.  This is especially significant amid the global pandemic of COVID-19, with industry leaders like ASHRAE contending that changes to filtration and ventilation are effective in reducing the airborne transmission of SARS-CoV-2. Utilizing clean air management effectively involves: 1) selecting the right sensors for your facility's goals, 2) compiling and analyzing the data to develop actionable insights, and 3) ultimately using these data to make critical, informed decisions on what to do next. Explore how your facility can realize significant energy, material, labor and operating cost savings.
Thursday, Dec. 10
12 to 1 p.m. EST. Session Code: 3.03. Your Key to Success in FM Training and Development: A Google Case Study. Lynn Baez,  Jonathan Bissell,  Carlos Santamaria,  Diane Levine. Google is once again shifting the paradigm – this time in FM training and development. How? By working with the IFMA Foundation's Global Workforce Initiative (GWI) team and California Community Colleges, Google is now uniquely positioned to respond quickly and effectively to employer FM training needs through customized FM contract education. Google is using this new model and showing how a leading company can support FM skills development internally to provide a career pathway for greater prosperity for their employees, while maintaining culture and increasing productivity for their FM department. This program can easily be applied to other businesses and is a great example of a partnership between business, government, industry and education. For their innovation, this GWI program team was recently named a Top 10 Partnership in Industry and Education (PIE) awardee at the California Economic Summit.
1 to 2 p.m. EST. Session Code: 4.02. An Introduction to Corporate Real Estate. Edmond Rondeau. Corporate real estate is often the most valuable asset on U.S. corporate balance sheets. This session is designed for facility professionals and consultants who have the opportunity and responsibility, but have little or no experience or training in acquiring, managing and/or disposing of corporate real estate. The presenters will provide an overview but will not provide a detailed review into the legal, financial or political issues or requirements in the acquisition, management and disposal of corporate real estate. Better understand the corporate real estate process, including working with the customer, development of the Request for Proposal, site due diligence, site selection and acquisition, managing the asset and disposal of the asset. Receive a PDF of the 250+ page "Principles of Corporate Real Estate" manual authored by the presenter.
1 to 2 p.m. EST. Session Code: 4.04. Introduction to Facility Security Design From Conception to Completion. Rene Rieder, Jeffrey Lane. The development of physical security systems requires professionals to have a solid understanding of the design process. Gain a base understanding of the process. Learn how to conduct risk assessments, develop functional requirements and identify mitigation measures for the basis of design. Learn how to translate and document the requirements into construction documents. Apply the tools and techniques discussed in a practical application via a virtual facility. Attendees will be guided through an interactive learning and knowledge-sharing session to reinforce the process and skills discussed.
2 to 2:30 p.m. EST. Session Code: RT 2.04. Economy: how does an FM prepare for the future during an uncertain economy? Economic trends affect an FMs day-to-day more profoundly than one would think. That's why Finance and Business is one of the 11 core competencies of FM. How has the recent fluctuating economy impacted your facility? Share your economic disaster preparedness.
2:30 to 3:30 p.m. EST. Session Code: 5.01. Transition to Distance Learning and Remote Working. Chuck Espinoza. With the ever-changing climate of todays' working environment, more and more people are switching to working from home or working remotely. Unfortunately, not many people know the ins and outs, or best practices of having a remote or mobile video conferencing setup, and have a less than good quality experience during their communications with their clients and coworkers. In this session, we will discuss some of the best practices of an Audiovisual setup for individual video conferencing and some of the simple things we can do, to insure we have a good quality and consistent experience, every time we communicate to other remote partners.
2:30 to 2:30 p.m. EST. Session Code: 5.03. Workplace Innovator Panel: Adapting to Change and Confronting FM Challenges in 2020. Mike Petrusky. The workplace is evolving rapidly, and during these pandemic times, we must be in the business of rethinking the ways we care for real estate and the occupants of our facilities. While research reveals employees do have a desire to return to offices to resume in-person collaboration, many would like to limit that to two or three days per week. Additionally, expectations have changed and safety is now a top priority for a workforce hoping to re-enter their workspaces. We know that technology may hold the keys necessary to allow FM leaders to deliver on future workplace demands. Reimagining workspaces and creating an employee experience that will help engage your top talent is essential when creating a "hybrid workplace" of the future. Deploying tech tools like mobile apps, touchless controls and IoT integrations can ensure your employees' success, while simplifying your job as a workplace manager. Informed by his experience interviewing "workplace innovators" on his podcast, Mike Petrusky leverages his industry insights to direct this panel discussion about preparing for the workplace of the future.
2:30 to 3:30 p.m. EST. Session Code: 5.04. COVID 19 – Where do we go from here? Patty Olinger. In this session, we will discuss lessons learned from our current pandemic and discuss preparedness for the next pandemic.