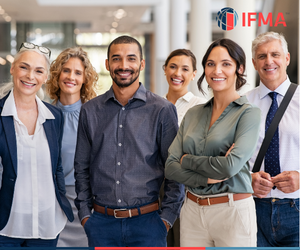 Employing a knowledgeable, skilled team of facility professionals is becoming increasingly important as the built environment shifts toward sustainability and energy efficiency. And because a team is only as strong as its weakest member, investing in training for your team is paramount in supporting your organization's physical health and financial success.
For 40+ years, the International Facility Management Association (IFMA) has supported FMs with unrivaled networking, top-tier training and access to industry trends and data. We have the sustainability training, credentials and resources FMs need to effectively and efficiently manage areas of vital importance to your facility, including emission reduction, energy usage and resource management.
Whether your FM team needs to access best practices, attend webinars, review research, or take a course on FM topics like sustainability or risk management – IFMA has the training, support and community available for every stage of an FM's career to make sure your staff is ready and able to meet the facilities challenges today and into the future.