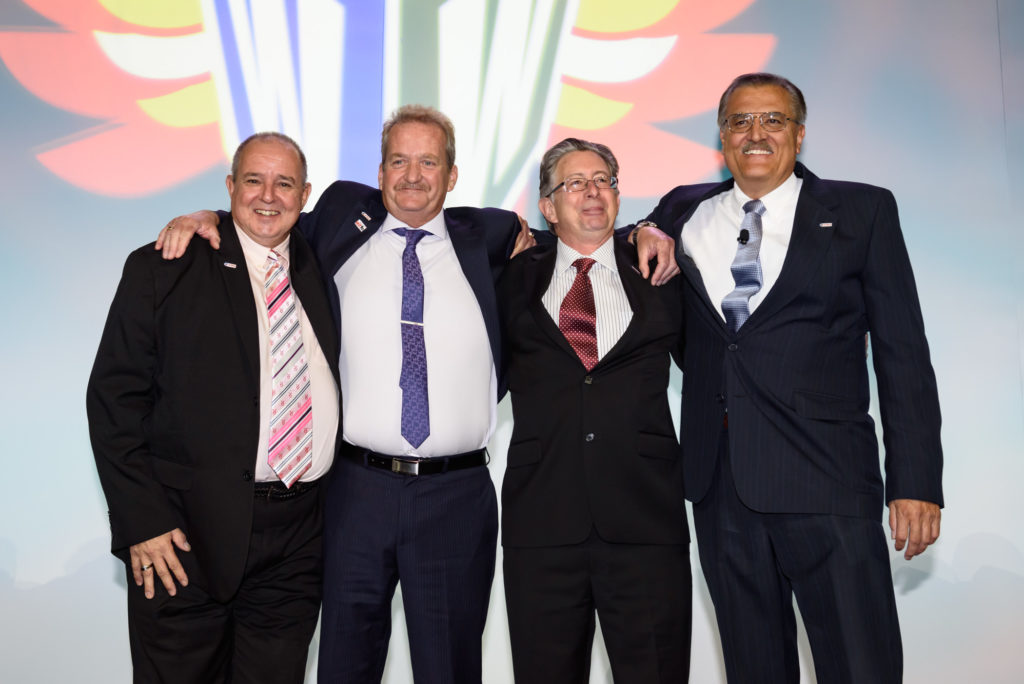 IFMA has inducted three new IFMA Fellows and honored a past IFMA chair and longtime advocate for the FM industry with a chair's citation. The 2019 Class of IFMA Fellows includes John Vinken, Ted Ritter and Michael Riseborough. Francis J. Kuhn received the chair's citation.
Chair of IFMA's Global Board of Directors John Carrillo, CFM, IFMA Fellow and 2019 IFMA Fellows Jury Member Mary Gauer, CFM, IFMA Fellow presented the honors at the opening session of IFMA's World Workplace 2019 Conference and Expo in Phoenix.
IFMA's Fellows Program was established in 1992 to recognize members who have distinguished themselves by achievement in and around IFMA and the field of facility management. Unparalleled among workplace-related recognitions, it is the highest honor bestowed by the association.
"In addition to authors, academics and practitioners, Fellows include association founders, FM leaders and industry giants who have defined the profession," said Carrillo. "Fellows dedicate countless hours to course and instructor development, ISO standards, credentials development, and serve on numerous boards, committees and task forces. Fellows travel the world representing our association and industry."
Carrillo and Gauer both spoke on the prestige of achieving the exclusive designation, as well as the responsibility of every Fellow to continue enriching and advancing the profession.
"The designation carries so much respect, that everyone from IFMA staff to board members to component leaders want you on their team," said Gauer. "And that's the role of an IFMA Fellow. We're on call to advise and represent the association. We're here to contribute, and we're here to encourage others to discover how rewarding giving back can be."
This year's inductees include:
John Vinken, M. Eng., CFM, FMP, SFP, CET, CRSP, CEM, IFMA Fellow
An incredible force within the global facility management profession for close to four decades, John Vinken was instrumental in the creation of the Project and Facility Management Program at Conestoga College, the first FM degree program in Canada. He served on the program's Public Advisory Committee (PAC), including a term as PAC chair. Contributing significantly to IFMA's global credential programs through course development and teaching, Vinken has taught more than 1,000 of the FMPs currently working in North America, Africa, the Middle and Far East. He co-created one of the few accredited university-level FMP courses outside of the U.S., and mentored IFMA's British Columbia, Calgary and Nigerian Chapters, along with a group of potential instructors to create a steady local source for IFMA education.
Ted Ritter, CBD, PMP, LEED AP, IFMA Fellow
Applying his multidisciplinary background in information technology, sustainability, marketing and project management, Ted Ritter has advanced the FM profession through opportunities in technology innovation, smart buildings and best practice sharing. He has been involved in IFMA at the board, chapter, council and community levels, leading or participating in IFMA's IT Community, FM Consultants Council, America's Advisory Board, and the Phoenix and Phoenix Student Chapters of IFMA. Through various collaborations, he has developed FM technical tools and methods, including his most comprehensive single contribution, "The FM Guide to Information Technology." Ritter has provided educational content for working professionals in the U.S. and for Arizona State University FM students for more than two decades.
Michael Ross Riseborough, RPA, FMA, AAE, FMP, CFM, IFMA Fellow
Bringing FM to the forefront among the Canadian Parliament, Michael Riseborough also led a team of stakeholders in establishing the foundation for critical regulations for in-line security screening of bags at airports. He co-authored ASCE Standard 21, Automated People Mover Standards (Safety requirements for) and garnered support from the Greater Toronto Airport Authority and the National Research Council Canada to create a benchmarking tool for airports. Riseborough was recognized by the University of Waterloo, Ontario, Canada, for collaborative research projects spanning more than 12 years and received the inaugural IFMA Industry Leadership and Outstanding Contribution Award, recognizing achievements within the Canadian real estate and building maintenance industries.
Following the induction of this year's Fellows, IFMA Chair John Carrillo recognized Francis J. Kuhn, CFM, IFMA Fellow for dedicating a lifetime to excellence in the training, support, practice and future of facility management.
"For the past 30 years, Francis Kuhn has showed all of us how to get the job done," said Carrillo. "But most importantly, how to get it done simply, with graceful determination and an irresistible exuberance that ensures even the most resistant skeptic is on board."
Kuhn chaired the IFMA Foundation's board of trustees and IFMA's 2011-12 board of directors. As chair of the Headquarters Workplace Strategy Steering Committee, his vision helped make IFMA's Service Center of Excellence in Houston, Texas, USA, possible. The IFMA headquarters facility serves as a model for smart, productive, sustainable concepts in the built environment. As an author and speaker, Kuhn has vigorously promoted the FM profession, presenting at conferences around the world and writing articles for IFMA's FMJ for almost two decades.