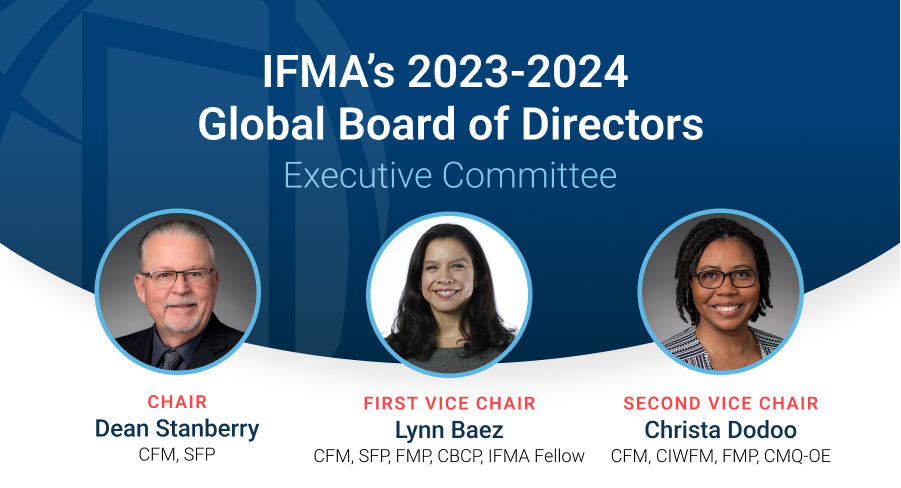 The International Facility Management Association (IFMA) is pleased to announce the member-elected executive committee and appointed members of its global Board of Directors for the 2023-24 fiscal year. Led by Chair Dean Stanberry, CFM, SFP, who begins his term July 1, the board will concentrate efforts on ensuring facility management (FM) professionals worldwide have the resources and support to advance in step with emerging industry and business trends.
Stanberry is joined on the executive committee by First Vice Chair Lynn Baez, CFM, SFP, FMP, CBCP, IFMA Fellow, and Second Vice Chair Christa Dodoo, CFM, CIWFM, FMP, CMQ-OE. Laurie A. Gilmer, P.E., CFM, FMP, SFP, LEED AP will remain involved as past chair.
Facility management's significance has soared beyond the mere upkeep of physical spaces. The pandemic underscored the critical need for adaptive, safe and efficient environments, pushing FM to the forefront. We're no longer just custodians of bricks and mortar but facilitators of innovative, agile workspaces that drive productivity and well-being.

Chair Dean Stanberry
IFMA's global board intends to build on successes achieved over the past year, including exceeding 23,000 members worldwide; releasing 10 research reports, eight of which were first of a kind; adding new, industry-leading training geared toward keeping FM skills proportional to changing demands; and partnering with other well-respected organizations to address built environment issues and opportunities.
IFMA's board, staff, volunteer leaders and components worldwide have worked tirelessly to keep our professional community informed, engaged and prepared amid radical changes in how, where and under what conditions people work, gather and interact. We have expanded our educational and informational offerings, and broadened and strengthened our network, providing our board with a solid foundation from which to grow. Dean Stanberry brings over 20 years of industry knowledge and association leadership to the board, which will keep our momentum going.

IFMA President and CEO Don Gilpin
Stanberry is an active industry advocate, previously serving as chair of both IFMA's Government Affairs Committee and the Environmental Stewardship, Utilities and Sustainability Community. He is an Advisory Group 2 committee member and U.S. representative for ISO/TC 267, which has produced multiple documents within the ISO 41000 FM standards series, which focuses on FM as the foremost contributor to a more productive, sustainable and livable built environment.
Integrating smart technology, renewable energy solutions and highly efficient building systems has become vital to our operations. The growing demand for decarbonization means we are central players in the global effort to reduce buildings' carbon emissions. We have witnessed first-hand how robust facility management can positively transform organizations, enhancing the employee experience, reducing costs, and contributing to broader social and environmental goals. It's an exciting time to be in this evolving field, and the relevance of our work has never been more pronounced.

Don Gilpin
IFMA is indebted to outgoing Chair Laurie Gilmer for her leadership. Focusing on the importance of professional connections, she traveled extensively to reestablish relationships with and between members and partners, reignite enthusiasm and participation throughout the association, and remind the IFMA community that fellow members are its greatest source of support and strength. "The driving force for what we do, how and why we do it, is people. Those in our facilities motivate us to do the best job possible. Those in our community inspire us to be the best FMs possible," said Gilmer.
Learn more about IFMA's global Board of Directors at IFMA.
IFMA 2023-24 Global Board of Directors
Executive Committee
Chair
Dean Stanberry, CFM, SFP
Contractor to the U.S. General Services Administration
Denver, Colorado, USA
First Vice Chair
Lynn Baez, CFM, SFP, FMP, CBCP, IFMA Fellow
Enterprise Vice President of Facilities and Workplace, McKesson
Irving, Texas, USA
Second Vice Chair
Christa Dodoo, CFM, CIWFM, FMP, CMQ-OE
Head, Global Facilities Management Services United Nations World Food Programme
Rome, Italy
Ex-Officio
Don Gilpin
President and CEO, IFMA
Traverse City, Michigan, USA
Past Chair
Laurie A. Gilmer, P.E., CFM, FMP, SFP, LEED AP
President/COO, Facility Engineering Associates, P.C.
Santa Rosa, California, USA
Board of Directors
Francisco Antonio de Souza Abrantes, MBA
Senior Consultant, FASA Consulting
São Paulo, Brazil
Trudy Blight, CFM, FMP, SFP, BID, PIDIM, PMP, IFMA Fellow
Project Manager, AES Services, University of Manitoba
Winnipeg, MB, Canada
Jason E. Callis, CFM
Indianapolis, Indiana, USA
Cheryl Carron
Global Head, Facilities Management & Experience Services Corporate Solutions, JLL
Milwaukee, Wisconsin, USA
Lorena Espada
EMEA Head of Facility Management, Chubb European Group
Madrid, Spain
Aykean Matthews, MBA, CFM, FMP
Facilities Director, The International School of Port of Spain
Port of Spain, Trinidad & Tobago
Arnald NG, CFM, SLCR, MRICS
APAC Delivery & Performance Director, GSK
Singapore
Lena Thompson, FMP, SFP, IFMA Fellow
Director, Building Operations & OFM, American Psychological Association
Washington, D.C., USA
Luis R. Viña
LatAm Alliance Director | CBRE @UBER
Ciudad de México, Mexico
About IFMA
Founded in 1980, the International Facility Management Association (IFMA) is recognized as the world's largest, most widely recognized association for facility management (FM) professionals. Supporting more than 22,000 members in over 135 countries, IFMA's Vision is to lead the future of the built environment to make the world a better place. IFMA is a key contributor to the development of international FM standards and works with decision makers to inform FM-related policy. IFMA provides career resources and continuing education, offers three industry-respected credentials, maintains the largest repository of FM-related content on the web and hosts year-round global events. Guiding values include the benefit of global diversity, inclusion and social equity; and IFMA recognizes that sustainability, resilience and responsible environmental stewardship are paramount.