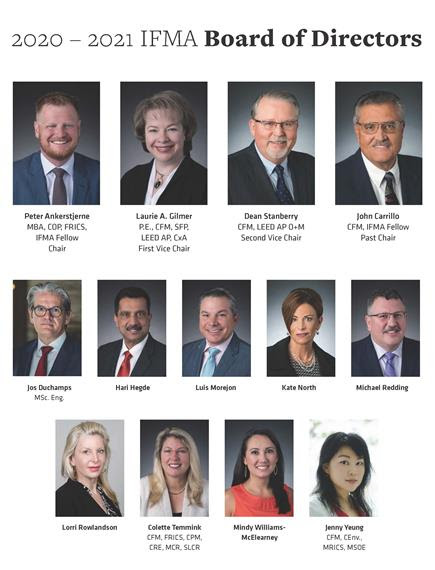 IFMA is pleased to introduce the member-elected executive committee and appointees to the global board of directors for the 2020-21 fiscal year (July 1, 2020 – June 30, 2021).
Peter Ankerstjerne, MBA, COP, FRICS, IFMA Fellow, Global FM and Experience Services Lead for Jones Lang LaSalle Incorporated (JLL) begins his term as board chair. He is joined by first vice chair Laurie A. Gilmer, P.E., CFM, SFP, LEED-AP, CxA, Vice President/COO of Facility Engineering Associates, P.C., and second vice chair Dean Stanberry, CFM, LEED AP O+M. Members of the executive committee serve one-year terms.
Past chair of the IFMA Asian Advisory Board and past president of the Hong Kong Chapter of IFMA (2011-13) Jenny Yeung, CFM, MRICS, MSOE, CEnv is a newly appointed board member, serving a three-year term. Returning board members include Jos Duchamps, MSc. Eng.; Hari Hegde; Luis Morejon; Kate North; Michael Redding; Lorri Rowlandson; Colette Temmink, CFM, FRICS, CPM, CRE, MCR, SLCR; and Mindy Williams-McElearney. These individuals bring a broad range of subject matter expertise to the organization, including integrated facility management, ecological and societal well-being, workplace innovation and transformation, smart buildings, sustainability and energy management, project and performance management, and facility management operations.
"With the recent changes in work, workplace and workstyle brought on by the COVID-19 pandemic, there has never been a more critical time to be in facility management than now," said chair Peter Ankerstjerne. "FM professionals across the world are being recognized for their contributions in keeping employees healthy and safe, while also keeping the business afloat. This has brought the facility and workplace management industry at a critical juncture where we see an increased focus on flexibility, resilience, digitalization and experience. As IFMA celebrates our 40th anniversary this year, we are challenged by the short-term ramifications of the pandemic; however, I strongly believe that the long-term impact will provide great opportunities to elevate our profession and unite it internationally. Together, we will be able to take IFMA to the next level and lay the foundation for the next 40 years."
Biographies and contact information are available online at ifma.org/about/leadership-staff/board-of-directors.