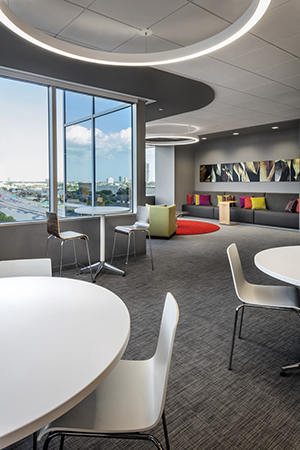 In deciding to leave the 64-story Williams Tower in Houston's Uptown District, leaders of HOK's Houston practice determined that they wanted to move away from a traditional center-core office layout. Instead, they set out to create a workplace that accommodates open offices and collaborative studio space for multidisciplinary design teams. In addition to supporting integrated design, the team wanted to use the renovation to showcase the high-performance, sustainable design that HOK offers clients.
The new space takes up the ninth and 10th floors of the 1984 Phoenix Tower in the heart of Houston's Greenway Plaza and fosters creativity while encouraging interaction, collaboration and comfort. By making major changes to the base building structure and circulation systems, the design team converted two previously separate floors into a two-story space that allows all occupants to experience open space, daylight and views to the outdoors. The design raised the ceiling from 9'-6"-high to 26'-10" at its highest point, with 12'-10"-high curtain wall. A new open stairway connects the previously separated floor plates.​
The open office space provides a variety of workspace options, including bench seating, sit-stands and informal meeting areas. Huddle and focus rooms are available for small groups and individuals. With a "yours to ours" approach to the workplace, the design reduced the average personal space from 66 square feet per person in the previous space to 38 square feet in the new office. Shared space increased from 18 square feet per person to 34 square feet. Eliminating private offices further encourages collaboration.
A design lab—a large, open space with a material library and product display area—hosts office and community events. Separated from the main office space, a break area offers the atmosphere of a living room with a large communal table, informal sofas and a TV. Views toward downtown and an adjoining terrace garden, a building amenity open to visitors and building occupants, link people to the outdoors. The museum-like entry, featuring rotating artwork by local artists, creates a design-focused atmosphere to welcome building visitors from the sky lobby. A window provides views into the studio's model shop. The integrated sustainable design strategies improve employees' comfort, health and wellness in a highly sustainable, LEED Platinum workplace.