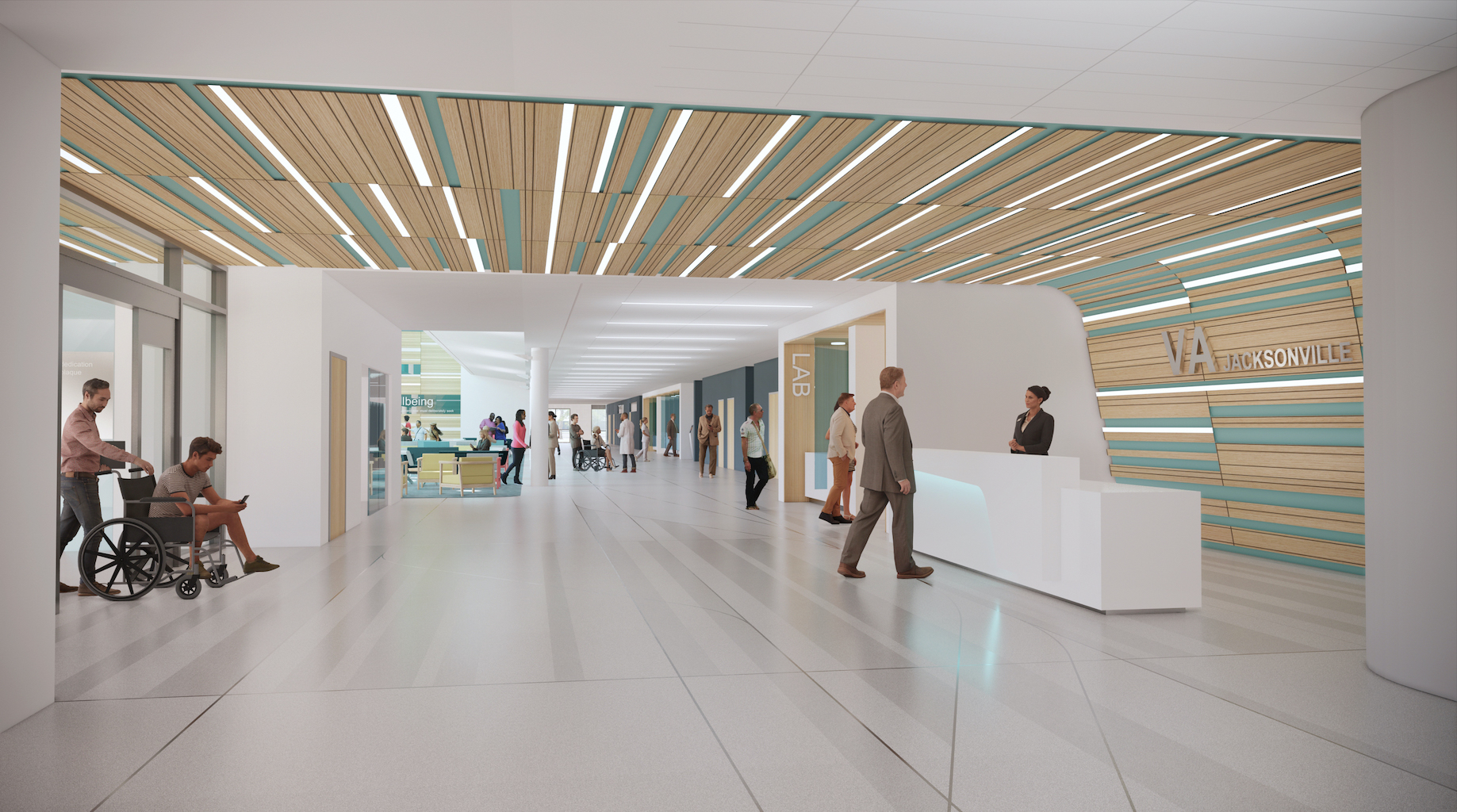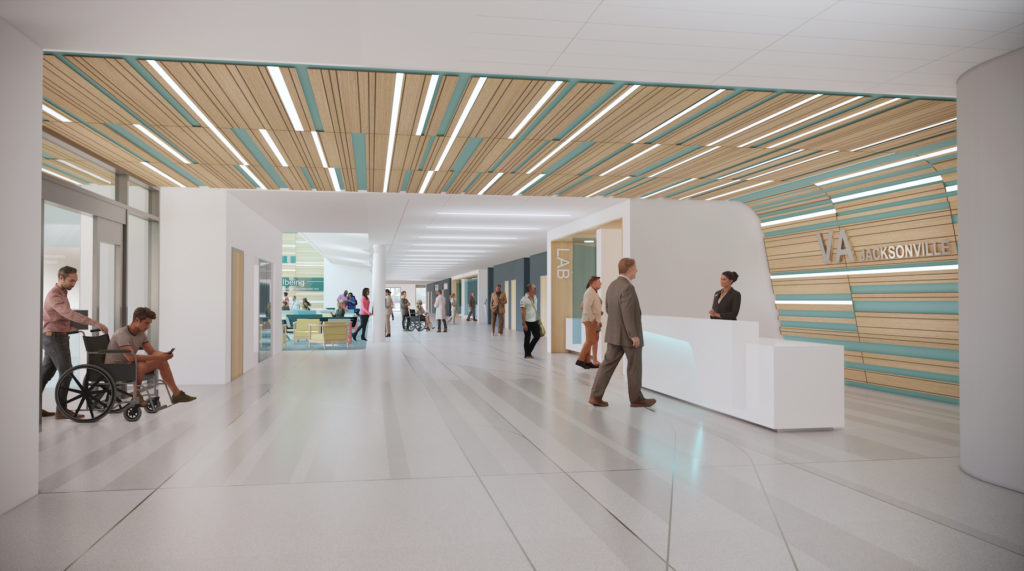 Hoefer Welker, a Kansas City-based architecture firm, and US Federal Properties (USFP), a Kansas City-based developer, have been selected to provide a new Outpatient Clinic and Domiciliary for the U.S. Dept. of Veterans Affairs North Florida/South Georgia Veterans Health System. 
The new campus, developed by USFP and leased to the VA, will consolidate existing mental health and primary care services into a single campus custom-designed to serve the area's 45,000 veterans. The 173,500-square-foot clinic comprehensive outpatient clinic will feature the VA's Patient Aligned Pact Care Team (PACT) model of care, which centers on patient-driven, proactive, personalized, and team-based care, and a 28,500 square-foot domiciliary will provide residential rehab and treatment services for homeless veterans.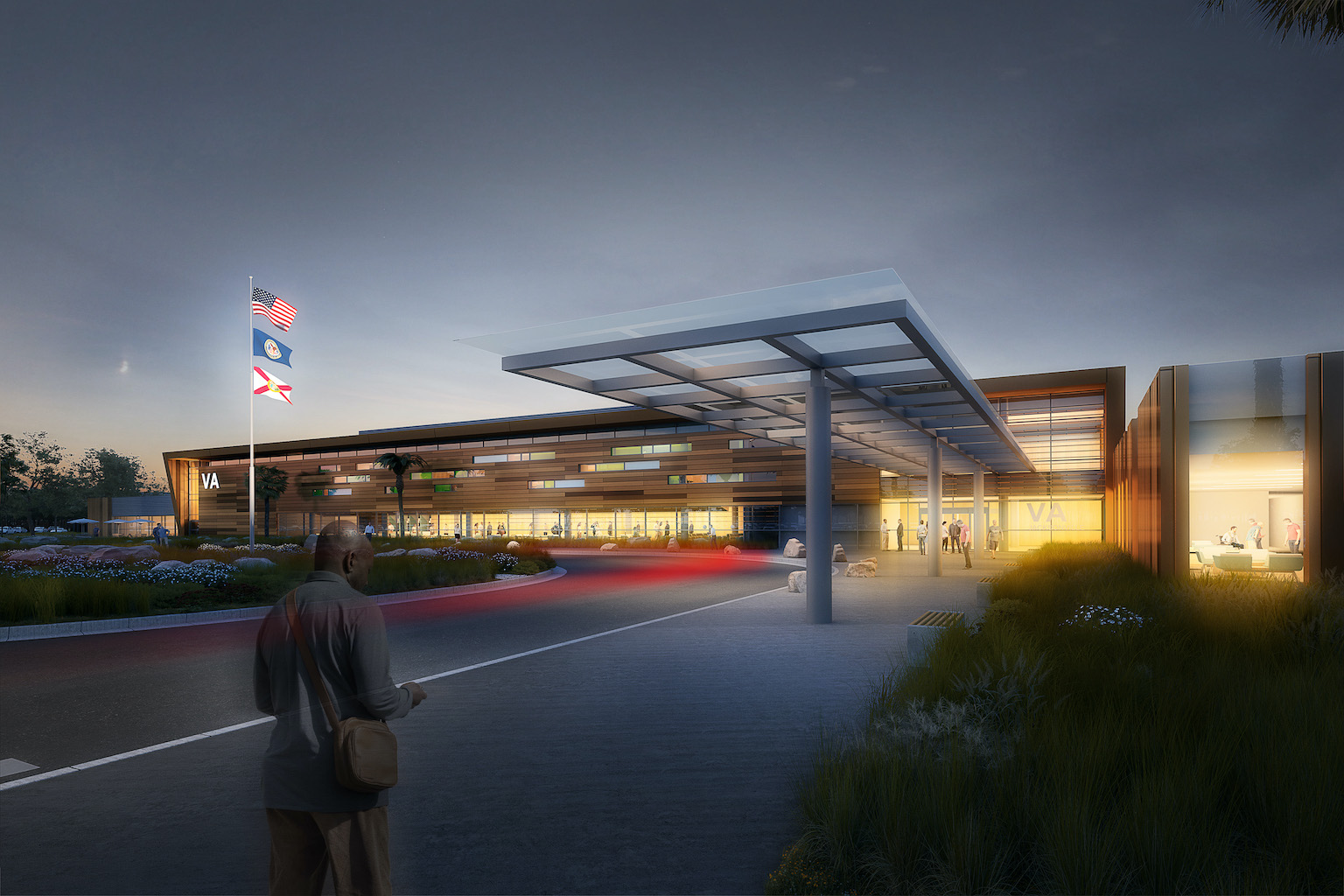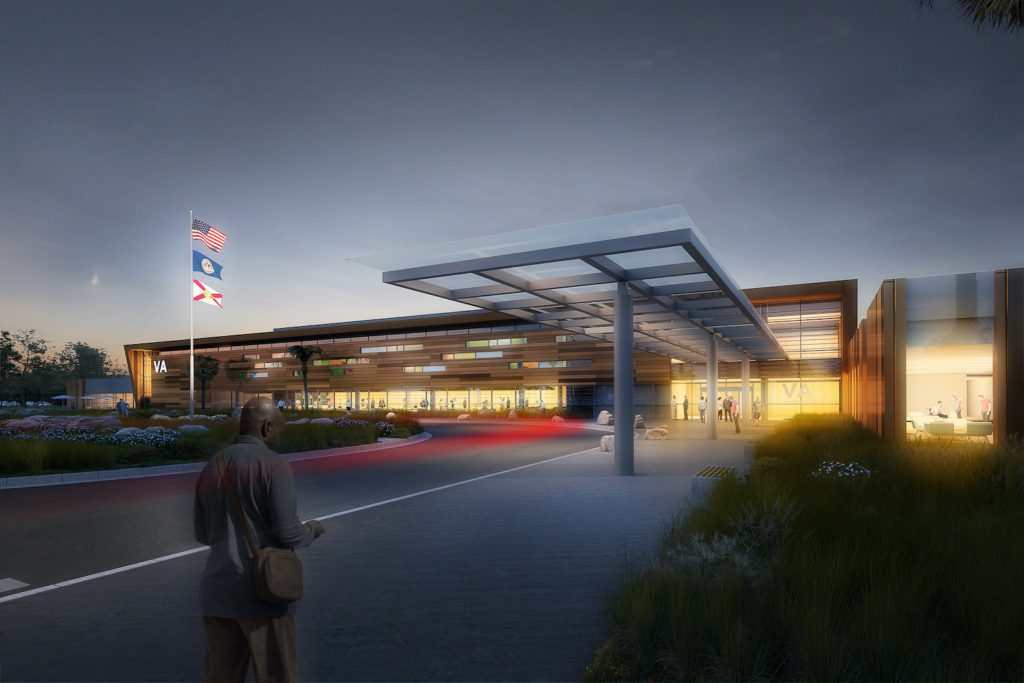 Inspired by the natural beauty found in Florida, the clinic's architectural and interior design focus on sustainably designed spaces to deliver primary care, mental health services, radiology, optometry, multi-specialty, physical medicine and rehab, audiology and pathology services. Additional features include a large imaging program with MRI, CT and women's imaging center, as well as substance abuse, homeless and PTSD treatment programs in a home-like setting. Large windows, warm tones and natural elements create a fresh and relaxing environment for veterans and their families. Visual continuity between the interior and exterior of the building unifies the design. Similar materials, colors, and proportions will be carried from the main entry, through the lobby atrium and public concourse, and into the patient rooms.
A large atrium creates a strong connection between the first and second floors, and intuitive wayfinding allows the lobby space to act as a central hub. Efficient clinical space layout allows staff to spend more time with patients, protects patient privacy, and minimizes fatigue.
Designed to be integral and connected to the main clinic, the domiciliary features light blues and warm wood tones, adding to the resort-like feel of the space. The patient wings are arranged around a central nurse station allowing for visibility to each patient wing. The nurse station sits under a wood plank ceiling adding warmth to the space, and each patient wing is easily identified by a glass wall treatment with a number, making it easy for patients and staff to navigate.
The project will be built to achieve two Green Globes for New Construction, based on its sustainable, healthy and resilient building design. This holistic approach to sustainability is present in both the building and site through climate-responsive design, high-performance glazing, energy-efficient lighting, water efficiency through native landscapes, and an on-site detention basin.
"Substance abuse and PTSD are growing concerns among our veteran population, with 1 in 5 veterans with PTSD also suffering from substance abuse. Campuses with programs like VA Jacksonville are vital to properly serve and treat those who have served our country," said Hosam Habib, AIA, Partner and Director of Design at Hoefer Welker.  "This campus will consolidate multiple primary and specialty services, including necessary rehabilitation and treatment services, under one roof to empower the veteran community in the greater North Florida/South Georgia region."
In collaboration with USFP, which develops, finances, owns and operates federal government-leased properties, Hoefer Welker is leading the architectural and interior design of the new healthcare clinic. This is the seventeenth clinic Hoefer Welker has developed with USFP.
"We're proud to have partnered with Hoefer Welker on numerous projects across the country, and we're pleased to soon add another state-of-the-art facility to that esteemed list," said Rick Baier, Principal, USFP. "The VA is one of the largest integrated healthcare systems in the country, and its impact is incalculable. This partnership allows us to deliver a higher level of care to our patients, and with their expertise and collaborative approach, we can provide better care for veterans and their families."
In addition to Hoefer Welker (architect) and USFP (developer/owner), the multidisciplinary team includes Meyer Najem Construction (general contractor), Sain Associates (civil engineer), Bob D. Campbell & Co. (structural engineer), Smith & Boucher, Inc. (mechanical engineer), Land3 Studio LLC (landscape architect), FSC, Inc. (life safety), and Protection Engineering (blast engineer).