Higher-education facilities managers have been working non-stop since the pandemic began, first transitioning their professors and students from on-campus to virtual learning and then keeping the buildings in sound condition while they were unoccupied. Since January, 2021, when campus life returned with limits, education facilities planners, engineers, and administrators have been creating new solutions for educational experiences on campus.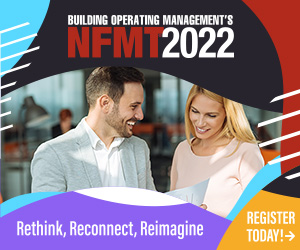 Their colleagues in government facility management are also facing demands with their buildings figuring out how hybrid work applies to their government employees and contractors and how it will impact government real estate holdings. Their unique needs are addressed in a selection of sessions during the National Facilities Management & Technology (NFMT) Conference & Expo, March 29-31 in Baltimore. "Facility managers are ready to return to in-person events," says Dan Weltin, editor-in-chief, facility market at Trade Press Media Group. "Virtual conferences have been helpful during the pandemic, but they are no substitute for a live trade show. NFMT will be the best opportunity to learn about the latest trends and see new products."
Eileen McMorrow, editor-in-chief of The McMorrow Reports/Education & Government recommends these sessions that she plans on attending in Baltimore:
The New School Environment When Students & Staff Return with Clarence A. Carson, CCA, CCP, CVP-USA, DCS Global and John T. Shea, CEO, Division of School Facilities, NYC DoE.
Roundtable: Managing Students' Needs on College & University Campuses
The Intersection of Sustainable and Healthy Buildings by Selina Holmes, VP, LEED Marketing, USGBC
Grid Security: Why It Matters For Facilities Management by Travis Moran, Senior Reliability & Security Advisor
SERC Reliability Corporation
Retro Commissioning and Air Balancing – Why? It Can Save You Money and Reduce Your Service Life Cost by Susan Morrison, ME, STSC, QCxP, Principal Construction Engineer, Parsons
Roundtable: Keeping K-12 Buildings Healthy & Safe
Roundtable: Managing Government Buildings-Not for the Faint of Heart
Intro to Public Safety Signal Enhancement by Ryan Coon, Tower IQ. A 20-minute presentation covering Emergency Responder Communication Enhancement System (ERCES) terminology, the market, and equipment.
Drinking Fountains & Bottle Fillers in a Post-COVID World presented by Brian O'Keefe, national specifications sales manager, OASIS Intl.