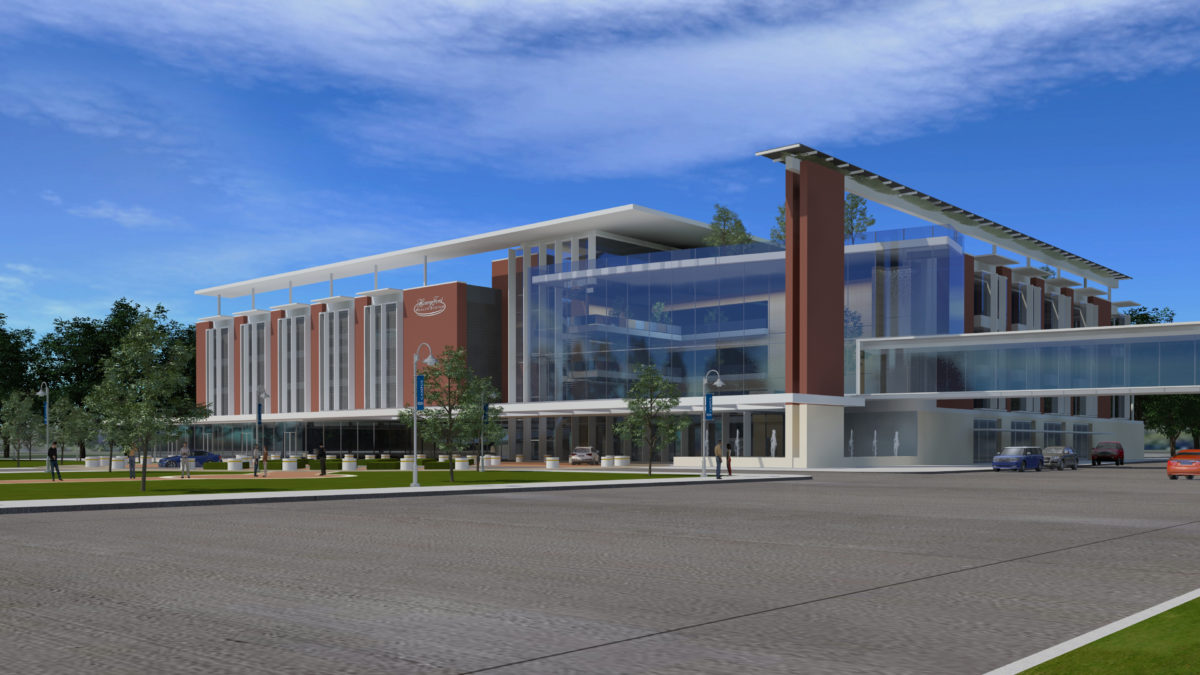 Henry Ford Health System has announced plans to build a $110 million cancer center as part of a $500 million expansion and neighborhood improvement initiative on 300 acres in Detroit, marking another key development in the city's revitalization and growth.
The planned five-story, 144,000 square-foot cancer center will include a rooftop garden and skywalk to connect it to Henry Ford Hospital. Opening is expected in summer 2018.
With ambulatory cancer treatment and support services under one roof, the new facility will make cancer care more comfortable and convenient for patients, families and seniors with a design that focuses on their emotional and physical needs through:
Express cancer services via a cancer-specific urgent care, and extended weekday and weekend hours of care
Cancer-type specific physicians and other specialists working together on the same floor, including radiation oncology, medical oncology and surgical services
Expanded patient concierge services, nurse navigators, financial navigators and palliative care
On-site exercise, fitness and nutrition planning, with exercise bikes in chemotherapy infusion areas, as well as yoga/eastern medicine programs, nutrition coaches and cooking classes
Dedicated personal spaces for lounging and computer access
Retail cancer services, including expanded aesthetics and personal care items, and food services directed to the tastes of cancer patients and meeting their home food needs.
The center will incorporate technology as well as clinical and translational research that patients seek in a destination center, including:
Greater integration of translational research programs into the clinical setting
Support for components of clinical research necessary as research moves into the next era of personal and precision medicine
Dedicated space where patients can speak with research nurses about clinical trial opportunities
"We're creating a world-class cancer facility supporting the expertise of the Henry Ford Medical Group in the care of cancer patients," says Henry Ford Hospital President and CEO John Popovich Jr., M.D.
By consolidating cancer care services currently located across multiple sites on the Henry Ford Hospital campus in Detroit, Dr. Popovich says the new center will provide care in a more seamless, coordinated and healing environment.
The new cancer center will anchor Henry Ford Hospital's South Campus expansion project, located on 300 acres south of W. Grand Blvd. and north of I-94.
Along with the cancer center, the project's 10-15 year vision includes green space, commercial, retail and housing development in an area that not too long ago resembled desolate fields and crumbling industrial structures. Within the 300-acre neighborhood, Henry Ford will invest in roughly 30 acres, and continue to work to attract businesses, like Cardinal Health, and other developments to the area.
"We're very excited about Henry Ford's commitment to this new project in Detroit," says Detroit Mayor Mike Duggan. "It's not only paved the way for new development in the city, but eliminated blight by demolishing 100 vacant structures throughout the 300 acre neighborhood."
"With more than 100 years in the city, we're thrilled to be moving into our next century in Detroit with a project that symbolizes optimism for the future and the promise of continued economic renewal," says Henry Ford Health System CEO Nancy Schlichting.
Site planning for the new cancer facility is expected to be complete by the end of the year; groundbreaking is anticipated for spring 2016. The facility will be funded by internal and philanthropic support.