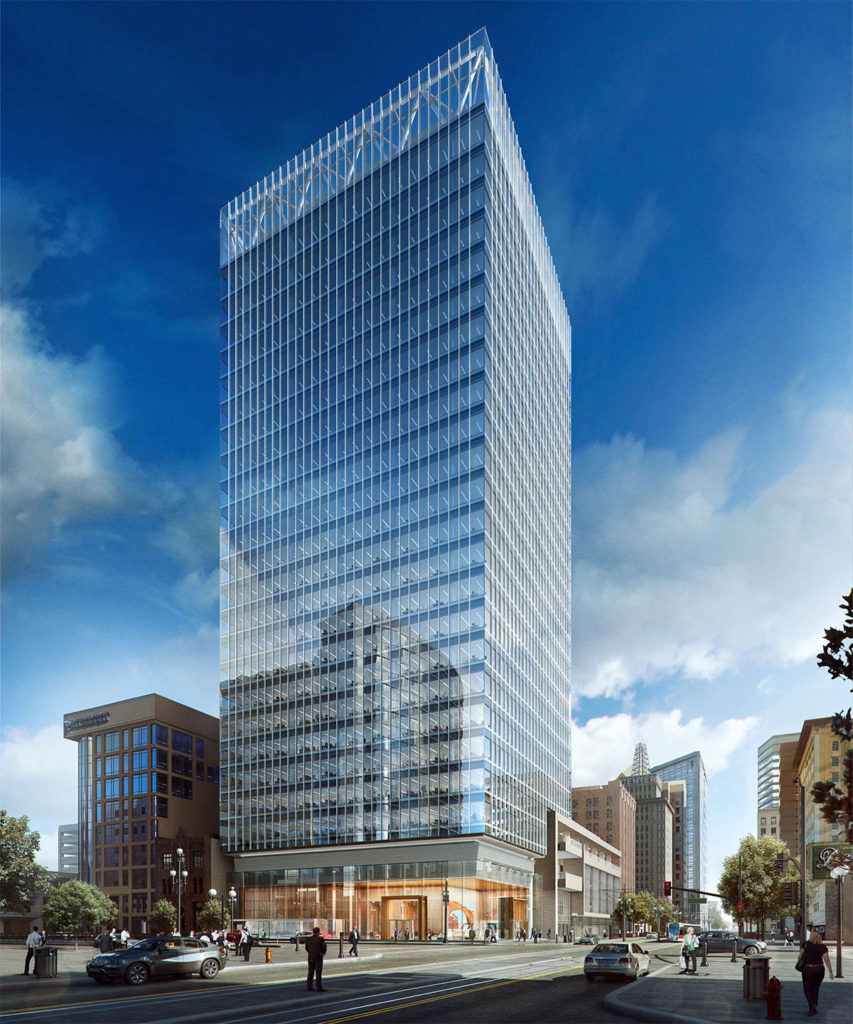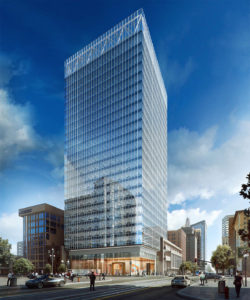 111 Main has become the newest addition to the Salt Lake City skyline. Currently under construction in the heart of the downtown City Center neighborhood, the roof hat truss structure of the 25-story, Class A office tower was topped off in January, with its loads successfully transferred from a temporary shoring support system to the permanent structural system during a one-day 12-hour period. Designed by architect and structural engineer of record Skidmore, Owings & Merrill LLP (SOM) with VCBO Architecture and Dunn Associates Inc., the building's structural engineering features an innovative and integrated solution to a complex site challenge—how to suspend a portion of the tower over an adjacent building.
An air rights agreement with the neighboring property owner defines the project site's south property line. 111 Main is on a contiguous parcel with the new Salt Lake County Center for the Arts' George S. and Dolores Doré Eccles Theater, which overlaps on the lower four stories and basement level of the tower footprint. To accommodate the Eccles Theater under the southern portion of 111 Main's tower, a structural system was required that did not extend columns below the fifth level of the tower on the south side.
SOM designed the penthouse roof level of the 387-foot tall building to be comprised of a balanced two-way steel hat truss system that supports the office tower's 18 perimeter columns in an integrated load-balanced structure. The central reinforced concrete core walls provide the tower's only connection to its foundation and resists all gravity loads, as well as wind and seismic vertical and lateral loads. Conventional long-span, composite-steel floor framing construction connects the central core walls to the perimeter steel frame and suspended columns, providing open office spaces free of interior columns and a completely column-free lobby at the tower's base.
Located in a region of high seismicity in close proximity to the active Salt Lake Segment of the Wasatch Fault Zone, 111 Main was designed to withstand maximum considered earthquake hazards and performance-based seismic design procedures.
111 Main's anticipated completion date is in August 2016.