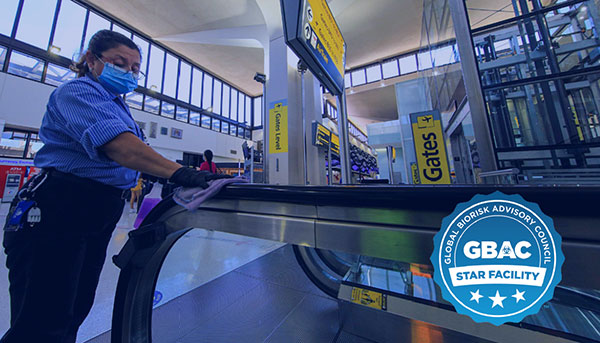 The five airports operated by the Port Authority of New York and New Jersey (PANYNJ)—John F. Kennedy International Airport, Newark Liberty International Airport, LaGuardia Airport, New York Stewart International Airport, and Teterboro Airport—along with their terminals and fixed-base operators, have completed the annual reaccreditation process for GBAC STAR Facility Accreditation from the Global Biorisk Advisory Council (GBAC), a Division of ISSA. The reaccreditation demonstrates the airport system's continued commitment to passenger health and safety.
Despite the challenges we face from the pandemic, the Port Authority continues to deliver the highest levels of safety for employees and our customers. The renewal of the GBAC STAR accreditation is a testament to our commitment to continuous improvement and world-class operations. This accreditation from a trusted source is key to welcoming customers back to our airports.

Port Authority Chief Operating Officer Huntley A. Lawrence
GBAC STAR accreditation ensures that facilities meet strict protocols for cleaning, disinfection, and infection prevention to protect public health. Over the past 12 months, PANYNJ has implemented a continuous improvement program to confirm that its cleaning professionals carry out protocols consistently. The airport system identifies and mitigates public health risks with a system of hygiene dashboards, cleaning and health committees, and evaluation. Additionally, the airports give frequent safety standard announcements throughout all terminals to keep employees and passengers informed.
Transportation hubs are critical areas for preventing the spread of infectious diseases. PANYNJ sets the standard for airport health and safety with rigorous cleaning protocols, risk assessment and mitigation, and continuous improvement. Creating a safe passenger journey along with a safe and healthy environment for their employees.

Patricia Olinger, GBAC Executive Director
Check out the list of PANYNJ accredited facilities here.
Learn more and apply for GBAC STAR Facility Accreditation and find accredited facilities and those pursuing accreditation via the GBAC STAR Facility Directory.