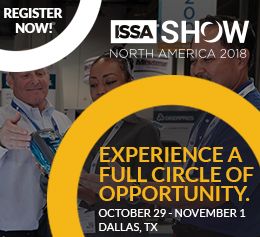 Facility managers in healthcare have a tremendous opportunity to contribute to overall facility maintenance along with the health of employees, patients, and guests. And their counterparts in education can make the greatest impact that contributes to keeping teachers and students in school with intense measures that prevent the spread of germs and influenza.
The McMorrow Reports will attend the ISSA Show North America in Dallas, Oct. 29-Nov. 1, especially for its excellent education for healthcare and school organizations. First, we present our selections for healthcare FMs, followed by education/schools picks. Consider them for your schedule at ISSA.
Click here for more on the ISSA Show.
Healthcare
Infection Control: Strategies for Surveillance, Identification, and Containment. Dr. Katie Pisciotta. Mon. Oct. 29, 8:30 -9:15 a.m.  You'll learn the standard and transmission-based precautions necessary to control spread of infection. You'll also hear about the unique challenges that different types of facilities face. Finally, you'll walk away with a deeper understanding of health care-associated infections (HAI), as well as tools such as a communications plan and cheat sheets that you can use to keep patients safe.
Microbiology 101 for an Effective Infection Control Program.  Tanya Henry, managing partner, Iconic Oak Consulting, LLC, Mon. Oct.  29, 10:45- 11:30 a.m. Understanding of the basics of microbiology is critical to the development and implementation of an effective infection control program. In this session you will learn the science of microbiology and disease-producing microorganisms commonly found in a health care facility. You'll also gain an understanding of how those organisms are spread and can be contained through redefining the role of EVS staff, giving them the necessary training, and supporting them through well-communicated strategies.
Implementing Robotics in Floor Cleaning Automation. Sponsored by Avidbots. Tues. Oct. 30, 10:30-11:15 a.m. This panel will discuss robotic automated floor cleaning and real world strategies, the return on investment, data, safety, managing implementation and the culture of automation from the perspectives of the panelists who will explain how their companies implemented and continue to use robotic floor cleaning in their businesses.
Click here for all Healthcare track sessions. 
Another session of note is IFMA's, "It's Time for Data-Driven Facility Management." David Reynolds & Rufus Martinez of IFMA will present on Wed. Oct. 31, 10:30-11:15 a.m. This presentation is designed to provide insight on how you can initiate preliminary research and data gathering efforts when either refining an existing process or exploring new options. Join leading industry service providers and facility management professionals as they share best practices and discuss key challenges and new tools and resources available to help your facility operate optimally.
Education  & Green Schools
A Public Health Matter: Helping Cleaning Professionals Prevent Illnesses sponsored by Clorox Professional Products Co. Lori Strazdas, public health liaison, Clorox Professional, Mon. October 29, 2:15 – 3:00 p.m.  How much training do highly essential cleaning professionals receive? And how standardized are the cleaning protocols to ensure efficiency and quality in cleaning processes? This session will explain the role of cleaning and disinfection with new technologies to prevent common community-acquired infections and offer a multi-step framework for product selection and standardization of cleaning procedures.
Green Your Initiatives for Healthier School Environments. Bill Balek,  director of Legislative and Environmental Services, ISSA; Rochelle Davis, president & CEO, Healthy Schools Campaign;  Tracy Enger, Education & Outreach Leadership Facilitator for Healthy IAQ, U.S. EPA; Marvin Brewer, assistant custodial manager, Salt Lake City School District; and Steve Ashkin, CEO, Ashkin Group. Mon. Oct. 29, 8:30-9:15 a.m. The panel will discuss how a well-designed green-cleaning program can enhance the health and productivity of students and staff, increase the lifespan of facilities and fixtures, preserve the environment, and save money.
Fight Allergens with Science! Sponsored by Sanitaire. John McKeon, CEO of Allergy Standards, AAFA. Mon. Oct. 29, 1:15-2:00 p.m. Asthma is the No. 1 cause of ER visits and school absenteeism in children across the U.S. The Asthma and Allergy Foundation of America (AAFA) scientifically tests products to ensure that their claims on allergen control are verified. Manufacturers can leverage this certification and get the AAFA stamp of approval for their cleaning products and, in turn, help their facility management customers prove their commitment to the cleanliness of their facilities and the health and well-being of the building occupants.