by John T. McGrath, Jr., INSTALL Executive Director
This white paper discusses how to avoid flooring failure and ultimately how to have a successful healthcare retrofit project.
Facility managers, architects, and interior designers face many challenges in the complicated healthcare retrofit market. From an increasing need for solutions that provide both design and performance benefits, to impossibly tight timelines and scrutinized budgets, the A&D community must achieve maximum return on investment from projects while meeting the specific needs of building owners and applications.
Within the retrofit market, flooring is one of the most important and expensive decisions a facility manager, designer or architect can make. It's crucial to get it right the first time, as flooring failures are expensive propositions. From disruptions to mandated downtime to the replacement of materials, the cost of a defective floor can be as much as nine times greater than the cost of the original project. Moreover, many flooring failures are installed by a system of dealers, subcontractors and helpers in which a responsible and capable party to make repairs cannot be found.
Furthermore, materials are continually evolving as manufacturers create new, durable and environmentally friendly choices for a variety of surfaces. With new products continually coming into play, new installation methods and practices must be developed. To ensure reliable and attractive installations, the flooring knowledge of installers must keep pace with the new options. The keys to ensuring a positive ROI in healthcare retrofit projects are wide-ranging and include everything from understanding the industry and market and choosing the right product to ensuring correct installation, and providing proper care for the lifetime of the floor. However, the most effective way to ensure the success of your next project is to select a superior contractor.
State of the Industry
The United States architecture market is now reporting an almost full recovery from the Great Recession 1. A prominent reason behind the recovery is the advance of the retrofit and renovation market.
Of total building design billings, 45% were renovations to existing buildings. Likewise, the US Department of Energy reports that of the 5.5 million non-residential buildings in the US, 80% are more than 20 years old 1. Currently, retrofit spending exceeds new construction spending by 30%1.
After a year of strong growth, there is a general consensus that the construction industry expansion will be more tempered in 2017:
Continued strong demand for hotels, office space and amusement/recreation will be driving factors.
Spending in the commercial/industrial market segment is projected to increase 6.5% in 2017 (compared to 11.7% in 2016)
Spending in the institutional market segment is projected to increase 5.8% in 2017 (compared to just 4.5% in 2016)
However, uncertainty lays ahead for the healthcare market. The presidential administration has plans to repeal and replace Obamacare, signaling the potential for significant changes. Healthcare accounts for roughly 10 percent of building spending nationally, so major changes to the healthcare system, or even ambiguity surrounding the possibility of major changes, could have substantial impacts on building construction levels.
On the other hand, Trump administration proposals for simplifying and potentially reducing tax burdens are likely to have disproportionate benefits to the corporate sector. This would likely increase the availability of capital for investment, thereby increasing commercial and industrial construction spending, at least in the short term 2.
Regardless of these uncertainties, the building and construction industry operates in a unique time when retrofit spending far outpaces new construction spending. With 5.5 million non-residential buildings in the United States, spanning more than 87 billion square-feet, there are countless learning opportunities and challenges for the industry 3.
As a result, a major opportunity exists, one that literally rebuilds the commercial construction market from the floor up – and healthcare environments are a key aspect of this rebirth.
Buyer beware
As a designer, architect or facility manager making primary decisions about flooring materials and installation, it's important for you to perform your due diligence on every project. After all, it's a "buyer beware" world when making uninformed choices.
Flooring fails due to site conditions, material failure and/or installation failures. Protect yourself from failure by:
Choosing suitable materials
Recognizing necessary site conditions
Stipulating legitimate installer and dealer standards
Assessing material attributes and suggested uses regarding traffic, abrasion, light exposure, strength, durability and moisture sensitivity
Additionally, directly handle (or delegate the handling of) site condition parameters to comply with material selection, usage and installation. One should review this information prior to purchase. Furthermore, you should know that the installation team's credentials are bona fide. Real time supervision and reporting should also be performed during the course of the installation to ensure success.
Key questions to ask include:
Does the construction manager have expertise in site conditions compliance?
What is being done during the construction to protect against disruption?
How are deliveries and removals being handled during and after the construction?
How is the tear down being handled?
What safety, licenses, legal obligations are necessary and how will their compliance be proven to you?
Choosing the right product
We walk on, roll on, spill on, drop on and expose floors to many elements. We rely on them for aesthetics, cleanliness, durability, comfort and sound control. They can wear out or fall out of fashion. That's why awareness and preparation are key components of any flooring installation.
It's especially important to be aware of both site conditions and the proper use of flooring materials, including installation and vulnerabilities. Primary considerations regarding site conditions revolve around the following questions:
High or low foot traffic?
Foot, machinery or rolling load traffic?
What's the overall purpose of the space and material?
What specific aesthetic, safety, cleanliness and comfort are required?
When choosing products, a basic understanding of flooring materials can go a long way. Understanding the difference in how products stand up to wear and tear is key to choosing the right product and designing durable, long-lasting floors. While carpet, resilient tiles, wood and stone can all be stylish, each has a variety of pros and cons that should be considered before selection:
Carpet traps soil, wears out quickly and can be pulled and torn.
Soft woods and some vinyl are vulnerable to abrasions and indentations.
Moisture and acidity can easily break down adhesives leading to displacement and discoloration.
Working with a trusted and knowledgeable contractor with training on material selection, underlayment and moisture mitigation will help make the process significantly easier. However, at the end of the day the decision maker must ask:
Does the flooring product and installation system suit the usage and site conditions?
Is the installation system dependable?
Does the flooring material and installation have a track record of success in similar applications?
Additional items to consider during the installation process are substrate site conditions and potential threats to substrate material and underlayment. This is a major concern for healthcare facilities that are often open 24 hours per day, seven days a week. Flooring failure is not an option, and repairing damaged flooring is a major disruption to patients and staff. As part of substrate preparation, it's important to anticipate, test and monitor for:
Substrate (clean, smooth, flat and level)
Choosing the Right Team
When starting your next project, remember that choosing the right contractor and installation team can mean the difference between a successful installation and expensive, time-consuming callbacks.
Specify only properly trained and certified teams on the job site. The most effective way to ensure this is to research your options and hire the best of the best. A superior contractor will be a reliable point of contact, have control over their team, be financially stable with the tools and supplies to complete the job and have a track record of success. Additionally, they must have the necessary insurances, bonding and licenses, along with safety training and drug testing to put your mind at ease.
INSTALL Warranty Contractors not only have the general knowledge to support the A&D community with healthcare projects, they have specific training on some of the most complex yet common reasons for flooring failure. As experts in their craft, they receive third party and industry/manufacturer-endorsed training. These training opportunities are created in part by manufacturers who stay up to date with new and changing guidelines. Thanks to a collaborative curriculum and a wide variety of certifications, INSTALL contractors are among an elite group of professionals.
Maintenance and care
Regardless of your role and ownership of a project, it's important to treat an installed floor like a classic car. Floors need to be maintained to perform and last. You might not take them for a drive down the coast, but they are walked on, rolled on, dropped on, stained and exposed to the elements.
Therefore, maintenance cannot be taken for granted or assumed to be the same for similar flooring products from different manufacturers. Every product is unique, and often comes with specific manufacturer-backed maintenance plans and care instructions. Always remember:
Proper maintenance increases longevity and reduces costly repairs.
Follow manufacturer's maintenance instructions. Develop a maintenance schedule for each unique surface.
The level of wear and tear should be accounted for in the maintenance schedule.
Properly train staff to carry out maintenance correctly.
Keep dirt out with a good matting system. An ounce of prevention is worth a pound of cure.
Additional items to take into consideration include the effect of specialty hospital equipment on maintenance plans, the appropriate cleaning methods for bio and static-resistant floors (and other unique surfaces found in hospitals and healthcare facilities) and local, regional or corporate mandates, guidelines and rules.
Case Study:  Veterans Affairs Michigan Rehabilitation Clinic creates welcoming spaces for veterans thanks to an INSTALL contractor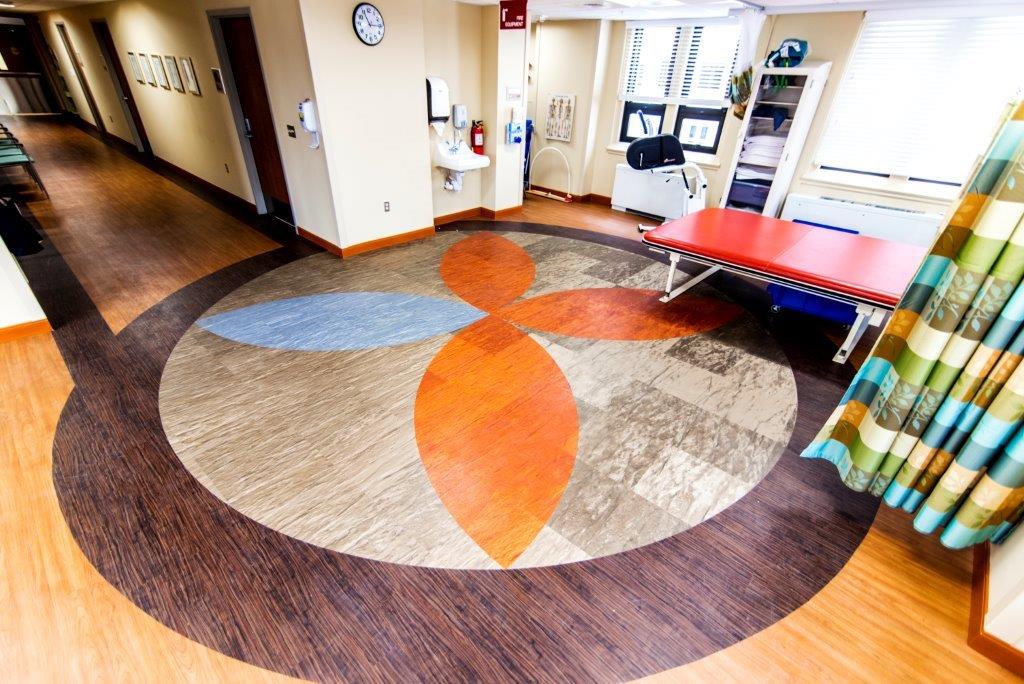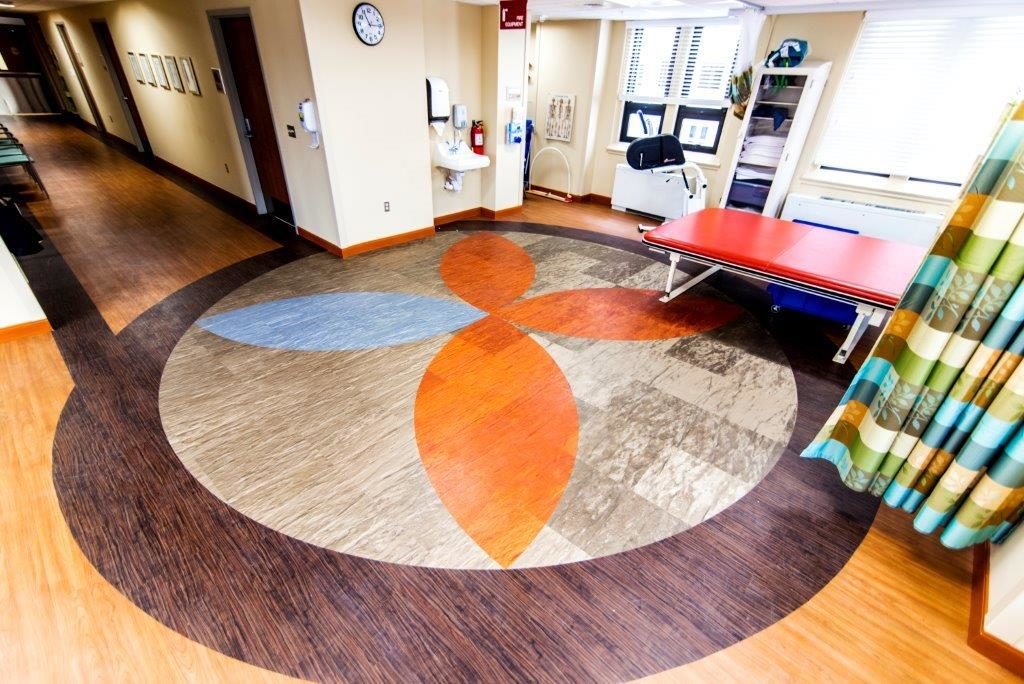 To illustrate the positive impact of choosing the right product and the right installer, we have included a recent case study that highlights INSTALL Warranty Contractor Master Craft Flooring's partnership with the Department of Veterans Affairs. View the full case study here to see how Master Craft met the challenge and delivered results for our veterans in which we can all take pride.
We are living and working in a unique time when the retrofit market is the driving force behind the architecture and building industries. With retrofit spending exceeding new construction by 30%, many opportunities exist. However, healthcare facilities have unique challenges along with plenty of uncertainties ahead. Therefore, it's critical to make sure that every project you complete has a positive ROI and benefits the end users – patients, staff and visitors.
One of the easiest ways to achieve this is through flooring. Do your homework, choose the right product for the right space, have an awareness and understanding of installation pitfalls and perils, and develop a maintenance plan to protect the finished product.
At the end of the day the most effective way to ensure a successful installation is to work with a superior contractor.
Learn the benefits of specifying an INSTALL contractor on your next project.
References
Building design revenue topped $28 billion in 2015. AIA. 2016. Print
US Department of Energy.