Q: What's the #1 profitability killer in the food and beverage manufacturing industry?
A: Recalls. And the industry is experiencing a 10-year all-time high of them. What can you do?
Turns out, the answer is "plenty."
In the article "The State of Food and Beverage Facility Management and How the Industry Can Fix it," facilities services provider OpenWorks shares that the U.S. food and beverage industry experienced 23.1 percent more recalls in Q1 2023 than the previous quarter.

Undeclared allergens, particularly nuts, and sesame — which were added as a major food allergen in January 2023 — were the leading causes of U.S. food recalls for the ninth consecutive quarter, with 56 recalls in Q1 2023.

Foreign material, bacterial contamination, viral contamination, misbranding, and packaging defects were the other leading reasons for recalls. The number of FDA food recalls increased by 700.6% in the number of units impacted in 2022.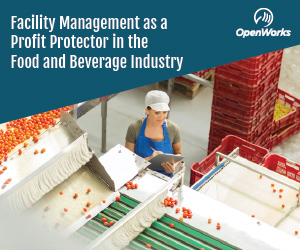 With 416.9 million units recalled, this represents a 10-year high, making recalls the #1 profitability killer.
One of the biggest reasons behind the recalls is how companies view facility management. Many see it as a cost center rather than a profit protection center.
How can you shift your view to protect yourself?
Food and beverage manufacturers are looking for ways to cut facility costs at the expense of future profits
When it comes to servicing buildings, many food and beverage manufacturers are outsourcing the commercial cleaning services of the bathrooms, break rooms, and offices. But they are insourcing the rest of the warehouse and distribution center, including the cold storage area, to teams directly on their payroll.
While leadership believes they can cut costs and reduce risk by keeping their in-house team on their payroll (despite higher labor costs), it's the direct opposite.
With insourcing, leaders still must deal with distributed teams keeping their oversight and visibility limited. They still do not have a clear view of facility performance.
In addition, labor continues to be a considerable area of concern. Nearly every supply chain and food and beverage manufacturing publication has highlighted concerns about supply chain disruption and worker shortage.
It's no surprise that the labor shortage has affected food and beverage operations severely. Because facilities cannot get the labor they need, and facilities are not getting the consistent service to stay compliant, safe, clean, and efficient. This results in a higher probability of experiencing a recall.
Other food and beverage facility leaders are consolidating services and using a national facility management provider (that, in many cases, promised low prices) for their warehouse, distribution center, and cold storage needs.
But, in many cases, the providers only tailor services to the company and not to individual site needs. This is because those types of providers are more concerned about their own profitability, not the food and beverage manufacturer's long-term success.
Many service providers tend to take a "blanket approach" to facilities. However, this is simply not possible in a sector with different types of facilities across different temperature zones:
Refrigerated, chilled -5 degrees Celsius: fresh fruits, vegetables, eggs, dry fruits, milk, and dehydrated foods.
Frozen -10to -20° Fahrenheit: frozen vegetables, fish, meat, seafood, and other products.
Read this article to see how the blanket approach put the supply chain operations of a distributor serving big-brand fast food restaurants at risk.
So much more than a line item
Food and beverage manufacturers are making the wrong choices because they are looking at facility management as a line item. However, a joint study by the Food Marketing Institute and the Grocery Manufacturers' Association estimates that the average cost of a food recall to a food company is around $10 million in direct costs. This is without considering the damage to brand reputation and lost sales.
For larger manufacturers, the impacts are significantly higher. For example, the Jif peanut butter recall in 2020 by The J.M. Smucker Co., cost the company $125M between manufacturing downtime, consumer refunds, and the recovery of contaminated products.
After Abbott experienced a gigantic recall of its Similac product in February of 2022, pediatric nutritional sales took a big hit. Earnings showed U.S. pediatric nutritional sales of $308 million, which is a $170 million drop from the same period of the previous year.
Because Abbott had to borrow plant capacity from other products to meet demands for infant formula downtime, there were lower sales across different divisions for multiple quarters afterward.
Analysts say that one recall cost the company at least $325M.
Bottom line: food and beverage manufacturers need to start making facility management decisions based on the bigger picture — and not just the line item costs they are looking to decrease at that time.
Viewing facility management as a profit protector by searching for ways to remove risk across all sites and regions
While food and beverage manufacturers may have consolidated facility management services to one or a few national providers, there is limited visibility across sites and regions.
Therefore, the experience is like having many distributed, dispersed teams. It's true that some facilities are getting the cost-saving benefits of consolidation but not the risk-reducing benefits. Food and manufacturers are losing their focus on what's necessary.
Being proactive, not reactive
Supply chain facility leaders for food and beverage manufacturers need visibility and transparency to make data-driven decisions. They need help to optimize operations to achieve business goals and remove operational bottlenecks at the plant, warehouse, or distribution center.
When that view shifts, facility leaders can now make decisions based on what's working and what's not. In addition, it becomes extremely easy to recognize risk proactively to stop a recall or supply chain disruption before it's too late.
Facility leaders then know that just because there is "no noise," there is no threat of yet another recall. When leaders are prepared, they have all the information they need. For example, the OpenWorks portal provides its customers the transparency and data they need to proactively monitor facility risk across all sites.
Viewing facility management as a profit protector allows for a focus on outcomes
When food manufacturers like PepsiCo., General Mills, 365 Foods (Whole Foods brand), and distributors like Shamrock Foods began working with us, they were activity-based vs. outcome-based.
They would limit activities and adjust service levels to reduce costs without considering how it would impact operational efficiency, service performance to customers, inventory turns, audit compliance, product quality, and margin growth.
However, once manufacturers can focus on outcomes rather than everyday activities, they can match facility services to FDA and USDA audits ensuring compliance with national, regional, and local regulations.
Manufacturers can also match facility services to third-party certification companies like the GFSI (Global Food Safety Initiative). This enables brands to continue to earn the trust of customers.
When consumers feel confident, they will not fall ill from viral and bacterial contaminants, they want to buy more or choose one brand over the next. When a facility thinks ahead this far, the chances of a recall are automatically reduced, and service to the end consumer will be immediately improved.
Viewing facility management as a profit protector, allowing for a reach beyond technology
Many food and beverage manufacturing companies are investing up to $1B in modernizing their distribution networks across the U.S.
They are investing in robots, retrieval systems, RFID scanners, conveyor systems, automated guided vehicles, automated storage, and packaging, sorting and retrieval systems, pick-to-light systems, and voice-picking systems.
However, many overlook how cleaning and maintenance directly impact all this tech as well as the supply chain operations and profitability. It only matters how much technology you use if your working environment is clean.
For example, if the conveyor systems are not cleaned properly and maintained, then the facility will experience unnecessary downtime that will impact productivity and efficiency.
If the facility has a dirty and unorganized warehouse or distribution center, it will experience impeded product movement and reduced inventory turns. The faster inventory turns, the better the profitability. Most importantly, an uncompliant, unsafe and unclean environment can lead to FDA penalties, FDA shutdowns, and recalls that will take away all productivity, efficiency, and profitability gains that could have been achieved with the new technology.
Putting the new views into practice
It's time for food and beverage manufacturers to think differently about their approach to facility management. Hidden costs are much higher than the savings they may be experiencing by removing line-item costs.
The risk of recalls is ever-increasing, yet many food and beverage manufacturers are not looking to their facilities to protect them from the #1 profitability killer.
With recalls at a 10-year high and not stopping, it's time to search for ways to ensure consistent, reliable, and compliant service. With more visibility into facility performance, the food and beverage industry can fortify their locations from risk rather than having to respond to recall issues after the fact.
Wouldn't you rather be in front of the issue, rather than spend multi-millions of dollars and still be behind? Work with OpenWorks; we'll catch you up.
OpenWorks is a nationwide provider of commercial cleaning and facility management services. The organization helps clients reduce risk and improve operational efficiency through a franchise service model with industry-specific corporate oversight.