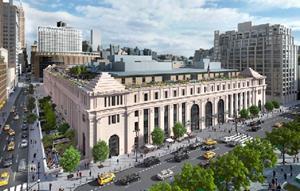 Facebook has leased 730,000 square feet comprising all of the office space at The Farley Building (the former General Post Office Building), New York, as announced by Vornado Realty Trust.
The Farley Building, famous for bearing the US Postal Service motto, "Neither snow nor rain nor heat nor gloom of night stays these couriers from the swift completion of their appointed rounds," is a cornerstone of Vornado's new Penn District, where the REIT owns 10 million square feet and is in the midst of a more than $2 billion district-wide transformation of the neighborhood alongside government infrastructure and transportation improvements of more than $3 billion. Farley occupies a double-wide block between 31st and 33rd Streets and stretches from 8th to 9th Avenues. It is adjacent to Penn Station, the busiest transportation hub in the nation, and across the street from Madison Square Garden.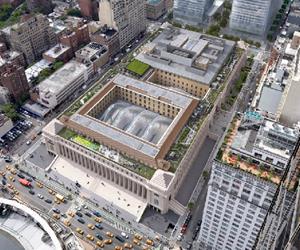 Farley is an iconic Beaux Arts New York City landmark designed by McKim, Mead & White that Vornado is converting into a state-of-the-art, mixed-use development featuring best-in-class creative office space, while retaining the rich history of the building's original design. Farley's large floorplates offer a horizontal campus unique to Manhattan and similar to tech offices in Silicon Valley. The full complex will include Facebook's office space; the majestic Moynihan Train Hall; and 120,000 square feet of retail space with food and beverage, full-service restaurants and curated lifestyle brands. The project is expected to be completed in phases beginning by year-end 2020.
Steven Roth, Chairman and Chief Executive Officer of Vornado, commented, "We are delighted to welcome Facebook to The Farley Building, a property like no other in New York City. Facebook's commitment to Farley expands our long-standing relationship and advances our vision for the Penn District, the new epicenter of Manhattan. Facebook's commitment is a further testament to New York City's extraordinary talent and reinforces New York's position as the nation's second tech hub."
"Facebook first joined New York's vibrant business and tech community in 2007. Since that time, we've continuously grown and expanded our presence throughout the city. The Farley Building will further anchor our New York footprint and create a dedicated hub for our tech and engineering teams. We look forward to being a part of this iconic New York City landmark's future for years to come," said Robert Cookson, VP of Real Estate and Facilities, Americas, EMEA and APAC at Facebook.