UCHealth Longs Peak Hospital designed by EYP Health opened for patients on Aug 31. The new facility located in Longmont, Colo., provides advanced care and a high-quality patient experience close to home for the region's residents.
As one of the top-ranked healthcare systems in Colorado, with locations in several of the state's fast growing communities, UCHealth wanted to be prepared to expand quickly. Working with EYP Health the Facilities Design and Construction team led by Sean Menogan, it developed a plan for a small hospital that could grow over time. Longs Peak Hospital is the first of a few different greenfield community hospital locations to open.
The new 210,000-square-foot hospital provides more than 50 inpatient beds and room to expand to more than 100. The hospital features an intensive care unit, operating rooms, a Level III trauma center and emergency department, advanced cardiac services, a birth center with a Level II special care nursery, a surgery center and 24-hour retail pharmacy, laboratory and imaging services. In addition, Longs Peak Hospital patients will gain access to advanced treatments, complex surgeries and innovative clinical trials across the entire UCHealth system.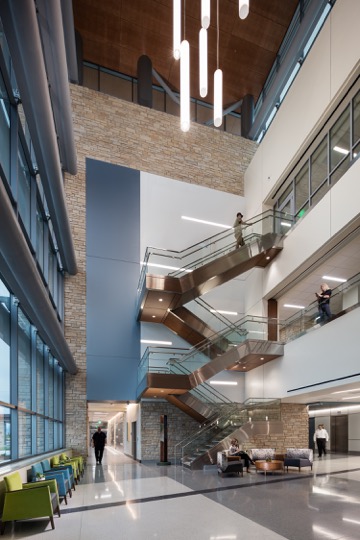 "From a design and construction perspective, we had two major goals for the UCHealth Longs Peak Hospital project: Design an expandable, site-adaptable inpatient chassis that UCHealth could use at other greenfield hospital sites and deliver the project faster than the typical industry standards," said Sean Menogan, UCHealth's Vice President of Facilities Design and Construction. "Thanks to a collaborative partnership with EYP Health and our general contractor, Haselden Construction, the Longs Peak Hospital design is now being replicated in whole or in part at new UCHealth locations across the Front Range of Colorado.
Additionally, through the use of BIM technology and advanced prefabrication techniques, it took a mere 14 months to construct the facility from the start of foundations to receipt of the Temporary Certificate of Occupancy. Ultimately, by achieving these goals, we were able to allow our world-class clinical teams to deliver exceptional patient care to the Longmont community in record time."
Longs Peak Hospital is designed to provide an exceptional and personal experience— a combination of services, physical design, and brand image that make patients and family feel that the hospital is theirs, according to EYP Health's lead designer on the project, Tushar Gupta. "The architectural vocabulary of the building reflects the regional vernacular and a timeless character to establish a memorable brand identity for UCHealth. The refined arc of the curved roof provides the most distinctive element of the architectural brand—an iconic, identifiable form that announces the UCHealth facility without words."
The exterior palette of materials speaks to the Mountain West locale where residents' hold a deep connection to the outdoors. Colorado Buff stone, brick and wood give the building a native materiality that grounds the structure. The sleek use of metal emphasizes the modernity of the design and signals the state-of-the-art functionality of the facility. High performance glass in the building envelope supports energy efficiency while offering views out and natural daylight into patient and staff areas to promote health and healing.
Regional stone and natural woods carry into the interior of the building to maintain consistency while the strategic application of accent colors ease wayfinding. The use of warm, natural wood at key touchpoints reinforces a human connection. The sum of the interior design elements creates a "chic" lodge environment, appropriate to the Colorado setting, easily identifiable and adaptable for other facilities. Being good stewards of the environment, UCHealth is pursuing a Silver LEED for Healthcare rating.
"To keep pace with UCHealth's ambitious goals, they wanted to develop a prototypical hospital design that could be adapted for the specific needs of different sites and communities, yet would standardize key elements of the facility model to support the system's growth plans. EYP Health worked closely with UCH to design a chassis that could be deployed quickly and on several sites," said Mark Vaughan, AIA, FACHA, Senior Principal & Lead Planner.
"EYP Health has been working in Colorado and the Mountain West for a number of years," said Charles Griffin, FAIA, FACHA, EDAC, EYP's Healthcare Leader. "With healthcare clients across the region, our projects have helped us understand local concerns and shown us how our national healthcare experience can be of value here. We have a strong commitment to the region."
Additional recent or current regional projects include: UCHealth Memorial North Hospital (Colorado Springs, Colo.), UCHealth Highlands Ranch Hospital (Highlands Ranch, Colo.), Platte Valley Medical Center (Brighton, Colo.), UNM Sandoval Regional Medical Center (Rio Rancho, N.M.), and CHRISTUS St. Vincent Regional Medical Center (Santa Fe).
In addition to EYP Health, other team members working on the Longs Peak Hospital include: Haselden Construction, the general contractor supported by Affiliated Engineers Inc., Datum Engineers, Gallun Snow, BHA Design, Inc., JVA Consulting Engineers and Project One Integrated Services.