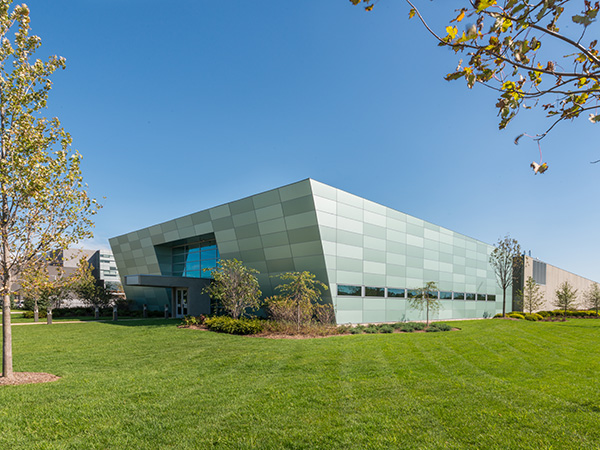 The College of DuPage, Glen Ellyn IL, a trailblazer in putting first responder theory into practice, recently opened the Homeland Security Training Center (HTC). The 39,000-square-foot facility, designed by Legat Architects, expands the training capacity of the award-winning Homeland Security Education Center (HEC) completed in 2012 and further secures the school's position as a Midwestern epicenter for first responder training.
The facility brings COD's Suburban Law Enforcement Academy and partnering law enforcement agencies immersive experiences ranging from interactive training scenarios to firearms instruction.
"When training for police emergencies, you need to go beyond the classroom," said Thomas Brady, Associate Dean and Director, Continuing Education and the Homeland Security Training Institute. "The HTC allows us to drop trainees into spaces that include:
Interior firing range: A garage door allows instructors to bring emergency vehicles into this full-scale 50-yard, 24-position range.
Range prep zone: This space, which has views into the firing range, offers countertops for lessons in weapons cleaning, repair, and safety.
Video simulation zone: Law enforcement personnel, armed with a technology-sensitive gun, stand amid five screens that depict realistic interactive emergencies similar to point of view gaming.
911 call center classroom: Instructors use the latest audio-visual and mapping technology to train dispatchers.
Multi-use classrooms: One 80-seat space divides into two smaller classrooms.
Entrance lobby: The spacious lobby offers a reception desk and a variety of seating for individual study or group work.
"The dramatic slope conveys the forward-thinking nature of COD's program, while the glass wall that it encases welcomes students and brings natural light deep into the lobby," said Legat Architects' Jay Johnson, project manager for both the HTC and the HEC. "The metals panels' varying shades of green respond to the landscape from which the facility emerges, much like the multihued blue metal panels on the adjacent Homeland Security Education Center respond to the sky as a canvas."