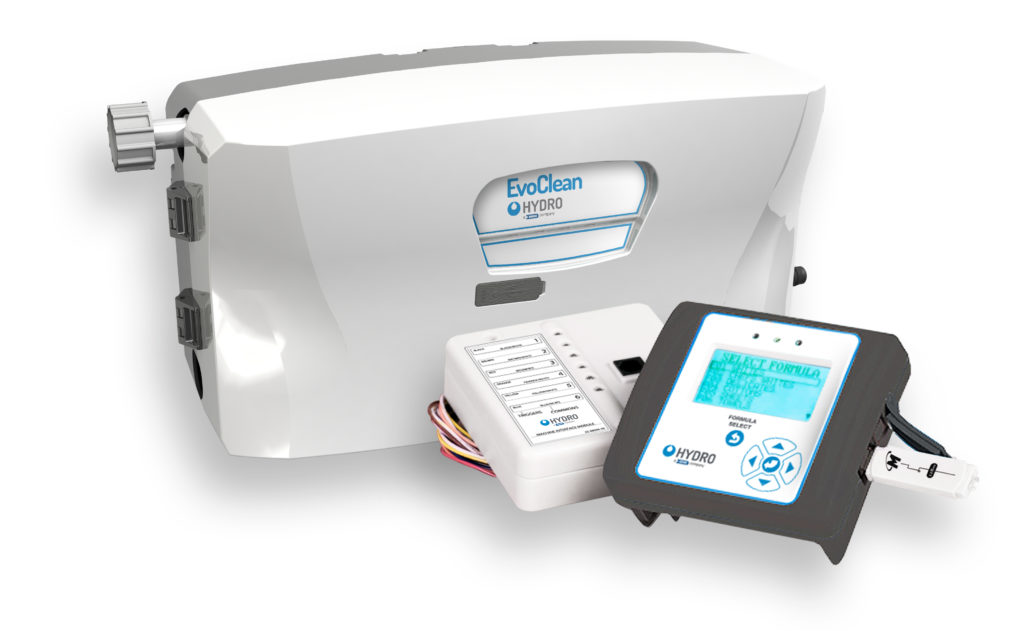 Hydro Systems, the independent manufacturer of proportioning and dispensing systems, announces that its low maintenance, venturi-based laundry dispenser, EvoClean, won the 2018 ISSA Innovation of the Year Award. The award was determined by combining the results of online voting with the evaluations of a panel of judges representing the industry and the media, including Eileen McMorrow, editor-in-chief, The McMorrow Reports. It was presented on Nov. 1 at the conclusion of the ISSA North America Show in Dallas.
"At Hydro Systems, we're committed to developing revolutionary innovations that provide precise dosing to ensure clean results with every use," said Serge Joris, CEO, Hydro Systems. "The EvoClean is unlike any other laundry dispenser out there, since it does not require squeeze tubes, helping drive down maintenance costs. We're honored that such esteemed industry experts have recognized us with the Innovation of the Year Award."
As a water-powered dispenser for on-premise laundry (OPL) applications, the EvoClean employs an eductor that restricts water flow to 0.5 GPM or 1.0 GPM (nominally) and forgoes the use of AC and DC motors, which require more power to operate. The system can deliver three to eight chemical products and will not drift or under-dose chemicals due to squeeze tube wear, reducing downtime and providing predictable results with every wash.
The EvoClean is 50 percent lighter than other traditional peristaltic pumps and takes up less space within a laundry facility, leading to simplified installation and maintenance. The system is available in four, six and eight product configurations for two flow rates. It is also compatible with Hydro Systems' Total Eclipse Controller, which features a 20-formula capacity and Auto Formula Select, along with a large LCD that displays formula names, dispenser status and various diagnostic reports. Users can access reports on product usage, costs per formula, system settings and more through the controller.