We spend roughly 90% of our lives indoors, and the past few years have highlighted how our well-being is directly affected by our physical surroundings. Indoor Environmental Quality (IEQ) consists of several key factors: air, sound, light, temperature, and more. Making sure we have healthy air, impactful acoustics, sufficient lighting and thermal comfort are essential to health and well-being in spaces where we live, work, learn, heal and play. Explore how you can create a space with outstanding IEQ, starting at the ceiling, when you choose sustainable, healthy building solutions.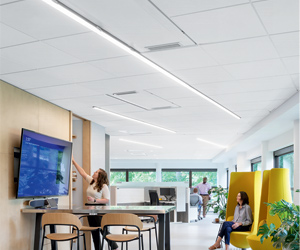 AIR – Enjoy clean and fresh, instead of stale and contaminated.
SOUND – Appreciate calm and soothing, instead of loud and distracting.
LIGHT – Bask in ideal and natural light, instead of too bright or too dim.
TEMPERATURE – Thrive in stable, thermal comfort instead of temperature swings.
SUSTAINABILITY – Utilize red-list free, responsible solutions instead of products with chemicals and VOCs.
DESIGN – Experience inspiring, integrated, smart design instead of disjointed and boring.
Learn how 24/7 Defend™ products can help contribute to outstanding IEQ at armstrongceilings.com/healthyspaces.