by Eileen McMorrow
Hybrid work is changing when and where people access the workplace and many are choosing their own cars over public transit. What they drive is changing, too. A greater number of United States' drivers are choosing an electric vehicle and that is creating a greater demand for EV charging in more public places. As a result, the availability of reliable EV charging at the workplace can become yet another tool to get people back in-person, at least a few days a week.
EVs are predicted to be half of global car sales by 2035. By 2030, every vehicle will have a charging plug, and even Porsche has made a $9 billion investment. EV sales will soar to about 73 million units in 2040, up from around two million in 2020, according to Goldman Sachs Research. The percentage of EVs in worldwide car sales, meanwhile, is expected to rise to 61% from 2% during that span. The share of EV sales is anticipated to be well over 80% in many developed countries. 1 (Electric vehicles are forecast to be half of global car sales by 2035, Goldman Sachs, 02102023)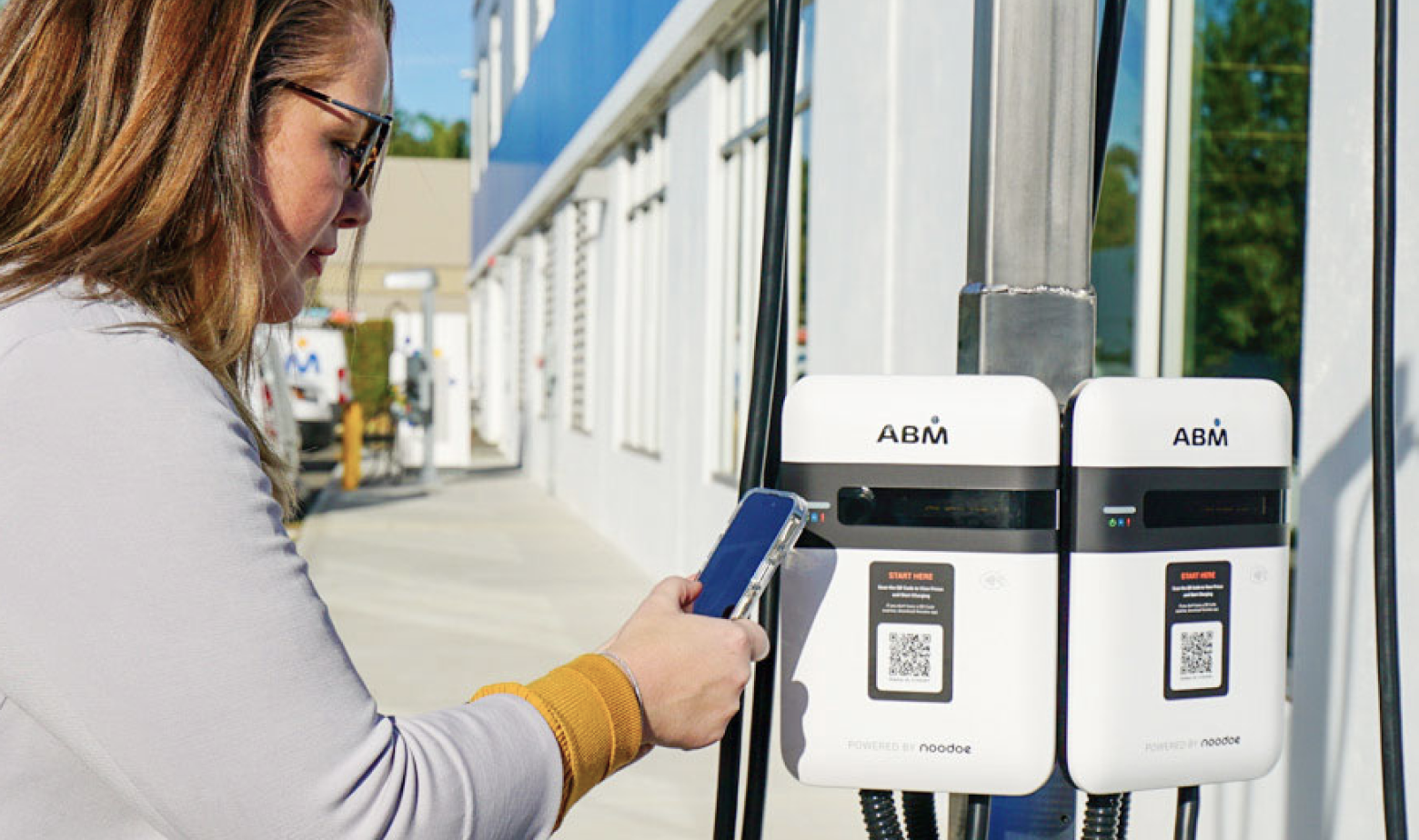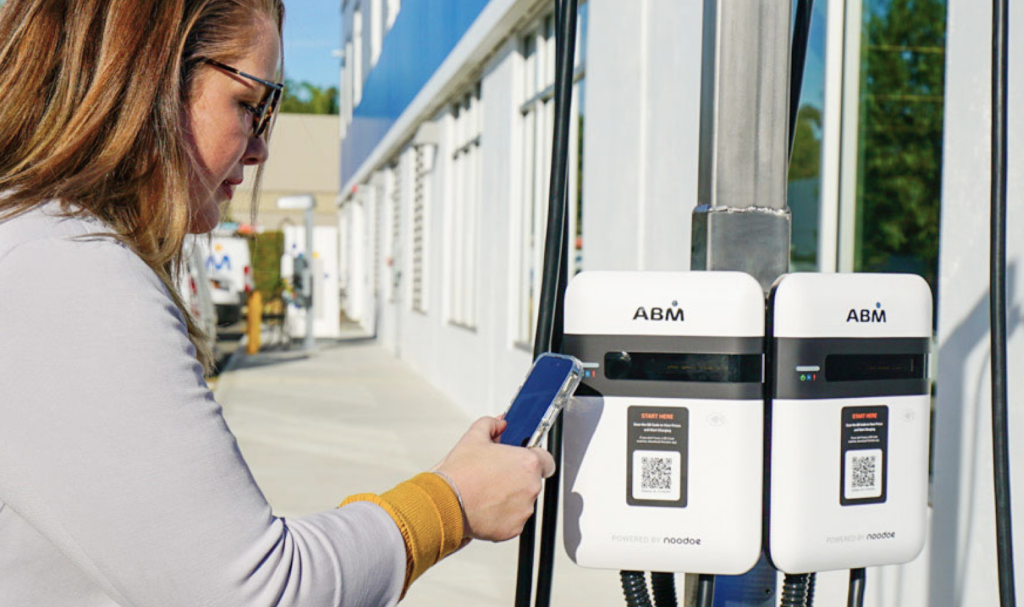 Experts estimate that by 2030, 28 million EVs will enter the American auto market. To power them, the U.S. will need 700,000 Level-2 EV chargers and 70,000 Level-3 EV chargers. That's an eight-fold increase in the country's EV charging infrastructure in just seven years. The influx of EVs is greatest in the West to Lower Midwest and along the East Coast. California is in first place at three percent EV car adoption. 2 (ABM EV Charging Solutions. Expert answers to every EV question, page 2)
With more than 30,000 EV charging ports installed over more than a decade, ABM is leveraging its leadership in parking management and energy-saving solutions to help facility managers navigate the intersection of evolving technology, power requirements and operations that impact successful EV charging infrastructure. ABM's EV charging experts already have enabled thousands of physical locations spanning over 15 industries.
The U.S. is preparing to meet the demand through funding provided as part of the Inflation Reduction Act (IRA Guidebook, March 2023) that aims to promote assembly of EVs as well as the location of battery assembly and material production, according to Goldman Sachs. Under this framework, companies will not be able to use the battery supply chain that has been built up in China to export to the U.S.
Goldman Sachs strategists see strong signs that the IRA will give a relative advantage to manufacturers that are pushing ahead with local production in the U.S. of EVs, battery-related products, and EV components.
"We should note that this is for public-facing charging, and most of the government or federal spend is being put towards corridor DC Fast-Charging stations using 175 kW or larger within one mile of interstate locations that are being selected and controlled by individual states," explains Tom Berton, P.E., Director of eMobility & Electrical Infrastructure at ABM.
Facility and property managers can support the EV charging demand for their employers and employees by acting sooner rather than later. "The costs of delaying the EV charging strategy in your facilities are increased infrastructure expenses year over year, delays in available power from utilities (in terms of new services and upgrades), delays in available electrical distribution equipment, lower employee retention, and decreased attraction to your facility, workplace or multifamily dwellings," Berton explains. "There's also the increased revenue for parking and charging combinations."
EV charging as a workforce benefit
Companies are using EV charging as a human resources (HR) benefit and bonus to employees by offering reduced cost or so many free kWh per month. They have even used this as a perk for the "Employee of the Month" or to honor an employee for outstanding performance.
The decision to integrate EV charging is often with the facility management department. Other key parties are sustainability and HR managers. In the recent past, EV charging was offered to higher-level employees, but it is now an amenity used to entice younger and EV-driving members of the workforce.
"We find the best tie-in with a CEO who has a vision for the company and fosters a top-down culture. If you encourage or attract EV drivers, then you have to introduce chargers," declares Berton. "The user experience must be considered. No one wants to stop their work to go out to move their car."
Beyond the traditional workplace, universities with shuttle fleets are looking to ABM to bring in multiple charging stations that will respond to the needs of the professional student-client base and shuttle operations.
Parking accommodations and investments are managed separately outside of the revenue collected for tuition. The decision to offer EV charging on campus is made by the university's finance staff separately and then implemented by the facility or parking manager and must be a self-funding opportunity.
Employees, company fleets, and sustainability goals are currently propelling the installation of EV charging stations at the workplace or nearby parking facilities. Potential employees are asking for the availability of EV charging at the workplace and using this as a screening question when interviewing. On the flip side, according to Berton, employers are viewing this as a prerequisite to meet employee retention, attraction, and sustainability goals.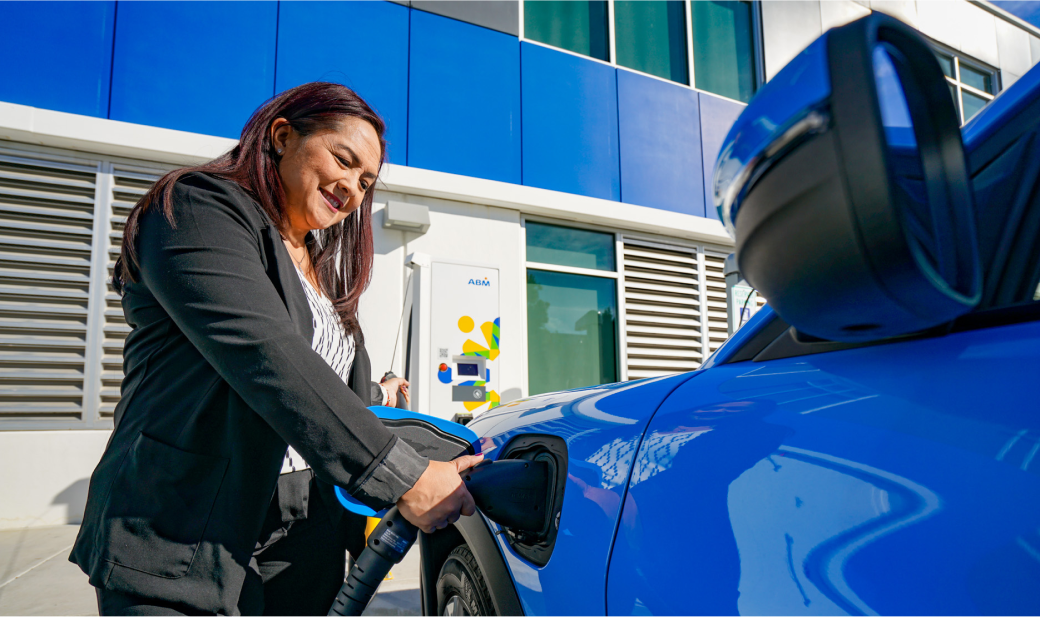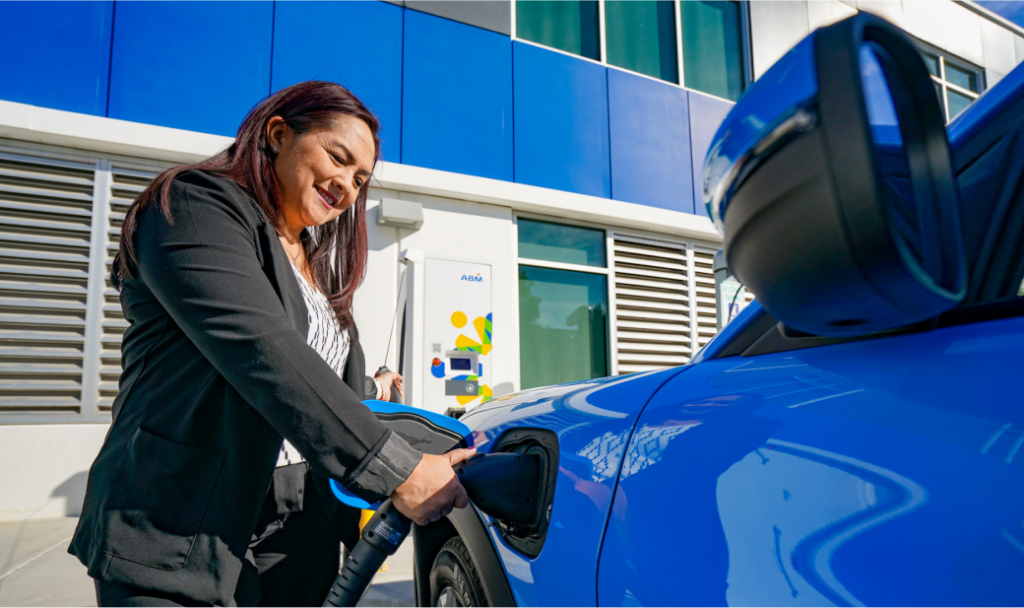 "Your company's EV fleet has to be ready for employees—and offer the whole EV charging package. You cannot rely on public charging and expect it to be successful." – Tom Berton, P.E., Director of eMobility & Electrical Infrastructure at ABM
"The charging curve is a bell curve; it ramps up and down. Some chargers are on peak, and others are in the valley, so you can average it out by putting more chargers on the 200-amp panel for charging," Berton explains. "ABM's software controls the charge level and directs auto-shut-off when the car is fully charged." This works well for utility companies, too, as they prefer a steady load. The 4,500-plus utility companies in the U.S. are all planning to accommodate EV charging such that it is now a generation requirement percentage.
For most facilities, midday peak energy demands are not the best time to charge. The software allows for trickle charges at peak times and then escalates the charge when power is less expensive.
To help facility managers understand EV charging's impact, Berton uses the analogy that there has been no such demand on our power grid since air-conditioning. "Vehicles, chargers and utilities have to get in alignment as thousands of vehicles will have bi-directional capabilities by 2025. To meet that demand in five to ten years, the vehicle batteries will be able to help power the grid during peak demand times."
The public funding of EV charging corridors, plus utility rebates, are drawing interest from multiple sectors. However, there are supply constraints. The 1,000-amp switchgear required has about a year's wait for delivery across the industry, and GFCI breakers also are experiencing long lead times for delivery that are not expected to improve.
ABM is ahead of the delivery curve as it builds its EV charging gear in shops in the U.S. under its RavenVolt brand, a leading nationwide provider of advanced turn-key microgrid systems used by diversified commercial and industrial customers, national retailers, utilities and municipalities.
EV technology also provides a ROI as commercial customers turn to microgrids to bolster their on-site energy capacity, reduce emissions, and meet sustainability goals while guaranteeing power when there is potential disruption to the local power grid. The microgrid infrastructure can generate revenue for the company or facility when it sells power back to utilities.
EV charging can help to meet ESG initiatives
Progressive organizations are using the transformation from fossil fuels to electric vehicles as a chance to expand their ESG goals and initiatives by installing EV charging infrastructure at their facilities and migrating fleet operations to EVs.
"Most companies are ramping up these goals starting with one or two locations and quickly expanding the initiatives to all locations. ABM's EV team is finding that the early adopters did not consider future-proofing the sites to install an infrastructure that allows for future growth, so they are now having to modify or replace the existing installation to allow for additional charging ports or higher-speed charging," explains Berton. "The sites that installed one or two chargers and now want 10-20 charging ports or 10 Level-2 chargers and one Level-3 DC Fast Charger are now having to bring in more power from the grid operator or extend the power from the utility connection to where the EV charging is to be installed."
Berton details that an expansion of this size cannot be handled by power management alone and requires an infrastructure upgrade. However, if the site started with an infrastructure to support the 10 ports and a DC Fast Charger, but only installed a few ports at first, it now can expand as the local demand grows.
Managing the demand
Currently, the few ports installed at facilities are managed on a first-come first-served basis. When these ports are dominated by users who do not move their vehicles when fully charged, penalty rates can be applied for holding the station beyond a total charge or a time limit imposed by the station owners. Yet, when the demand grows dramatically, it is necessary to install additional charging ports to keep up. Otherwise, the EV charging user experience can become a hassle.
"For example, at a hospital, do we want to require a surgeon to leave the operating theater, a sterile environment, to move her vehicle?" asks Berton. "That is not an optimal user experience. Instead, with full EV operating systems, the facility manager can command and install many more charging ports compared to the available power at a site." Distributing the available power to the users based upon need—i.e., a vehicle with the lowest state of charge will get more power than a vehicle with 90% charge—better aligns the user experience and the expectation of EV charging. This also adds a level of resilience to a site for when equipment is damaged or broken as other ports are available for use.
ABM has documented how it has helped customers and facilities achieve sustainability goals. The numbers tell the story, as they have been able to save, reduce or avoid: $275,000 from using electricity in place of fossil fuels; 5,800 tons of greenhouse gases; 3,500 pounds of nitric oxides; and 5,600 pounds of VOCs. EV charging stations are no longer a novelty, and demand is expected to increase rapidly. Employers that are eager to demonstrate their ESG compliance and to be seen as progressive by potential talent, will consider EV charging solutions. It might just be the jolt that brings them back in.
See also ABM's White Paper on FMLink: "Expert answers to every EV question, from ABM — the leader of charging"
Eileen McMorrow is the Editor-in-Chief of The McMorrow Reports Facility Management & Design Insights and FMLink, reaching more than 80,000 facility professionals monthly.